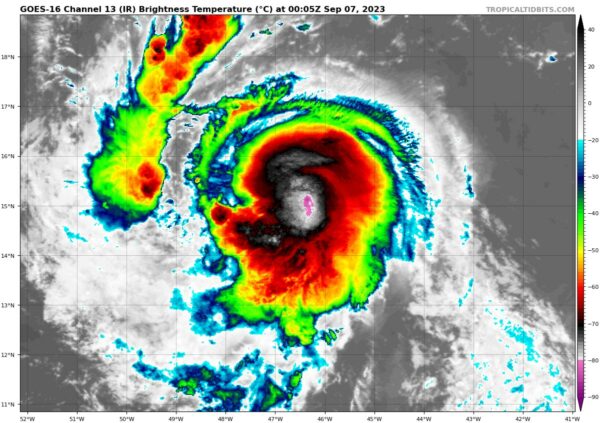 Lee has shown showing signs of increased organization and development all day with visible satellite imagery suggesting the formation of both an eyewall and an eye, leading to it being upgraded to hurricane status on the 4 p.m. CDT advisory.
Analysis indicates the presence of northeasterly wind shear of up to 15 knots, limiting Lee's rapid strengthening a little for now. However, this wind shear is expected to decrease to less than 10 knots by tonight and Thursday, enabling rapid intensification at some point between Thursday and Saturday. Warm water, abundant moisture, and reduced wind shear will contribute to this strengthening, possibly reaching Category 4 or even Category 5 intensity by some point over the weekend.
As for the track forecast affecting the Leeward Islands, Virgin Islands, and Puerto Rico, there is good news. Lee is expected to pass a couple of hundred miles north of the northernmost Leeward Islands, minimizing direct impacts. The northeastern Caribbean should mostly avoid tropical storm force winds, with only outer rain bands affecting Puerto Rico, the Virgin Islands, and the northern Leeward Islands over the weekend.
The forecast becomes more complex as Lee moves beyond the northeastern Caribbean. It is anticipated to turn northwest early next week, and where that happens will be critical in determining potential threats to land. It could pose significant risks from North Carolina's outer banks northward to New England and Atlantic Canada. However, if the northward turn sooner than later, the threat to the New England to outer banks region would decrease, but Atlantic Canada and Bermuda would still face a significant threat. The exact track remains uncertain and will require monitoring in the coming days.
Given the current timeframe (7 to 10 days out), it's too early to rely on model forecasts for Lee's precise location or the positioning of pressure systems. However, the greatest risk areas at this point appear to be from the Outer Banks of North Carolina northward through New England and Atlantic Canada, with Bermuda also facing potential threats. A potential timeline for impacts may be around the middle part of next week for Bermuda and possibly late next week and next weekend (September 15-17) for the region from the Outer Banks of North Carolina through New England and Atlantic Canada.
Lee is expected to become a powerful hurricane in coming days, and interests along the East Coast from the Outer Banks north should monitor its progress.
Bill Murray is the President of The Weather Factory. He is the site's official weather historian and a weekend forecaster. He also anchors the site's severe weather coverage. Bill Murray is the proud holder of National Weather Association Digital Seal #0001
@wxhistorian