***NO WEATHER BRIEFING VIDEO TODAY DUE TO ACTIVITIES IN KANSAS CITY***
Greetings from Kansas City, Missouri, site of this year's National Weather Association Annual Meeting. The heat has broken here, as it has over much of the Plains states. Another cold front will bring even more comfortable air in here for the coming week, with highs in the 60s Monday with rain and storms, and very pleasant readings in the 70s the remainder of the week.
SATURDAY REWIND: Yesterday was a nice day across much of North and Central Alabama until a few storms showed up over Northeast Alabama thanks to a little trough and frontal system. After morning lows in the lower and middle 60s, afternoon high temperatures across the area included 89F at Birmingham and Calera and 90F at Anniston and Gadsden. The storms were subsevere, but did produce some small hail. Heavy downpours and lots of lightning. The storms slowly diminished during the evening. Temperatures fell back into the lower and middle 60s overnight.
FOR YOUR SUNDAY: That's where we start the day across North and Central Alabama, with the trough over northeastern parts of the state. Convergence there will trigger additional showers and storms today, but drier air on the dry side of the front will keep everyone else mostly sunny. Storms should be limited to parts of Jackson, DeKalb, Cherokee, Marshall, Etowah, Cherokee, and Cleburne Counties. The storms will not be strong. Highs this afternoon will range between 82-84F over the Tennessee Valley and 86-90F over Central sections.
NEW WORK WEEK: The upper air trough to our northeast will weaken as we go toward Monday and the first day of the new work week looks dry. Temperatures will be warm, ranging between 85-90. BY Tuesday, a strong upper trough will be swinging our way over the Ohio Valley This will allow a few showers and storms to develop, mainly north of I-20. They could continue into early Wednesday, but should be out of the area by afternoon. Wednesday night, Thursday, and Friday look cooler, with highs in the upper 70s to near 80F. Rain and storms could return by Friday and Saturday.
VOODOO TERRITORY: Low pressure remains over the Southeast in the week two period, and this means more rain chances. The GFS brings another hurricane into the area by Thursday the 21st. Way too far out to begin thinking about, but it does look like there will be another hurricane marauding around out therein Week Two.
BEACHCAST: I always say that September is one of the best times for weather along the beautiful beaches of Alabama and Northwest Florida. This week, the weather will live up to that billing. It is still a little hot along the beaches, more like July than September perhaps, with highs in the lower 90s and lows in the lower and middle 70s. Heat indices will be high, not advisory high, and rain chances will be low, just lots f sunshine. Water temperatures have not dropped off. They are still in the middle 80s.
Click here to see the Beach Forecast Center page.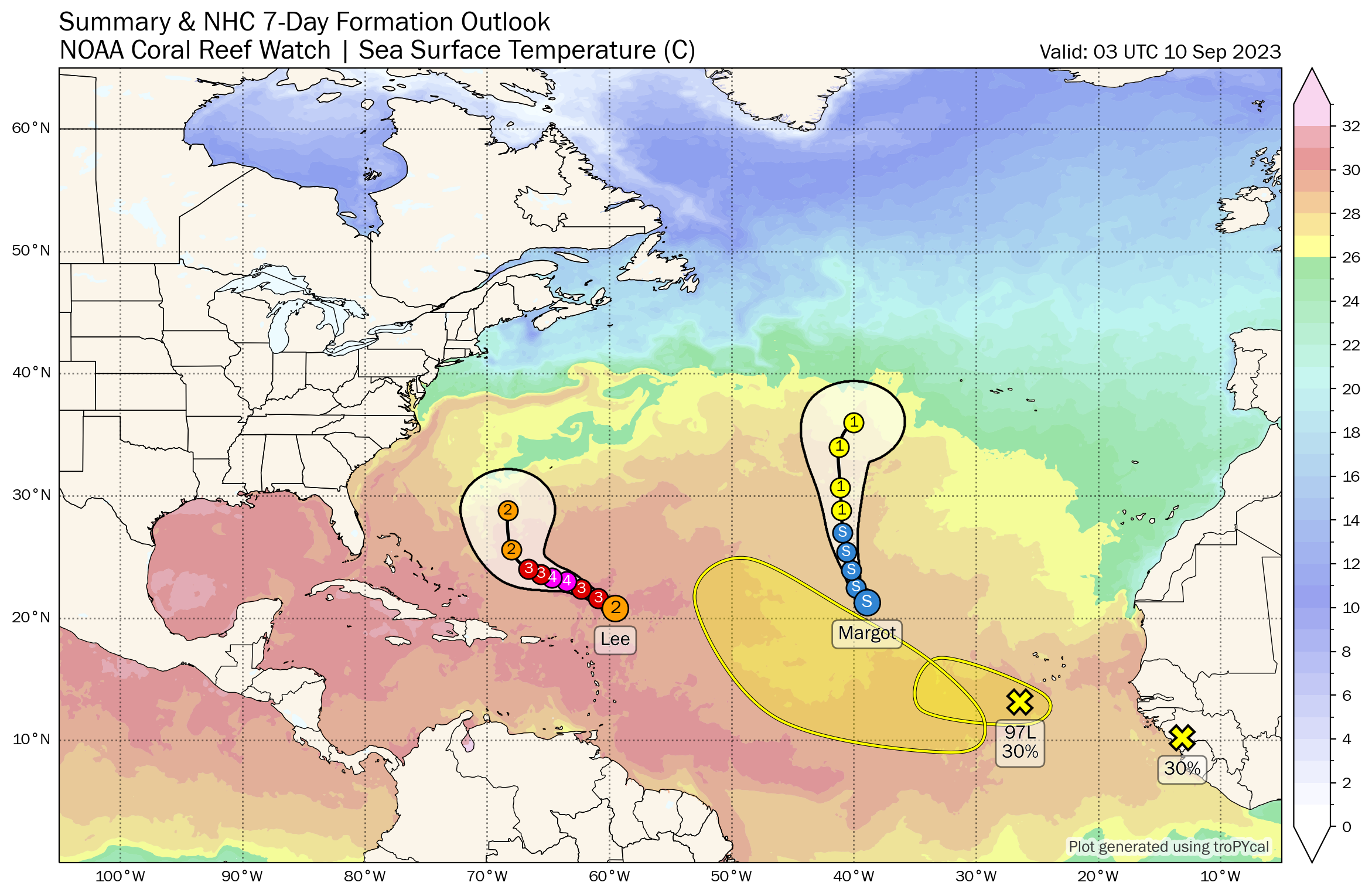 IN THE TROPICS: Tropical Storm Margot is the Little Storm that Could, and it will gradually strengthen into a hurricane over the next couple of days. Margot is moving northwestward and is expected to turn northward along 40 West longitude, well out in the Central Atlantic.
The headliner for now is Hurricane Lee. The comeback tour may not be as blockbuster as the premier, which is strengthened an amazing 85 mph in 24 hours late last week. Everyone is on edge in New England and Atlantic Canada. New Englanders have a rule of thumb that they don't worry about tropical cyclones and nor 'easters until they are west of 70W, and the Hurricane Center forecast keeps it east of that benchmark. A few of the global model ensemble members don't though, so there will be a good case of nerves until the eventual track is resolved.
Top winds are 120 mph this morning and should slowly increase over the next 48 hours, reaching a forecast second peak of 140 mph by Monday night. The center of the hurricane is at its closest approach to San Juan this morning, around 350 miles northeast of the largest city in Puerto Rico. Huge waves, as high as 90 feet, are emanating from the center with powerful long period swells now reaching the U.S. East Coast with pounding surf. This will cause potentially deadly impacts along East Coast beaches, as well as the Bahamas and the northern facing beaches of the Antilles. The anticipated northerly turn should occur by Wednesday, giving a wide berth to the U.S. East Coast. The GFS brings the a weakening storm into Nova Scotia late Friday into Saturday. The European has started hinting about a possible landfall in New England, perhaps around Cape Cod or Nantucket. That area is no stranger to late summer and fall hurricanes.
NATIONALLY: The National Watch, Warning, Advisory map is calming down after being splattered with orange and magenta for Heat Advisories and Excessive Heat Watches and Warnings all summer. A frontal system will bring rain and storms from the Carolinas into New England today and flash flood watches are in effect. The greatest risk today is over southeastern Pennsylvania and parts of neighboring states. Severe weather today will be limited to western parts of the Plains states, from eastern Wyoming into the Texas Panhandle.
DANCING WITH THE STATS: The hottest place in the country Friday was Wichita Falls, Texas, with a reading of 112F. That smashed the record for September 8th by 8 degrees, which was set in 1930 and 1968. It also qualified as their hottest September day ever. Dallas recorded a high of 110F, which obliterated their record by ten degrees. That was within a degree of their all-time September high.
ADVERTISE WITH US: Deliver your message to a highly engaged audience by advertising on the AlabamaWX.com website. We have a lot of big plans for this year. Don't miss out! We can customize a creative, flexible, and affordable package that will suit your organization's needs. Contact me, Bill Murray, at (205) 687-0782 and let's talk.
WEATHERBRAINS: This week, part of the Panel will be broadcasting from the National Weather Association Annual Meeting in Kansas City. We will be talking to a slew of weather luminaries. Check out the show at www.WeatherBrains.com. You can also subscribe on iTunes. You can watch the show live on our new YouTube channel for the show.You will be able to see the show on the James Spann 24×7 weather channel on cable or directly over the air on the dot 2 feed.
ON THIS DATE IN 1979: All eyes were on the southeastern Gulf of Mexico, where Tropical Storm Frederic was strengthening into a hurricane as it moved slowly northwest at 5 mph. The National Hurricane Center's forecast was for a landfall in the Florida Panhandle near Fort Walton Beach in 72 hours. Frederic would go on to be a Category Four hurricane that was devastating in the Mobile area two days later. Follow my weather history tweets on Twitter. I am @wxhistorian at Twitter.com.
Category: Alabama's Weather, ALL POSTS, Tropical
Bill Murray is the President of The Weather Factory. He is the site's official weather historian and a weekend forecaster. He also anchors the site's severe weather coverage. Bill Murray is the proud holder of National Weather Association Digital Seal #0001
@wxhistorian