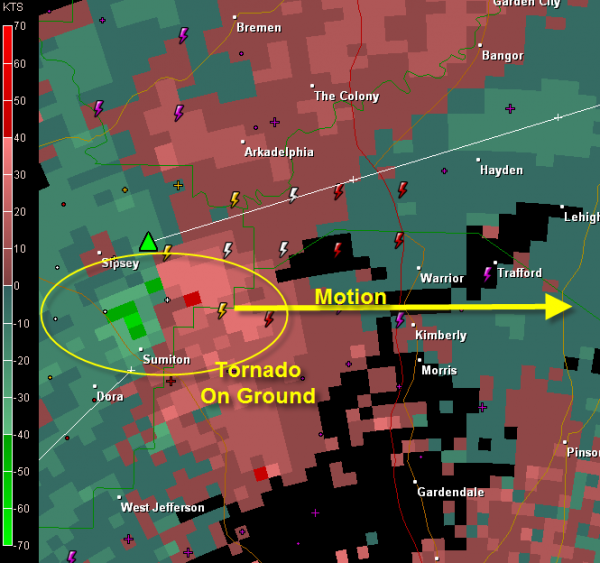 Sires are sounding all over Jefferson County…but this warning only affects the very far northern end of Jefferson County.
000
WWUS54 KBMX 250328
SVSBMX
SEVERE WEATHER STATEMENT
NATIONAL WEATHER SERVICE BIRMINGHAM AL
1028 PM CDT SAT APR 24 2010
ALC009-073-127-250400-
/O.CON.KBMX.TO.W.0026.000000T0000Z-100425T0400Z/
JEFFERSON AL-WALKER AL-BLOUNT AL-
1028 PM CDT SAT APR 24 2010
…A TORNADO WARNING REMAINS IN EFFECT UNTIL 1100 PM CDT FOR
SOUTHWESTERN BLOUNT…EAST CENTRAL WALKER AND NORTH CENTRAL JEFFERSON
COUNTIES…
AT 1026 PM CDT…TRAINED WEATHER SPOTTERS REPORTED A TORNADO. THIS
TORNADO WAS LOCATED NEAR SUMITON…MOVING EAST AT 40 MPH. THIS
REMAINS A TORNADO EMERGENCY SITUATION. TAKE COVER NOW!
THE TORNADO WILL BE NEAR…
PARTRIDGE CROSSROADS BY 1035 PM CDT…
ARKADELPHIA BY 1040 PM CDT…
RICKWOOD CAVERNS BY 1045 PM CDT…
SMOKE RISE AND WARRIOR BY 1050 PM CDT…
HAYDEN…TRAFFORD…BLOUNT SPRINGS AND COUNTY LINE BY 1055 PM
CDT…
MOUNT OLIVE BY 1100 PM CDT…
THIS INCLUDES…
INTERSTATE 65 EXIT NUMBERS 275 THROUGH 282
PRECAUTIONARY/PREPAREDNESS ACTIONS…
A TORNADO WATCH REMAINS IN EFFECT UNTIL 200 AM CDT SUNDAY MORNING FOR
ALABAMA.
&&
TO REPORT SEVERE WEATHER…CALL 1-800-856-0758.
LAT…LON 3368 8662 3370 8707 3386 8708 3390 8700
3387 8698 3387 8695 3388 8693 3391 8693
3392 8692 3395 8684 3396 8680 3399 8676
3402 8669
TIME…MOT…LOC 0328Z 251DEG 34KT 3380 8705
$$
Category: Uncategorized
Bill Murray is the President of The Weather Factory. He is the site's official weather historian and a weekend forecaster. He also anchors the site's severe weather coverage. Bill Murray is the proud holder of National Weather Association Digital Seal #0001
@wxhistorian