Here is a look at the 12Z snow accumulation output from the RPM model…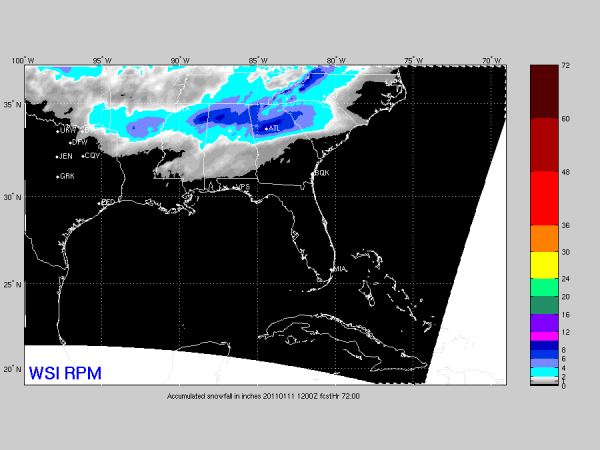 We have to respect this model's performance with the winter weather events this season (it has done very well), and it shows the snow maximum of 4-8 inches north of I-20, with lighter amounts to the south. We note the 09Z RPM showed 10 inches of snow for parts of East Alabama counties like St. Clair and Calhoun.
And, below is the 06Z NAM snow accumulation output: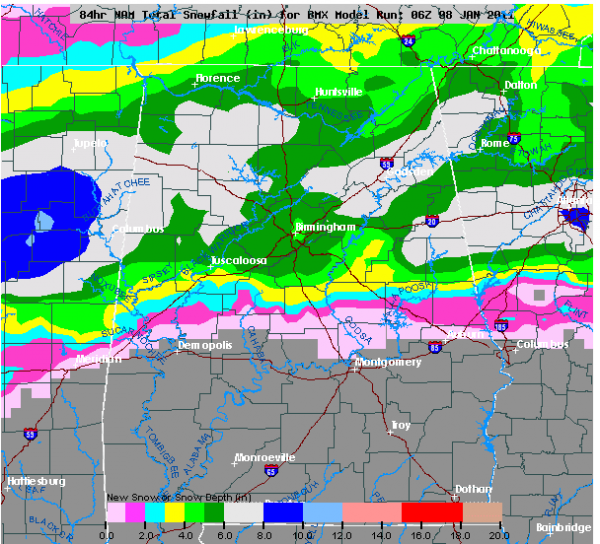 The NAM shows 4-6 inches for the Birmingham metro.
Based on this model output, we will adjust the accumulation forecast just slightly… the main changes….
*Reflecting the chance for 4-8 inches farther into North Alabama.
*The heavier totals (6-8″), more than likely will come over higher terrain of East Alabama. Four inch amounts will be more common.
*There will be sharp cutoff of the heavier snow accumulation south of I-20, but some light accumulation is possible down into South Alabama.
*Forecast soundings are troubling for the U.S. 80 corridor… hinting at potential for 1/2 inch ice accumulation for some spots down that way, which could mean enough ice for scattered power outages. We will really have to watch this… and again there is little skill in identifying the exact placement of the heavier freezing rain before the event begins.
*The main impact of this storm will come from about 6:00 p.m. tomorrow through 8:00 a.m. Monday. Travel across North nad Central Alabama will become difficult, if not impossible at some point Sunday night.
As always, stay tuned for changes as the storm begins to develop and finally gets on the board so we can take a look.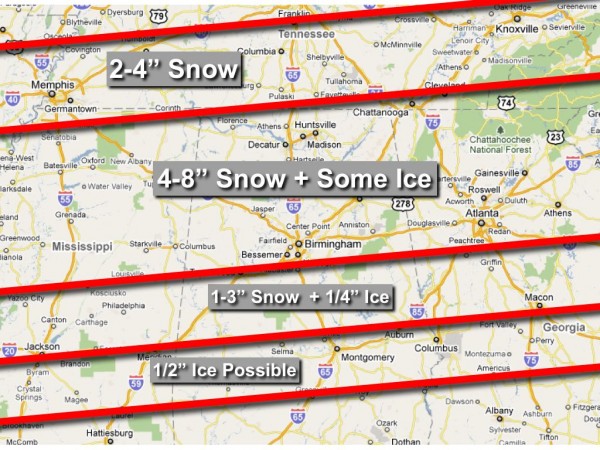 Category: Alabama's Weather, Winter Weather
James Spann is one of the most recognized and trusted television meteorologists in the industry. He holds the AMS CCM designation and television seals from the AMS and NWA. He is a past winner of the Broadcast Meteorologist of the Year from both professional organizations.