A magnitude 2.2 earthquake was just reported by the USGS… it happened just south of Gadsden last night at 9:06 p.m….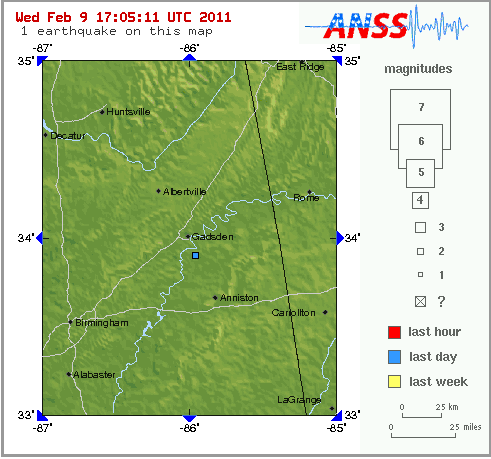 == PRELIMINARY EARTHQUAKE REPORT ==
Region: ALABAMA
Geographic coordinates: 33.912N, 85.967W
Magnitude: 2.2 Md
Depth: 0 km
Universal Time (UTC): 9 Feb 2011 03:06:10
Time near the Epicenter: 8 Feb 2011 21:06:10
Local standard time in your area: 9 Feb 2011 03:06:10
Location with respect to nearby cities:
5 km (3 miles) SSW (212 degrees) of Glencoe, AL
6 km (3 miles) E (81 degrees) of Southside, AL
9 km (6 miles) ESE (112 degrees) of Rainbow City, AL
89 km (56 miles) ENE (61 degrees) of Birmingham, AL
490 km (305 miles) W (259 degrees) of JAARS, NC
ADDITIONAL EARTHQUAKE PARAMETERS
________________________________
event ID : SE 020911b
This event has been reviewed by a seismologist
For subsequent updates, maps, and technical information, see:
https://earthquake.usgs.gov/eqcenter/recenteqsus/Quakes/se020911b.php
Southeast US Seismic Network
https://www.ceri.memphis.edu/
Category: Hodgepodge
James Spann is one of the most recognized and trusted television meteorologists in the industry. He holds the AMS CCM designation and television seals from the AMS and NWA. He is a past winner of the Broadcast Meteorologist of the Year from both professional organizations.