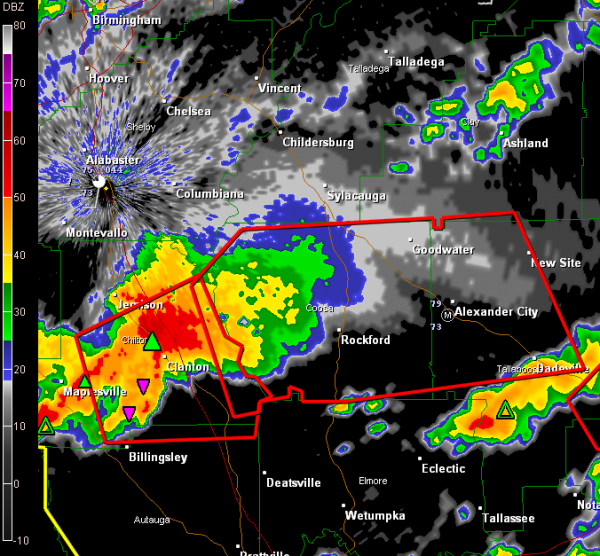 WFUS54 KBMX 280246
TORBMX
ALC021-037-123-280345-
/O.NEW.KBMX.TO.W.0138.110428T0246Z-110428T0345Z/
BULLETIN – EAS ACTIVATION REQUESTED
TORNADO WARNING
NATIONAL WEATHER SERVICE BIRMINGHAM AL
946 PM CDT WED APR 27 2011
THE NATIONAL WEATHER SERVICE IN BIRMINGHAM HAS ISSUED A
* TORNADO WARNING FOR…
EAST CENTRAL CHILTON COUNTY IN CENTRAL ALABAMA…
COOSA COUNTY IN EAST CENTRAL ALABAMA…
NORTHERN TALLAPOOSA COUNTY IN EAST CENTRAL ALABAMA…
* UNTIL 1045 PM CDT
* AT 944 PM CDT…THE NATIONAL WEATHER SERVICE INDICATED A SEVERE
THUNDERSTORM CAPABLE OF PRODUCING A TORNADO. THIS DANGEROUS STORM
WAS LOCATED NEAR VERBENA…OR 5 MILES SOUTHEAST OF CLANTON…AND
MOVING EAST AT 50 MPH.
* LOCATIONS IMPACTED INCLUDE…
WEOGUFKA…ROCKFORD…STEWARTVILLE…KELLYTON…GOODWATER…
ALEXANDER CITY…DADEVILLE…LAY LAKE DAM…HIGGINS FERRY PARK AND
DOLLAR.
PRECAUTIONARY/PREPAREDNESS ACTIONS…
HEAVY RAINFALL MAY OBSCURE THIS TORNADO. DO NOT WAIT TO SEE OR HEAR
THE TORNADO. TAKE COVER NOW.
&&
TO REPORT SEVERE WEATHER…
CALL 1-800-856-0758.
LAT…LON 3281 8565 3275 8621 3275 8631 3277 8631
3278 8634 3276 8634 3275 8641 3273 8641
3272 8647 3298 8657 3309 8645 3311 8600
3309 8600 3309 8598 3311 8598 3312 8581
TIME…MOT…LOC 0246Z 254DEG 44KT 3280 8654
$$
03
Category: Alabama's Weather, Severe Weather