Intense rainfall from nearly stationary storms over southern Jefferson and northern Shelby Counties has prompted a flash flood warning.
WGUS54 KBMX 252333
FFWBMX
ALC073-117-260230-
/O.NEW.KBMX.FF.W.0024.110625T2333Z-110626T0230Z/
/00000.0.ER.000000T0000Z.000000T0000Z.000000T0000Z.OO/
BULLETIN – EAS ACTIVATION REQUESTED
FLASH FLOOD WARNING
NATIONAL WEATHER SERVICE BIRMINGHAM AL
633 PM CDT SAT JUN 25 2011
THE NATIONAL WEATHER SERVICE IN BIRMINGHAM HAS ISSUED A
* FLASH FLOOD WARNING FOR…
CENTRAL SHELBY COUNTY IN ALABAMA…
SOUTH CENTRAL JEFFERSON COUNTY IN ALABAMA…
* UNTIL 930 PM CDT
* AT 633 PM CDT…THE PUBLIC REPORTED SLOW MOVING THUNDERSTORMS
WITH VERY HEAVY RAINFALL ACROSS THE WARNED AREA. 2 TO 3 INCHES
HAVE FALLEN OVER THE LAST 30 MINUTES.
* RUNOFF FROM THIS EXCESSIVE RAINFALL WILL CAUSE FLASH FLOODING TO
OCCUR. SOME LOCATIONS THAT WILL EXPERIENCE FLOODING INCLUDE…
HELENA…HOOVER…PELHAM…VESTAVIA HILLS…BLUFF PARK…INDIAN
SPRINGS VILLAGE…OAK MOUNTAIN STATE PARK…REGIONS PARK OR HOOVER
MET…RIVERCHASE…RIVERCHASE GALLERIA…ROSS BRIDGE AND VERIZON
MUSIC CENTER AT OAK MOUNTAIN.
PRECAUTIONARY/PREPAREDNESS ACTIONS…
DO NOT DRIVE YOUR VEHICLE INTO AREAS WHERE THE WATER COVERS THE
ROADWAY. THE WATER DEPTH MAY BE TOO GREAT TO ALLOW YOUR CAR TO CROSS
SAFELY.
&&
TO REPORT SEVERE WEATHER…
CALL 1-800-856-0758.
LAT…LON 3345 8675 3332 8667 3324 8686 3338 8693
$$
27
WWWW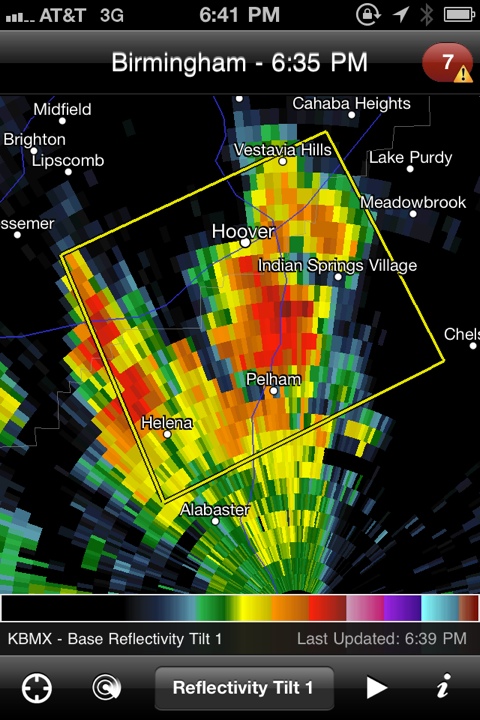 Category: Alabama's Weather