It is going to be an extremely cold night across Alabama.
Readings tomorrow night will be just as cold.
At 7 p.m., readings were in the middel and upper 30s across Central Alabama, including 38F at Tuscaloosa and 34F at Birmingham and Gadsden. It was 35F at Anniston. Dewpoints are in the upper teens and lower 20s. Much drier air is spreading into Northwest Alabama. The dewpoint at Muscle Shoals is 7F. At Huntsville, it is 11F at the Huntsville International Airport.
Temperatures are in the 20s over the northern third of Alabama and Mississippi and over much of Tennessee. Teens are not far behind, covering Almost all of Missouri, western Ketucky and southern Illinois and southern Indiana. This airmass is flowing our way. By morning, our dewpoints will be in the single digits and will be subzero during the day tomorrow.
Most locations will be in the upper teens to lower 20s tonight. Some of the normally colder locations will be in the lower teens. Winds are forecast to stay up, averaging some 3-6 mph overnight, and this might keep us from recording a slew of single digit readings.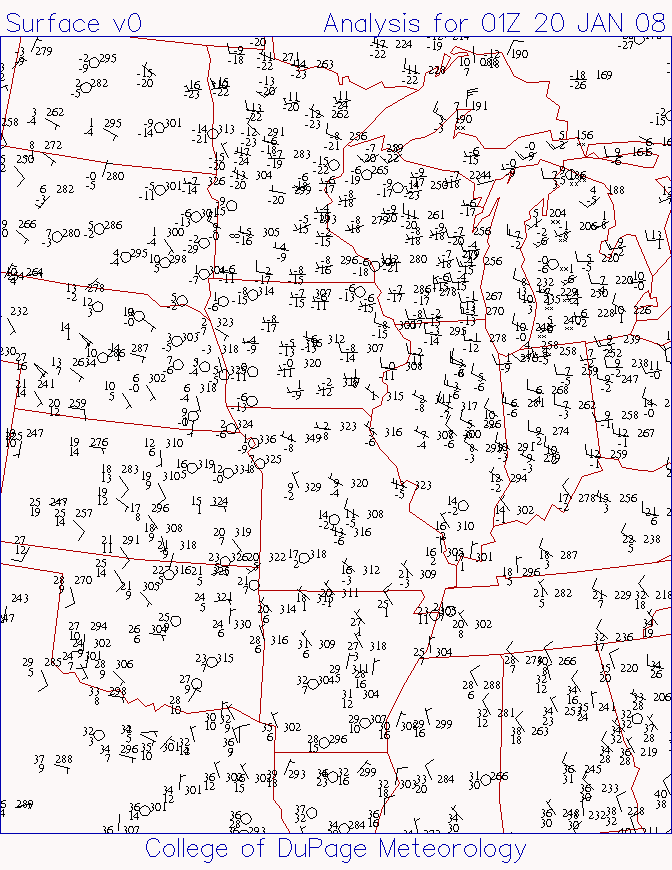 From the College of DuPage site
Tomorrow, readings will struggle to get out of the 30s despite a full complement of sunshine as cold air advection continues. In fact, it could be argued that some locations will have a hard time getting above freezing.
Tomorrow night will feature similar condition and even lower dewpoints than tonight. We will call for readings in the same range as tonight, between 12-20. If winds die down completely, it could be a couple of degrees colder.
These very cold conditions can be very dangerous, especially for pets. Check on any vulnerable friends, neighbors or family members who might not have proper heat. I always cite the case of an elderly lady who died right outside a hospital in New Orleans during a cold wave in the 80s when she fell in a parking lot and broke her leg. She died of exposure in the cold that night when no one heard her cries for help. Check your pipes too o make sure that they have protection.
Also, some hazardous driving conditions could occur tonight and in the morning as moisture on roads refreezes. For the most part, dry air and persistent winds this afternoon dried road surfaces. But in areas that saw more snow or where road surfaces are more protected, there could be some black ice, especially on bridges and secondary roads. Take that into account and use caution as you travel tonight and tomorrow morning.
Colder than normal conditions will prevail for much of the week ahead, and with some moisture lurking, we can't take the chances for some more wintry precipitation off the table, although the chances look small at this time.
Category: Uncategorized
Bill Murray is the President of The Weather Factory. He is the site's official weather historian and a weekend forecaster. He also anchors the site's severe weather coverage. Bill Murray is the proud holder of National Weather Association Digital Seal #0001
@wxhistorian