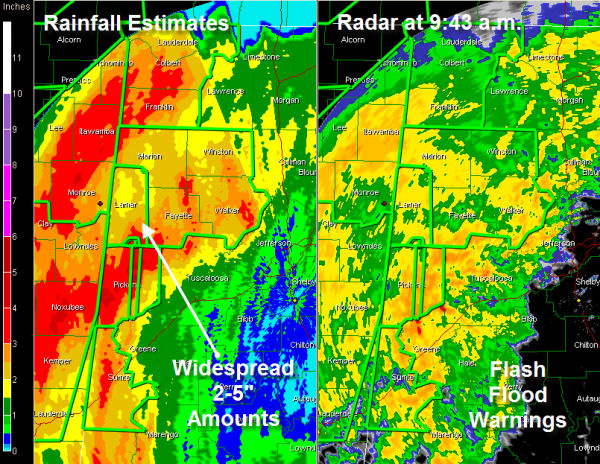 Here is a new warning for Pickens…
WGUS54 KBMX 051440
FFWBMX
ALC107-051730-
/O.NEW.KBMX.FF.W.0051.110905T1440Z-110905T1730Z/
/00000.0.ER.000000T0000Z.000000T0000Z.000000T0000Z.OO/
BULLETIN – EAS ACTIVATION REQUESTED
FLASH FLOOD WARNING
NATIONAL WEATHER SERVICE BIRMINGHAM AL
940 AM CDT MON SEP 5 2011
THE NATIONAL WEATHER SERVICE IN BIRMINGHAM HAS ISSUED A
* FLASH FLOOD WARNING FOR…
EASTERN PICKENS COUNTY IN WEST CENTRAL ALABAMA…
* UNTIL 1230 PM CDT
* AT 938 AM CDT…NATIONAL WEATHER SERVICE INDICATED AN HEAVY
RAINFALL SPREADING ACROSS THE AREA. RAINFALL OF TWO TO THREE INCHES
HAS OCCURRED DURING THE PAST FEW HOURS…AND AN ADDITIONAL ONE TO
TWO INCHES WITH LOCALLY GREATER AMOUNTS IS POSSIBLE DURING THE NEXT
TWO HOURS.
* RUNOFF FROM THIS RAINFALL WILL CAUSE FLASH FLOODING TO OCCUR. SOME
LOCATIONS THAT MAY EXPERIENCE FLOODING INCLUDE…GORDO…REFORM AND
BENEVOLA.
PRECAUTIONARY/PREPAREDNESS ACTIONS…
EXCESSIVE RUNOFF FROM HEAVY RAINFALL WILL CAUSE FLOODING OF SMALL
CREEKS AND STREAMS…HIGHWAYS AND UNDERPASSES. ADDITIONALLY…
COUNTRY ROADS AND FARMLANDS ALONG THE BANKS OF CREEKS…STREAMS AND
OTHER LOW LYING AREAS ARE SUBJECT TO FLOODING.
&&
TO REPORT SEVERE WEATHER…
CALL 1-800-856-0758.
LAT…LON 3353 8806 3352 8784 3315 8784 3311 8794
3308 8797 3306 8803 3305 8803 3304 8805
3306 8808
$$
41
WWWW
Category: Alabama's Weather