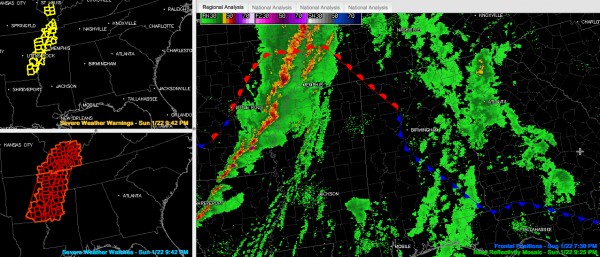 Perhaps some good news tonight from the severe weather department.
1. The activity over eastern Arkansas is congealing into a squall line as expected.
2. The instability has not increased as quickly as expected over Alabama due to the fact that the low level wind field has not strengthened as quickly as earlier thought. That is still expected to happen in the next couple of hours, but it is in our favor that it hasn't. Not getting any sun today helped a lot.
3. Most of the warnings are now severe thunderstorm warnings. There is still one tornado warning for a storm crossing the Mississippi River from eastern Arkansas into northern Mississippi near Tunica, but the circulations are weaker on radar and there haven't been any tornado reports for at least 45 minutes. Power flashes were reported near West Helena AR, but not certain they are associated with a tornado.
4. Storms that developed over southern Mississippi that were headed northeast toward Central Alabama weakened once they moved away from the really rich moisture near the Gulf Coast.
5. Finally, a cold air wedge has worked across Georgia and may work into eastern Alabama. The dewpoint at Atlanta has dropped from 50F to 43F. This is great news.
So, we didn't see any significant development along the warm front, which is now hung up near Birmingham with the wedge cold front working in from the southeast.
And we have yet to develop a well formed warm sector over western Alabama. It does look like we are seeing pre-frontal development over Central Mississippi now, and this activity will push into western Alabama between 11 p.m. and midnight. We have to to wait and see if it will be strong.
And we still will have to deal with the big line of storms after midnight in Alabama, so we are not completely out of the woods yet. Tornado watches will probably be issued before the line gets to Northwest Alabama between midnight and 2 a.m., but I thought you would like to hear some good news before the 10 o'clock hour.
Having said all that, we still want you to have a reliable source of weather warnings that will wake you up before you go to bed overnight. You will almost certainly see at least one severe thunderstorm warning overnight, and perhaps more. The biggest threat will be damaging winds, but isolated tornadoes within the line will be possible. Severe thunderstorm winds can bring down trees that can fall on houses and mobile homes and cars and kill people. Those winds can also destroy unanchored mobile homes.
If severe thunderstorm warnings are issued, be prepared to leave unanchored mobile homes and be in a safer part of site built homes, away from windows, preferably in an interior room on the lowest level. Do not be driving when severe thunderstorms approach. If tornado warnings are issued, below ground under something sturdy or in a reinforced storm shelter is best. If that is not available, be in a small interior room on the lowest level, under something sturdy. Wear a helmit to protect your head.
I will be back with another post estimating times of arrival of the squall line shortly.
Category: Alabama's Weather, Severe Weather
Bill Murray is the President of The Weather Factory. He is the site's official weather historian and a weekend forecaster. He also anchors the site's severe weather coverage. Bill Murray is the proud holder of National Weather Association Digital Seal #0001
@wxhistorian