Good work by Chip Faust as we work to solve the mystery of the fireball seen by thousands across the Alabama sky around 5:30 p.m. yesterday.
Last night, Bill Cooke of the Meteoroid Environments Office at NASA's Marshall Space Flight Center in Huntsville wrote…
"This was NOT a Taurid meteor; probably a random interloper from the asteroid belt. Doppler weather radar shows a meteoritic "rain", indicating that there are meteorites on the ground in Alabama. The radar signature is stronger than the recent California fireball, which produced meteorites in the San Francisco area.
We are still working out a precise location for the meteor impact."
This morning, Chip writes…
I went trawling through the data at ncdc.noaa.gov for yesterday – found something on both khtx and kbhm at the same location (near Mount Vernon) at the approximate time (22:37 UTC) – did a screen capture for both KHTX and KBMX for comparison.
Again, I am *not* a radar expert and could be wrong, but I wouldn't think random artifacts would show up on both radars at the same time… something would have to be there. I mean, there *could* have been a rainshower yesterday, despite the clear skies…
Wish I could go up there and look; if you know of anyone sending an expedition, please let me know! Seems to be in the Bankhead National Forest."
Here are the images from the Birmingham NEXRAD and the Huntsville NEXRAD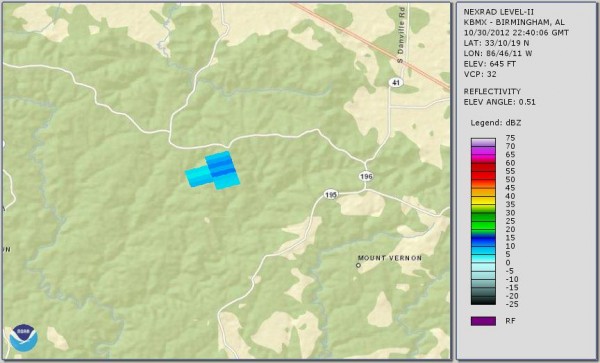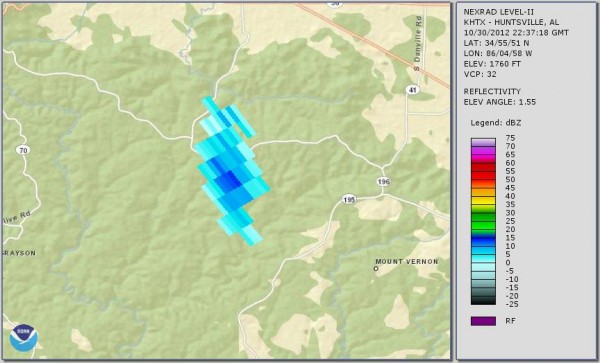 This radar echo is near the point where Cullman, Lawrence, Winston, and Morgan counties come together in North Alabama.
Bill Cooke looked at this data.. and responded…
"That is likely the doppler signature :)"
So, there is a reasonable chance we have meteorites on the ground somewhere over North Alabama, perhaps near this echo. But, remember the radar beams from these two sites are 500-1500 feet off the ground at this spot, the radar echo doesn't mark the exact spot where they landed. But, it sure gives us a good clue.
As noted here yesterday, the explosive boom produced by the meteor registered on a seismograph in Huntsville, operated by Steve Jones of alabamaquake.com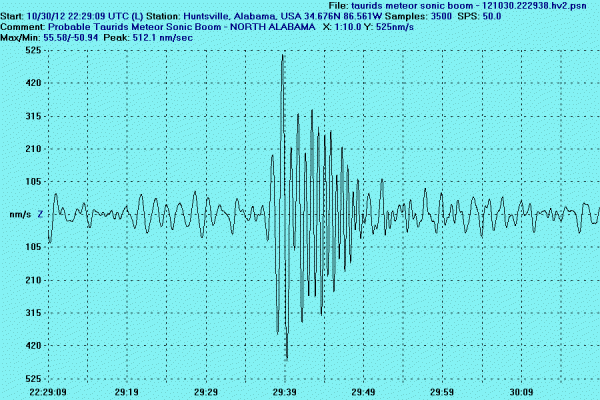 Category: Hodgepodge
James Spann is one of the most recognized and trusted television meteorologists in the industry. He holds the AMS CCM designation and television seals from the AMS and NWA. He is a past winner of the Broadcast Meteorologist of the Year from both professional organizations.