Yep, I know… the world lives on Facebook, and I spend long hours there pushing weather information. But, quite frankly, it is a horrible way of disseminating severe weather information. Here is why…
*FACEBOOK "LIKE PAGE": I am honored to have over 107,000 people "liking me". I don't think more than 5 people "liked me" in high school. You can find the "like page" here.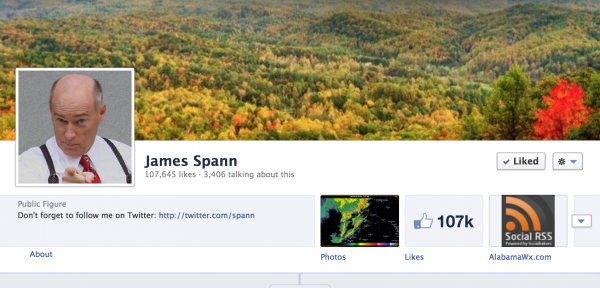 For a few years, I posted all Alabama severe weather warnings here, with the idea that over 100,000 people would be seeing them. After some investigation, I learned only a FRACTION of those people actually saw the warnings in their news feed. It is just the way Facebook works; 10 to 15 percent see it, and that is all. I can pay Facebook some cash to get that figure up a bit, but even then most still will never see the warnings. I started getting this message recently…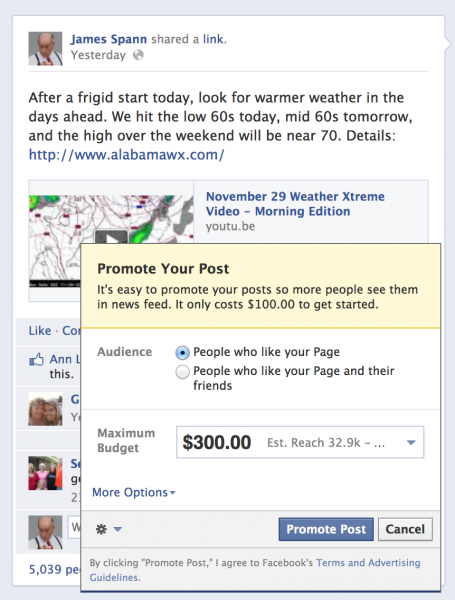 Unacceptable for a reliable severe weather warning platform, needless to say. I am all for Facebook making money, but my job is getting severe weather warnings to people, and this is a disaster.
*FACEBOOK REGULAR ACCOUNT: In an effort to work around this, I have encouraged the 107,000 people on the like page to come over and subscribe to my regular account. Of course, I only reach a fraction of the 107,000 people when I ask them to do this. And, the process is very confusing.
So far, over 67,000 have come over and subscribed…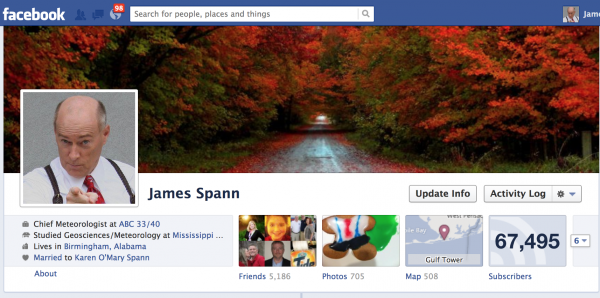 First off, most come over and try the "friend request". They are told I have "too many friends" since the Facebook limit is 5,000. You have to "subscribe", which is almost impossible to do on a phone or tablet, which is how much people access Facebook. You really need to be on a computer to do this. And, then, to be sure you get the warnings, you have to opt in and go through a series of hoops to be sure all of my posts show up in your newsfeed.
TWITTER: If you want to use social media to get warnings, Twitter is the most reliable and widely used platform for now. You can get all Alabama warnings on our @ewarn account, and I put most warnings on my personal account as well… @spann.
GOOGLE PLUS: Honestly, this is the best platform for severe weather… we just have to get more people over there. Google's social network is reliable, fast, and made for mass distribution of weather information like severe weather warnings. You can find my personal account here…. come over and join us. Their mobile apps are second to none.
But, yes, I know most won't get away from Facebook for now, but please don't make that your exclusive way of getting severe weather warnings….
Comments
Powered by Facebook Comments
Category: Hodgepodge
James Spann is one of the most recognized and trusted television meteorologists in the industry. He holds the AMS CCM designation and television seals from the AMS and NWA. He is a past winner of the Broadcast Meteorologist of the Year from both professional organizations.