Unfortunately not many changes in our forecast for Christmas. A dynamic storm system will bring a chance of severe thunderstorms to all of Alabama, with potential for large hail, damaging wind, and tornadoes. Please take a few minutes to see the maps here and read through the post; it will answer all of your questions and tell you everything I know at this stage of the game. Yes, this is a long post, but is is important and well worth your time.
This will be a high impact event for Alabama with strong forecast confidence.
There is absolutely no need to be alarmed. I know so many people in our state were traumatized by the April 27, 2011 tornado outbreak, and threats like this in coming years won't be easy. When it comes to the question "will this be like April 27"?, please read this post. I won't be answering that question. Plan on spending good quality time with your family tomorrow on a marvelous day, but please be very weather aware, have a way of getting warnings, and have a plan of action in case you come under a tornado warning polygon.
THE SETUP: A rapidly deepening surface low will move from near Shreveport to Nashville tomorrow and tomorrow night. A layer of moist, unstable air will be pulled north into Alabama, putting us firmly in the warm sector of the storm system.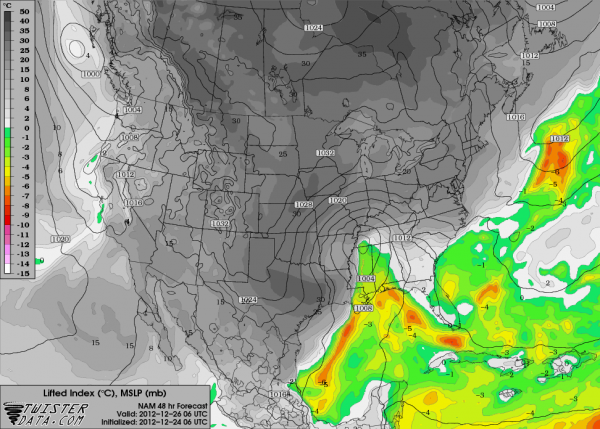 Low level helicity and bulk shear values will be very high over the state…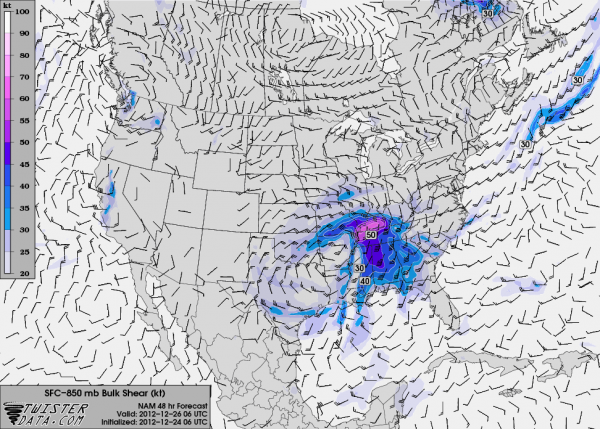 The combination of unstable, buoyant air and high shear produces high STP (significant tornado parameter) values over a large of Alabama. One note… please don't ask about "torcon"… that is not a standard meteorological index, and not used by anybody other than one cable TV outlet. I know no idea what it means and it is not important to me. STP is the value to watch.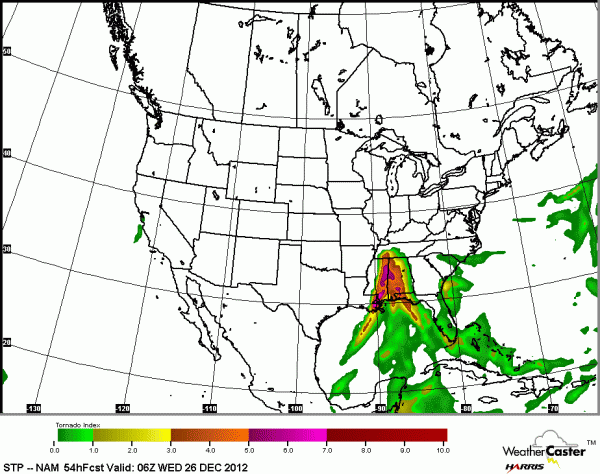 Below is the output from the high resolution NAM… what the weather should look like tomorrow night…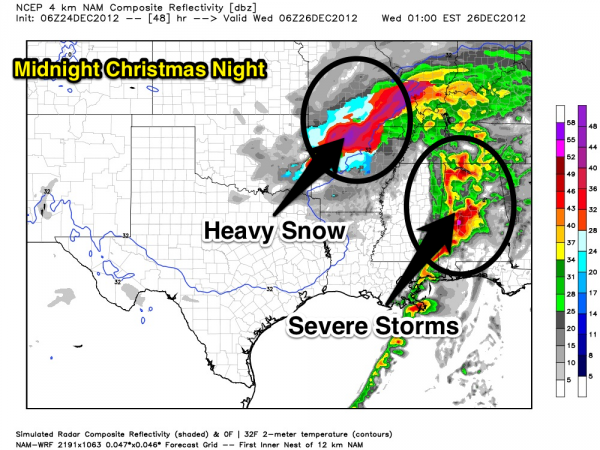 And, below are the SPC outlooks for tomorrow.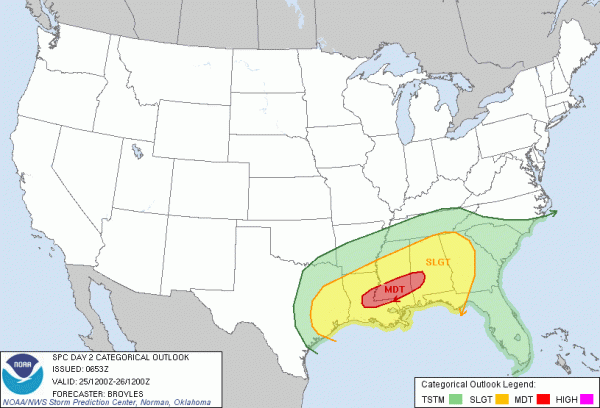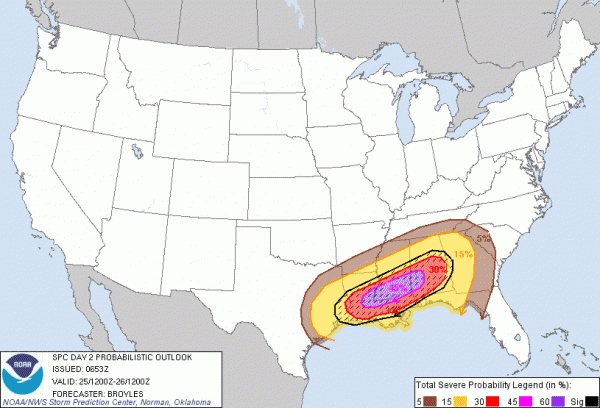 Note the hatched area on the bottom map shows the highest potential for "significant" severe weather, which is defined by SPC as F2 or greater tornadoes, damaging winds with speeds greater than 65 knots, or large hail 2″ or greater in diameter.
FOR TRAVELERS: A big snow event is likely in the cold sector of the storm… see the map below for winter storm watches and warnings, and model output showing where the heaviest snow is likely…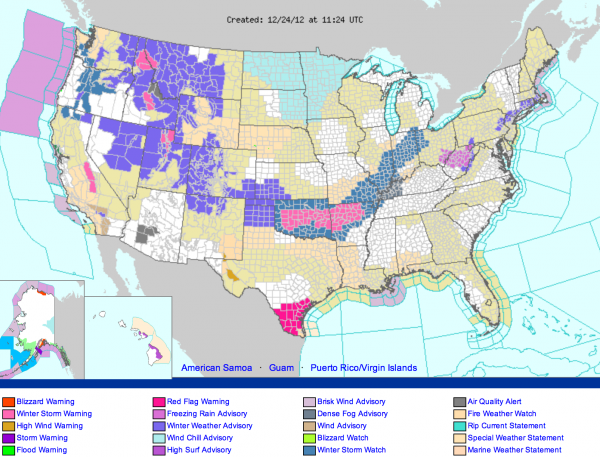 In Alabama, Wednesday will be cold and raw day with temperatures falling into the 30s. Some light snow, or snow flurries are possible over North Alabama, but the chance of any meaningful accumulation is very low.
Here are the important facts you need to know about this potential severe weather outbreak for Alabama…
WHEN? The models have trended a tad slower, and it now looks like the primary risk will come from about 3:00 p.m. tomorrow until 3:00 a.m. Wednesday. The initial threat will be over West Alabama, then shifting east during the night.
WHERE? ALL of Alabama will have a risk of severe weather with this event as there will be sufficient instability now as far north as the Tennessee border. The greatest chance of strong tornadoes will be along and south of U.S. 278, which is all of Central and South Alabama. There is no real need to ask about specific counties or communities since this is a widespread threat.
WHAT? All modes of severe weather are possible, meaning large hail, damaging wind, and tornadoes. Unfortunately a few violent, long track tornadoes will be possible, especially west of I-65, and along and south of I-20/59. As the storms roll over into a long squall line, the main risk moves to straight line winds late tomorrow night ahead of the fast moving cold front trailing the surface low.
TRAVEL? If you plan on driving through Alabama tomorrow, we recommend you get that driving done by 3:00 p.m. If you have to travel after 3:00 p.m., be sure you have a way of getting severe weather warnings. And, unfortunately many radio stations will be "unmanned" and might not provide weather coverage since it is Christmas Day. You can always listen to our on-air audio from ABC 33/40 via your smart phone if needed. Just use the ABC 33/40 app, or the uStream app (which are both free) to receive our live stream.
CALL TO ACTION: This is a challenging outbreak because it falls on Christmas Day. Many will be traveling, and we won't be able to reach people effectively. First off, since many people aren't as connected to the weather as you, please pass this along to your friends, neighbors, and anybody else you come in contact with today so they will be aware of the situation.
BE ABLE TO RECIVE WARNINGS: Never, never, never rely on an outdoor siren to let you know a tornado is coming. That is dangerous, and no telling how many Alabamians have been killed by this "siren mentality" over the years. They reach a limited number of people outdoors, and that is it. The baseline is having a NOAA Weather Radio in your home, properly programmed, and with fresh batteries in case of a power failure. Also, having a good smart phone warning app is even better. We recommend iMap WeatherRadio for iPhone and Android phones, and MyWarn for iPhone. Both will warn you ONLY if you are in a warning polygon (remember, warnings are not county based), you can program in fixed locations, and most importantly, you can watch live ABC 33/40 severe weather coverage within the app.
Yes, I am very active on social media, but remember on Facebook you won't see all posts coming from me within your newsfeed unless you subscribe to my regular account (NOT friend request… subscribe) and choose to receive all updates from me. Here are all my social media accounts…
KNOW WHERE TO GO: If you live in a mobile home and you are in a tornado warning polygon, you must leave. Remember, tomorrow is Christmas and many typical safe places will be closed. Think about it and be ready. And, if you live in a site built home, the safe place is a small room on the lowest floor, away from windows, and near the center of the home. Have readiness kit that includes helmets for everybody in the house, flashlights, extra batteries, shoes, medication, etc.
Again, please do NOT be alarmed by this threat. Enjoy today and tomorrow with your family and don't worry. But, be aware of the threat and have a way of getting the warnings, and have a plan, and we will all be fine. Stay tuned to be blog for running updates… and I hope you and your family enjoy God's richest blessings at this wonderful time of the year…
Category: Alabama's Weather, Severe Weather
James Spann is one of the most recognized and trusted television meteorologists in the industry. He holds the AMS CCM designation and television seals from the AMS and NWA. He is a past winner of the Broadcast Meteorologist of the Year from both professional organizations.