An all new edition of the ABC 33/40 Weather Xtreme video is available in the player on the right sidebar of the blog. You can subscribe to the Weather Xtreme video on iTunes by clicking here.
SNOW DAY: A deep, cold core upper low will pass right over North-Central Alabama tomorrow, and should bring our first snow event of the winter to our state. Before I get into the details here, just a reminder… we don't have very good skill at handling snow amounts, or placement, under one of these. Cold core upper low, weatherman's woe. So, expect some surprises tomorrow as the event unfolds.
The National Weather Service in Huntsville has issued a winter storm watch for Cullman, Lawrence, Limestone, Morgan, Madison, Jackson, and DeKalb Counties for this event. We have not heard from the Birmingham NWS office, but they will issue either a winter storm watch, or a winter weather advisory by the time you read this, most likely.
This is what we expect…
*TIMING: Snow begins over West Alabama early tomorrow morning, in the 3:00 a.m. to 5:00 a.m. range. The big snow shield under the cold core upper low will move steadily east during the morning; snow should begin in Tuscaloosa in the 5:00 to 7:00 a.m. time frame… Birmingham by 8:00 a.m….. and Anniston/Gadsden by 9:00 a.m. Keep in mind these are rough estimates and could change. All of the snow will be over mid to late afternoon as the upper low moves quickly to the northeast.
*PLACEMENT: There could be some light accumulation on grass as far south as Linden, Montgomery, and Roanoke. See our graphic below for the current thinking.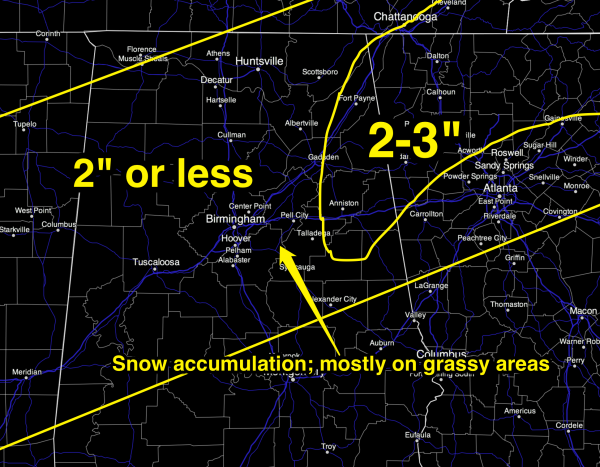 *AMOUNTS: Very tricky. As you can see, we are going two inches or less for most places, with potential for more than 2 inches over East and Northeast Alabama. Across higher terrain, I think we could see a 5 inch or greater total somewhere like Mount Cheaha or Mentone. The best chance of seeing over three inches of snow will come above 1,000 feet. But again, we don't have much skill in handling these cold cores, and this could change as we get into the event tomorrow. The ground is relatively warm, which will limit accumulation.
*TRAVEL: Accumulation should be mostly on grassy areas, leaving roads just wet with temperatures holding above freezing all day. I honestly don't think there will be any serious travel issues tomorrow, even though it might look like a blizzard is coming down at times. Temperatures will hover in the mid 30s as the snow falls.
The exception will be higher terrain across East and Northeast Alabama, where slippery roads could become an issue, especially over 1,000 feet. This means places like Sand Mountain, Lookout Mountain, Cheaha State Park, etc.
Also, temperatures will go below freezing tomorrow night, so any standing water could freeze, meaning a few icy spots on bridges. But, most of the moisture should evaporate quickly.
Take a few minutes to watch the Weather Xtreme video for all the graphics, maps, and details.
SUNSHINE RETURNS: Many of you will be excited to see the sun on Friday. Our weather will be dry Friday through Sunday with seasonal temperatures; highs mostly in the 50s and lows mostly in the 30s, although colder pockets will see 20s early Friday and Saturday morning.
NEXT WEEK: I still think we have a good shot of getting some Arctic air down in here on Tuesday and Wednesday. The latest deterministic runs of the GFS have been warmer, but the ECMWF still looks very cold, and considering the depth of the cold air over Canada, I believe the colder solution is correct. There is a chance we won't get out of the 30s Tuesday, and teens are very possible by daybreak Wednesday. The week will be dry with no snow.
VOODOO MISCHIEF: The GFS still hints at some winter weather mischief before the month is over… looks like there might be winter storms, or rumors of winter storms as a cold, unsettled pattern sets up. See the Weather Xtreme video for the details.
WEATHER BRAINS: Don't forget you can listen to our weekly 90 minute netcast anytime on the web, or on iTunes. This is the show all about weather featuring many familiar voices, including our meteorologists here at ABC 33/40.
CONNECT: You can find me on all of the major social networks…
I had a great time today seeing the pre-school kids at First Baptist Church of Alabaster… be looking for them on the Pepsi KIDCAM today at 5:00 on ABC 33/40 News! The next Weather Xtreme video will be posted here by 7:00 a.m. tomorrow… and stay tuned for updates tonight as our system to the west gets closer.
Category: Alabama's Weather
James Spann is one of the most recognized and trusted television meteorologists in the industry. He holds the AMS CCM designation and television seals from the AMS and NWA. He is a past winner of the Broadcast Meteorologist of the Year from both professional organizations.