The thunderstorm that displayed impressive rotation over Calhoun and Cleburne Counties went on to produce a large tornado in Northwest Georgia a short time later.
The tornado struck near Lindale GA at 10:01 a.m. CST.
It crossed I-75 near Adairsville GA, flipping cars. Cars were overturned and there was major structural damage in downtown Adairsville. There are injuries reported but there are no specifics.
Image from WSB.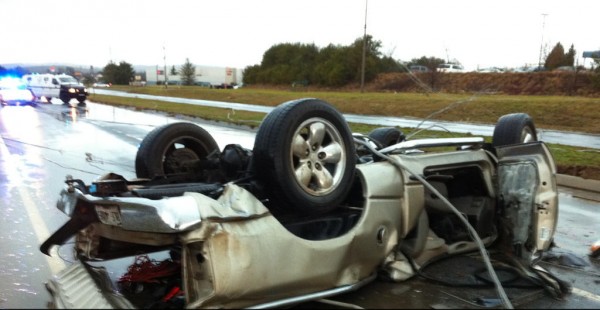 Reports say over 100 cars were thrown from the Interstate, which is closed in boh directions at Exit 301.
There are unconfirmed reports that a factory was destroyed. It is reportedly the Daiki plant, where 180 people were working. Reports are that there was only one injury!
Here is a damage image via WSB-TV.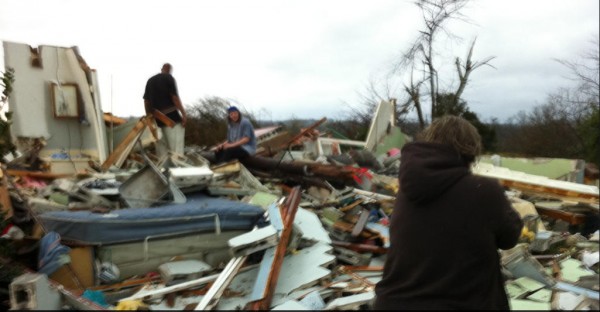 Here is the storm relative velocity lowest tilt from the FFC radar just before the tornado struck Adairsville.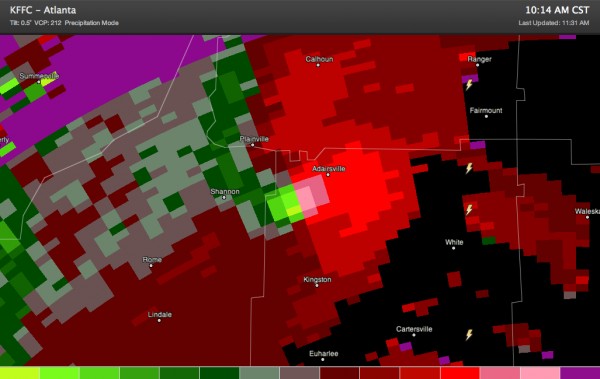 Excellent warnings were in place. Here is the warning that provided 20 minutes of lead time specifically mentioning Adairsville.
411
WFUS52 KFFC 301559
TORFFC
GAC015-057-115-129-227-301645-
/O.NEW.KFFC.TO.W.0003.130130T1559Z-130130T1645Z/
BULLETIN – EAS ACTIVATION REQUESTED
TORNADO WARNING
NATIONAL WEATHER SERVICE PEACHTREE CITY GA
1059 AM EST WED JAN 30 2013
THE NATIONAL WEATHER SERVICE IN PEACHTREE CITY HAS ISSUED A
* TORNADO WARNING FOR…
EXTREME NORTHWESTERN CHEROKEE COUNTY IN NORTH CENTRAL GEORGIA
WESTERN PICKENS COUNTY IN NORTH CENTRAL GEORGIA
NORTHERN BARTOW COUNTY IN NORTHWEST GEORGIA
EAST CENTRAL FLOYD COUNTY IN NORTHWEST GEORGIA
EASTERN GORDON COUNTY IN NORTHWEST GEORGIA
* UNTIL 1145 AM EST
* AT 1056 AM EST…NATIONAL WEATHER SERVICE DOPPLER RADAR INDICATED A
SEVERE THUNDERSTORM CAPABLE OF PRODUCING A TORNADO 16 MILES
SOUTHWEST OF KINGSTON…MOVING NORTHEAST AT 60 MPH. LAW ENFORCEMENT
HAVE REPORTED A FUNNEL CLOUD AND TREES DOWN WITH THIS STORM.
* OTHER LOCATIONS IN THE WARNING INCLUDE BUT ARE NOT LIMITED TO
ADAIRSVILLE.
PRECAUTIONARY/PREPAREDNESS ACTIONS…
HEAVY RAINFALL MAY OBSCURE THIS TORNADO. TAKE COVER NOW! IF YOU WAIT
TO SEE OR HEAR IT COMING…IT WILL BE TOO LATE TO GET TO A SAFE
PLACE.
IF YOU SEE WIND DAMAGE…HAIL OR FLOODING…WAIT UNTIL THE STORM HAS
PASSED…AND THEN CALL THE NATIONAL WEATHER SERVICE TOLL FREE AT 1 8
6 6 7 6 3 4 4 6 6. YOU CAN ALSO TWEET YOUR REPORT USING HASHTAG GAWX.
A TORNADO WATCH REMAINS IN EFFECT UNTIL 400 PM EST WEDNESDAY
AFTERNOON FOR NORTHERN GEORGIA.
Here is an image of the tornado from a video that is apparently legitimate.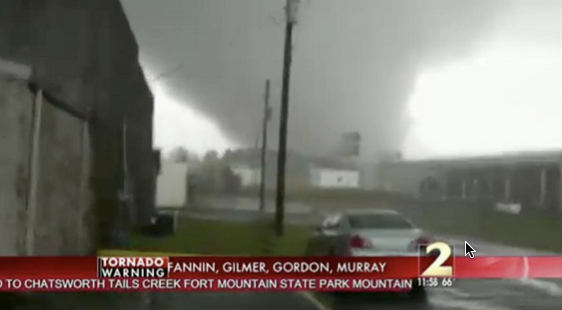 Category: Headlines, Severe Weather
Bill Murray is the President of The Weather Factory. He is the site's official weather historian and a weekend forecaster. He also anchors the site's severe weather coverage. Bill Murray is the proud holder of National Weather Association Digital Seal #0001
@wxhistorian