I have noticed an almost angry tone today on social media discussions over yesterday's widespread and severe wind damage in Alabama. Seems like everybody insists their damage to be caused by a tornado. They tell us…
*I heard the roar
*I saw the funnel
*The trees were twisted
*Winds were blowing in different directions
The National Weather Service in Birmingham, in a morning statement… tells us…
"At this time NWS Birmingham is not planning on conducting storm damage surveys at this time. Based on the radar data and damage reports we have received thus far, the far dominant evidence is that this was solely a thunderstorm wind damage and large hail event in our forecast area."
It is clear to them, and us, that the damage in our part of the state was not related to a tornado… it was all straight line winds.
Jim Stefkovich, in an afternoon note to the media… writes…
"As we all know, yesterday was not the "typical" severe thunderstorm event. In an effort to strike while the iron is hot, I have two favors, and both John and I are willing to help in any way possible.
The first is for each of you to do a news story to educate folks that yesterday is a prime reason why severe thunderstorms need to be taken seriously with damage equating to a tornado, and to read the actual body of the warning to see what we are saying the impacts will be."
I know many are hurting now with storm damage and no power. I have been there, and it is not good. But I am clearly beginning to see that many in our state tend to ignore severe thunderstorm warnings, while paying attention only to tornado warnings. We need to change this.
As I wrote here last night…
A gustnado or two was certainly possible yesterday, if not likely… that is a vortex on the leading edge of a thunderstorm's gust front. Ground based, and not really related to a true tornado in a classic sense.
You have to remember…
*Damaging straight line winds can, and will cause damage just like a tornado.
*You can have twisting type damage with a microburst due to the eddies generated by the air parcel after hitting the ground at extremely high speeds.
*A load roar can also be associated with straight line winds, much like a tornado.
*All severe storms have low level vertical wind shear, including those that don't produce a tornado.
Many have sent me this picture… from Etowah County…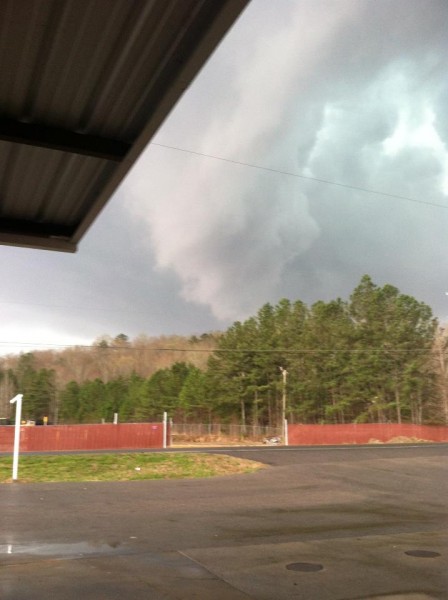 This is a tornado look-a-like, like the kind we show in storm spotter training. Not everything that looks like a tornado in a severe storm is a tornado. This cloud feature was formed from ground level by cold, moist, outflow air. The lowering was not rotating — just rising — and produced no damage itself. It looked a little scary due to the differential lightning. The Etowah County damage was all from straight line winds.
The NWS did a remarkable job in issuing severe thunderstorm warnings. One thing to understand is that we do NOT do long form "wall to wall" coverage on ABC 33/40 for these; perhaps that is one reason people think they are not important. I was on TV for about 20 minutes during the 2:30-4:00 time frame with occasional updates, and of course we were pushing updates on the blog and through social media. Everybody with a NOAA Weather Radio, or smart phone app designed to push severe weather warnings, should have know well in advance before the arrival of the damaging winds.
Just one example… this was issued about 30 minutes before the wind damage happened in Etowah County…
BULLETIN – IMMEDIATE BROADCAST REQUESTED
SEVERE THUNDERSTORM WARNING
NATIONAL WEATHER SERVICE BIRMINGHAM AL
334 PM CDT MON MAR 18 2013
THE NATIONAL WEATHER SERVICE IN BIRMINGHAM HAS ISSUED A
* SEVERE THUNDERSTORM WARNING FOR…
ETOWAH COUNTY IN NORTHEAST ALABAMA…
ST. CLAIR COUNTY IN ALABAMA…
SHELBY COUNTY IN ALABAMA…
* UNTIL 430 PM CDT
* AT 332 PM CDT…EMERGENCY MANAGEMENT REPORTED A LINE OF SEVERE
THUNDERSTORMS PRODUCING QUARTER SIZE HAIL…AND DESTRUCTIVE WINDS
IN EXCESS OF 70 MPH. THESE STORMS WERE LOCATED ALONG A LINE
EXTENDING FROM 5 MILES EAST OF MCLARTY TO 6 MILES WEST OF ASHVILLE
TO MOODY TO VESTAVIA HILLS TO TANNEHILL IRONWORKS STATE PARK…AND
MOVING EAST AT 65 MPH.
* LOCATIONS IMPACTED INCLUDE…
ODENVILLE…HELENA…PELHAM…ALABASTER…MONTEVALLO…PELL CITY…
CHELSEA AND RAINBOW CITY.
THIS INCLUDES…
INTERSTATE 65 EXIT NUMBERS 228 THROUGH 247…
INTERSTATE 20 EXIT NUMBERS 144 THROUGH 162…
INTERSTATE 59 EXIT NUMBERS 148 THROUGH 188…
PRECAUTIONARY/PREPAREDNESS ACTIONS…
THESE STORMS HAVE A HISTORY OF PRODUCING WIDESPREAD WIND DAMAGE.
THIS IS AN EXTREMELY DANGEROUS SITUATION. SEEK SHELTER NOW INSIDE A
STURDY STRUCTURE AND STAY AWAY FROM WINDOWS.
Please take this away from yesterday…
*A severe thunderstorm is defined as a storm with 58 mph winds or greater, or hail 1″ in diameter or larger.
*Pay attention to severe thunderstorm warnings.
*Read or listen to the text of the warning to see the hazards involved. Note the warnings yesterday said "These storms have a history of producing widespread wind damage. This is an extremely dangerous situation. Seek shelter now inside a sturdy structure and stay away from windows". We can't be specific than that.
*If high wind is the hazard, do not drive, or be in a vehicle when the storm is passing through, and stay away from windows.
*You MUST have a NOAA Weather Radio or smart phone app (like MyWarn or iMap WeatherRadio) to get warnings. And, if you are watching TV and the severe weather map is on the screen, pay attention to the crawl message.
We note the NWS in Huntsville did issue two tornado warnings for DeKalb County, where there was rotation on radar, and they are surveying the area now. That would be only place in Alabama with potential tornado damage yesterday.
But, otherwise, it was all straight line wind damage. Trust me, we don't say it to make anyone mad, it is simply the way it was. And, damaging winds can be just as dangerous as a tornado. At least 13 people in our state were hospitalized yesterday; we are very fortunate there was no loss of life.
Category: Alabama's Weather, Severe Weather
James Spann is one of the most recognized and trusted television meteorologists in the industry. He holds the AMS CCM designation and television seals from the AMS and NWA. He is a past winner of the Broadcast Meteorologist of the Year from both professional organizations.