At the time it was the greatest outbreak of tornadoes on record in the U.S. The famous "superoutbreak" of tornadoes started… A total of 148 tornadoes swept across 13 states in roughly a 24 hour time frame. From Illinois to North Carolina and from Michigan to Alabama, tornadoes and severe thunderstorms killed 335 people and injured over 6,000. Over 15,000 homes, businesses and farm buildings were destroyed and another 17,000 buildings were damaged. Here in our state, 86 persons were killed, 949 were injured, and damages exceeded $50 million. Sixteen counties in the northern part of the State were hit the hardest. The town of Guin, in Marion County, was just about wiped out by a massive F5 tornado.
Our own J.B. Elliott at the time was working for the National Weather Service, and was on duty that night. We put this story together several years ago…
Warnings like this were issued that night…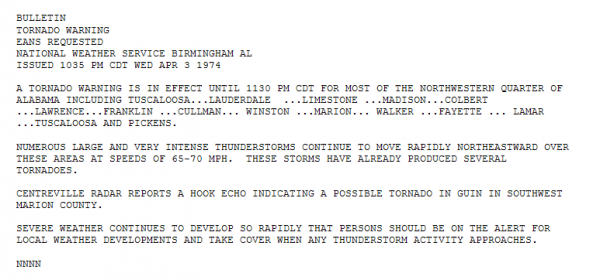 I was a senior in high school in April 1974, and I spent several days away from school serving as an amateur radio volunteer in some of the hardest hit areas. That experience would change my life, and set the stage for the long career in weather.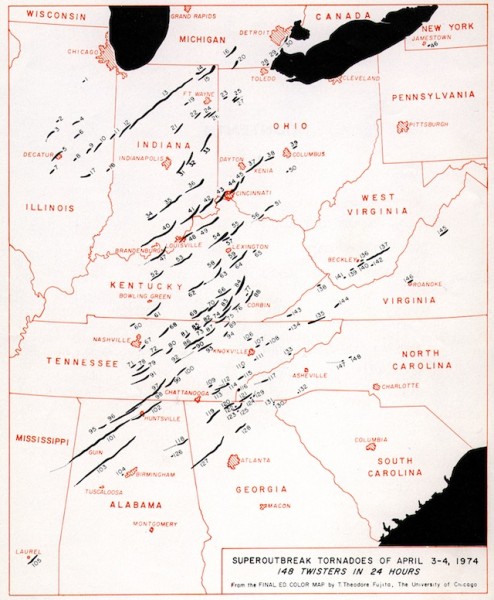 Read more about the event here.
Category: Met 101/Weather History
James Spann is one of the most recognized and trusted television meteorologists in the industry. He holds the AMS CCM designation and television seals from the AMS and NWA. He is a past winner of the Broadcast Meteorologist of the Year from both professional organizations.