A very large, rain wrapped tornado is approaching the western portions of Oklahoma City. A tornado emergency is in effect for this storm. This is a very dangerous and life-threatening storm.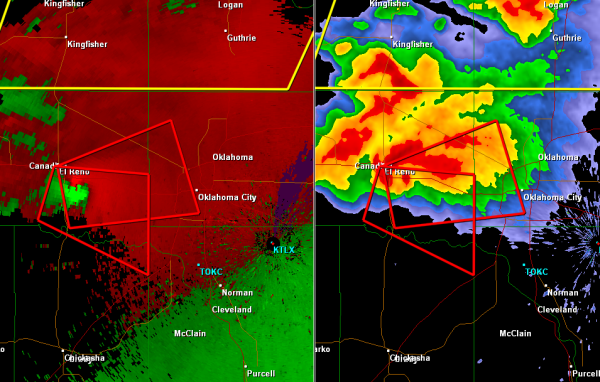 THE NATIONAL WEATHER SERVICE IN NORMAN HAS ISSUED A
* TORNADO WARNING FOR…
SOUTHWESTERN OKLAHOMA COUNTY IN CENTRAL OKLAHOMA…
SOUTHEASTERN CANADIAN COUNTY IN CENTRAL OKLAHOMA…
* UNTIL 700 PM CDT
* AT 623 PM CDT…NATIONAL WEATHER SERVICE METEOROLOGISTS AND STORM
SPOTTERS WERE TRACKING A LARGE AND EXTREMELY DANGEROUS TORNADO 6
MILES SOUTHEAST OF EL RENO. DOPPLER RADAR SHOWED THIS TORNADO
MOVING EAST AT 40 MPH.
THIS IS A TORNADO EMERGENCY FOR YUKON…RICHLAND…WILEY POST
AIRPORT…BETHANY…AND THE VILLAGE…TAKE IMMEDIATE TORNADO
PRECAUTIONS NOW.
IN ADDITION TO A TORNADO…DANGEROUS AND EXTREMELY LARGE DESTRUCTIVE
HAIL UP TO SOFTBALL SIZE IS EXPECTED WITH THIS STORM.
* LOCATIONS IMPACTED INCLUDE…
EL RENO…YUKON…BETHANY…MUSTANG…WARR ACRES AND RICHLAND.
PRECAUTIONARY/PREPAREDNESS ACTIONS…
THIS IS AN EXTREMELY DANGEROUS AND LIFE THREATENING SITUATION. IF YOU
CANNOT GET UNDERGROUND GO TO A STORM SHELTER OR AN INTERIOR ROOM OF A
STURDY BUILDING NOW.
TAKE COVER NOW IN A STORM SHELTER OR AN INTERIOR ROOM OF A STURDY
BUILDING. STAY AWAY FROM DOORS AND WINDOWS.
DO NOT STOP UNDER BRIDGES OR HIGHWAY OVERPASSES. THEY WILL NOT
PROTECT YOU FROM A TORNADO.
Category: Severe Weather
Montgomery Television Meteorologist and long time Contributor on AlabamaWX. Stormchaser. I did not choose Weather, it chose Me. College Football Fanatic.
@Ryan_Stinnet