An all new edition of the ABC 33/40 Weather Xtreme video is available in the player on the right sidebar of the blog. You can subscribe to the Weather Xtreme video on iTunes by clicking here.
ON ICE: I will write as essay later today here on the blog about yesterday's botched forecast and the human suffering that resulted. Remarkable similarities of an event in January 1982 (not the Blizzard of 93)… bad forecast, immediate ice/snow on roads, dismissal from school/work too late, and the nightmare that followed with thousands of stranded motorists.
THIS MORNING: As cold as 5 degrees this morning in Alabama… we are seeing that observation at 5:00 a.m. at Decatur and Haleyville. Cullman and Huntsville reporting 8… temperatures in the Birmingham/Tuscaloosa/Anniston/Gadsden areas generally in the 10-15 degree range, where wind is still blowing. The wind chill index at Birmingham is 3 degrees at 5:00 a.m.
ROADS: All I can is that if you had a significant amount of snow yesterday, don't drive right now. Keep in mind there was little snow over the northern quarter of Alabama, and if you only had a few flakes yesterday, roads are just dry there. But, for most of North-Central Alabama, stay put. Here is a peek at I-65 at Lakeshore before daybreak.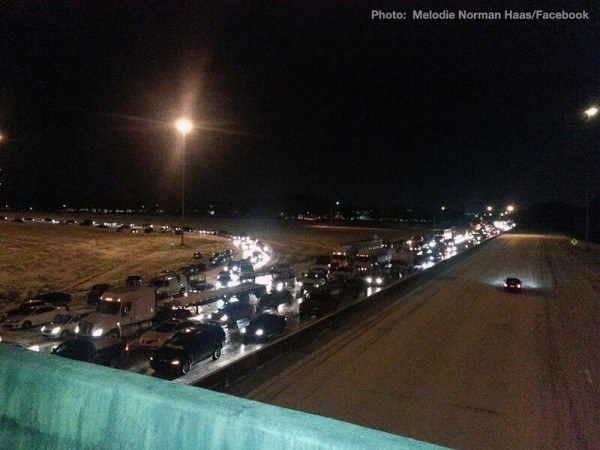 Thousands were stranded in vehicles last night across Alabama; in some places like Hoover school busses were brought in to bring motorists to a warm place. It has been a true "civil emergency", and the CEM (Civil Emergency Message) issued yesterday by Alabama EMA was very appropriate. Few have memories of the great ice storm of 1982 when this last happened. (Not the Blizzard of 93… that was a monster of a different nature).
THE DAYS AHEAD: We are projecting a high only in the low 30s today, but with a sunny sky and very low dewpoints (dry air), the sublimation process will help to bring a slow improvement in road conditions. Tonight will be very cold; by daybreak tomorrow we will drop into the 10-15 degree range with a clear sky and light wind; colder spots across North Alabama go back down into the single digits.
A warming trend finally begins Thursday afternoon with a sunny sky and a high in the low 40s. We reach the mid 50s Friday with a mix of sun and clouds.
THE ALABAMA WEEKEND: Low 60s are likely Saturday and Sunday, but moisture levels will rise and we will forecast a good chance of showers, mostly during the day Sunday. The latest GFS hints that Saturday will be generally dry, followed by 1/2 to 1 inch of rain Sunday. No severe weather.
NEXT WEEK: The high Monday will drop back into the 50s, the sky will remain mostly cloudy, and a shower is possible. But the next organized rain event comes at mid-week, when showers and thunderstorms are likely on Wednesday. This will be a dynamic weather system, so we will watch for strong storms, but at the moment the severe weather risk looks relatively low.
See the Weather Xtreme video for the maps, graphics, and more details.
WEATHER BRAINS: Don't forget you can listen to our weekly 90 minute netcast anytime on the web, or on iTunes. This is the show all about weather featuring many familiar voices, including our meteorologists here at ABC 33/40.
CONNECT: You can find me on all of the major social networks…
Facebook
Twitter
Google Plus
Instagram
Look for the next Weather Xtreme video here by 4:00 or so this afternoon… enjoy the day and stay warm.
Category: Alabama's Weather
James Spann is one of the most recognized and trusted television meteorologists in the industry. He holds the AMS CCM designation and television seals from the AMS and NWA. He is a past winner of the Broadcast Meteorologist of the Year from both professional organizations.