It remains a terribly cold morning across much of Alabama as most locations remain in the upper teens and lower 20s. The temperatures will continue to creep up today, but will not likely make it to or above the freezing mark.
The sun and the very dry air will help with the ice, but we are not expecting any significant improvements today. The roads remain iced over which will continue to cause problems. There remain numerous abandoned cars on the roadways, so please continue to use extreme caution if you have to be out and about today. If you do not have to get out, please do not.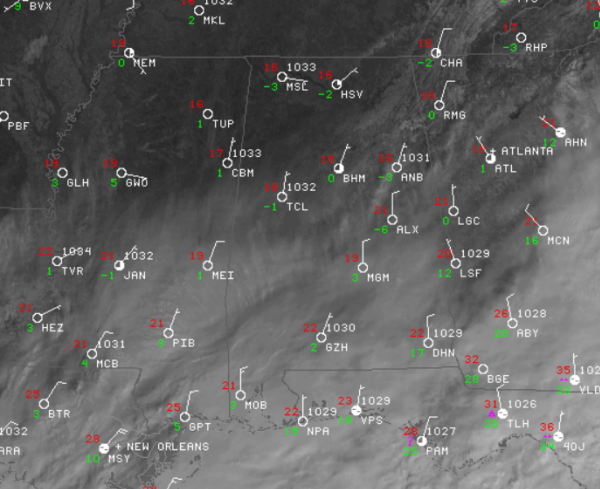 In Central Alabama we are seeing mostly sunny skies, but we are bit concerned with some higher level cirrus clouds that are trying to move back in along the Interstate 20/59 corridor. We still expect the sun to shine through, but it will be filtered some and that could slow down to the warming process today. Not that we expect much of a thaw today, but any extra help we can get today will be beneficial.
What melts today, will likely re-freeze tonight as overnight lows will be way back down into the teens. Finally tomorrow, all of Central Alabama will warm into the 40s and that should allow all the ice and snow to melt and allow us to thaw. By the weekend, the weather will be much improved as 60s are expected.
Category: Alabama's Weather, Winter Weather
Montgomery Television Meteorologist and long time Contributor on AlabamaWX. Stormchaser. I did not choose Weather, it chose Me. College Football Fanatic.
@Ryan_Stinnet