I think most of you know by now the "James Spann 24/7" weather app has been replaced by a new app that is being offered by ABC 33/40; this will have all the functionality of the old app, along with our news and sports content. Basically a "one stop shop" so you don't have to have multiple apps on your phone or tablet.
It is still a work in progress, but you can find it here…
I was very excited to offer the "James Spann 24/7" app since it was all human powered. Real weather discussion written by real meteorologists that explain the weather. It basically offered all of my products and services on one place. These blog posts, the Weather Xtreme video, WeatherBrains, and much more. All of these elements will be in the new app… thanks for your patience.
Some so many of you are asking about weather sources, apps, etc these days… here are some thoughts that might help.
WEATHER INFORMATION IS A COMMODITY: You can get a weather forecast anywhere these days. I have seen weather forecasts on everything from furniture store apps to political candidate web sites. Weather apps by the thousands are available on your "app store", and most of them don't cost a dime. While this sounds great, the problem is accuracy and dependability.
The stock weather app on your phone, and almost all other weather apps and web sites, generate automated forecasts using raw computer "model output statistics". Not one professional meteorologist (and, in most cases, not one human) reviews the forecasts before they are made available. And, boy, can these automated forecasts steer you wrong.
Here is a screen grab from a weather app earlier this summer…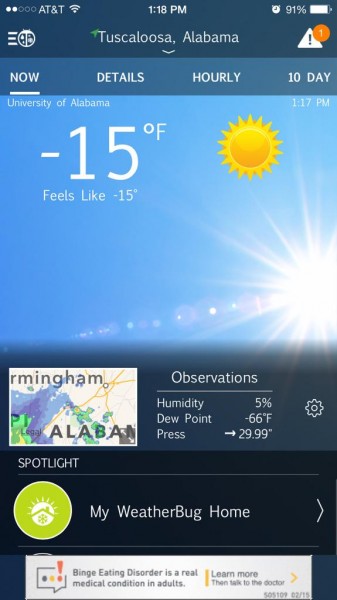 And, most of these "forecasts" show a nice little icon of the weather (sun, storm, clouds, etc), and three numbers. High, low, and "probability of precipitation". While this works on some days, on really active weather days it is of no help. You have no idea if there is a severe weather threat, the amount of rain or precipitation expected, timing, and placement.
Many of you know our frustration, and we often call these "crap apps". Trust me, I fully understand very few people wait on the television news to come on to get a weather update, and I am delighted to offer round the clock weather products at your convenience. No, I don't get much sleep, but it is a delight to be able to offer weather products and services at all hours of the day and night since that is my passion in life.
WHAT TO LOOK FOR: You need to get weather information from a source that offers content put together by a real meteorologist, that understands the people, culture, and geography of your home state. A written discussion that goes beyond the little cartoon pictures of weather, that is updated frequently. And, preferably a video that explains what to expect and doesn't treat you like an idiot. If you app features videos that tell you to go into an air conditioned room during hot weather, you might look elsewhere.
RECOMMENDED SOURCES/APPS: So, what apps do I need? Which ones are reliable? Here are some suggestions…
THIS BLOG: If you are reading this, then we are preaching to the choir. The Alabamawx.com blog is unique, and a strong source for Alabama weather information. Yes, we get it wrong sometimes. But, our short term (48 hour) accuracy is in the 92-95 percent category. And, when I miss the big one, I am open and honest.
There are seven meteorologists who write here, with over 100 years combined weather experience in Alabama. The Weather Xtreme video is posted twice daily weekdays, and once daily weekends.
If you live outside Alabama…. do your best to find a similar source. And, the blog is available on the new ABC 33/40 app mentioned above.
WARNING APPS: Getting severe weather warnings is extremely important. Yes, the built in "WEA"… or wireless emergency alert system seems to work well for flash flood and tornado warnings, but we really don't know how that works, and we really don't know the reliability. My favorite warnings apps are "WeatherRadio by WDT", and "MyWarn". I have no financial interest in either app, and they both work very well. Your generic, free weather app won't do this well.
RADAR APP: RadarScope is the winner by far. They offer a version for iOS, Android, and OS X (Apple computers). And, you can get radar with this on your Apple Watch. And yes, I love it. And, over on the Windows side, the Gibson Ridge radar software is excellent.
LIGHTNING APP: I use BoltMeter, but for some reason that is not available now within the US app stores. I have purchased the lightning add-on within "WeatherRadio by WDT" which offers real time lightning data, and alerts are well. This is a critical function for outdoor events, especially on summer afternoons. RadarScope offers real time lightning data as well for a small price.
Have suggestions? List them in the comment section.
The one thing I try and do is be available to answer your weather questions. I don't have a 15 minute chat session we advertise on TV… I am around most hours of the day and night. Best way of getting me is social media…
Facebook
Twitter
Google Plus
Instagram
My personal email is here… and I respond quickly. The only thing I don't do is a phone call; I have not answered my work phone since 1998. Too much time consumption.
Your pictures and reports are so helpful, and I thank all for engaging with me in the new digital world. And again, I will let you know the minute the new ABC 33/40 app is available…
Category: Hodgepodge
James Spann is one of the most recognized and trusted television meteorologists in the industry. He holds the AMS CCM designation and television seals from the AMS and NWA. He is a past winner of the Broadcast Meteorologist of the Year from both professional organizations.