Nice weather for Central Alabama today, but there is a mess down south. The front that came through earlier this week, stalled along the Gulf Coast and is causing widespread showers and storms across the Gulf Coast and southern portions of Alabama. For the first half of the day, we have seen plenty of sunshine, but clouds are moving north this afternoon and these clouds will be responsible for making a wet Easter Sunday. Temperatures are in the 60s and 70s this afternoon, with the warmer temps where the sun is shining.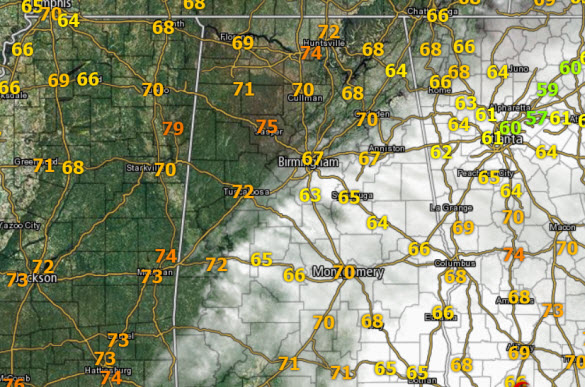 There are a few light showers making their way north into Central Alabama this afternoon, but these are mainly east of Interstate 65 and are few and far between. The vast majority of Central Alabama will stay dry today.
Southerly flow will continue overnight and into tomorrow and that means the weather turns wet Sunday for much of Central Alabama. Tomorrow, an upper trough will be coming across Missouri with a cold front along the Mississippi River at midday. In the latest Day 2 convective outlook, the SPC has a "slight risk" area northwest of Alabama. The standard "slight risk" area covers much of the western half of Kentucky and Northwest Tennessee. For Alabama, though storms are possible, the SPC has all but trimmed Alabama out of a severe weather threat, except the far NW corner of Alabama, the coastal counties, where a "marginal risk" is in place.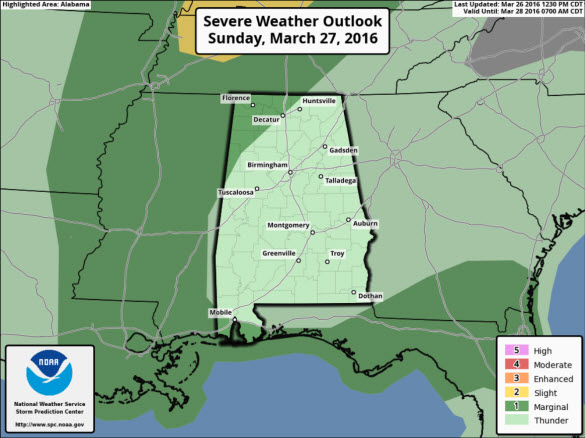 Tomorrow, CAPE values appear high enough for some thunder, but shear values are pretty low. With the stationary front along the Gulf Coast, convection should be ongoing and that convection along the Gulf Coast will likely be cutting off the really good moisture from returning to Alabama. That being said, though the threat of severe weather is not expected, we are expecting periods of showers and storms; it looks as though some of the Easter Egg hunts may have to be held indoors.
Category: Alabama's Weather
Montgomery Television Meteorologist and long time Contributor on AlabamaWX. Stormchaser. I did not choose Weather, it chose Me. College Football Fanatic.
@Ryan_Stinnet