Unlike the situation yesterday morning, the state of Alabama was blanketed by clouds this morning. A patch of showers with embedded thunderstorms was moving through Central Alabama at daybreak bringing some light rain to spots. Additional rounds of showers and embedded thunderstorms are expected today, so you may want to have the rain gear handy. I'm not expecting a complete rain out, but we will see several rounds of showers and storms until the cold front passes through the area late today or very early Monday morning. Despite the clouds, temperatures will be fairly mild with highs in the lower 70s. While there will be some embedded thunderstorms, the main threat for severe weather will be north of Central Alabama centered on the western portion of the Ohio River Valley.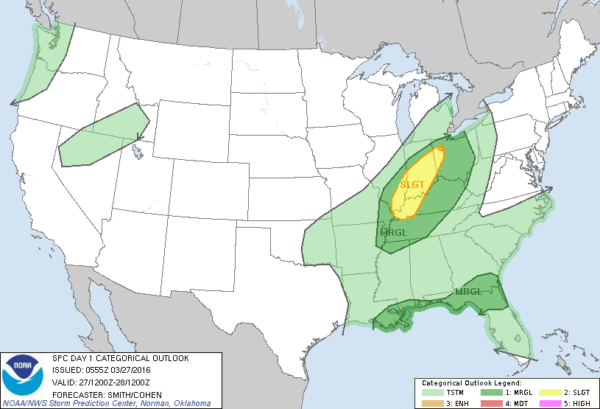 Another day of unsettled weather is expected along the Alabama and Northwest Florida beaches. Showers and storms continue along a stalled frontal boundary along the Interstate 10 corridor. Expect improving weather Monday and Tuesday, before rain and storms return for the second half of the week. Highs will be in the 70s with lows mainly in the 60s. See the complete Gulf Coast 7 Day Planner here.
The upper trough will move by this evening reaching New York by midday Monday. We should see the rain end overnight tonight as a surface high pressure center settles into Arkansas. With ridging aloft and the surface high over the Southeast US, we should see a couple of nice days. Monday will be nice with highs in the upper 60s, and we warm back into the 70s for Tuesday and Wednesday.
Wednesday we turn our attention to the next weather system in the form of a fairly strong short wave trough coming out of the southern Rockies. It is expected to move northeast into the Great Lakes area on Thursday, with a front trailing from a deep surface low over Southeast Canada. This system will set the stage for a round of severe weather on Wednesday from Louisiana and East Texas northward to Iowa. But with much of the better dynamics pretty far north, we may not see any severe weather in the Southeast US. The GFS shows some respectable CAPE values on Thursday, but the best shear values extend from western North Carolina to New York. But it is March verging on April, so we will need to closely monitor the conditions for Thursday to be sure something does not sneak in on us.
Over the next five days through Friday morning, HPC rainfall guidance suggests widespread rainfall amounts of 2 to 4 inches. Since this rain is expected to come in two main rounds, flash flooding may not be a big concern, but we certainly need to be aware that this kind of rainfall could lead to some river flooding as we head into next weekend.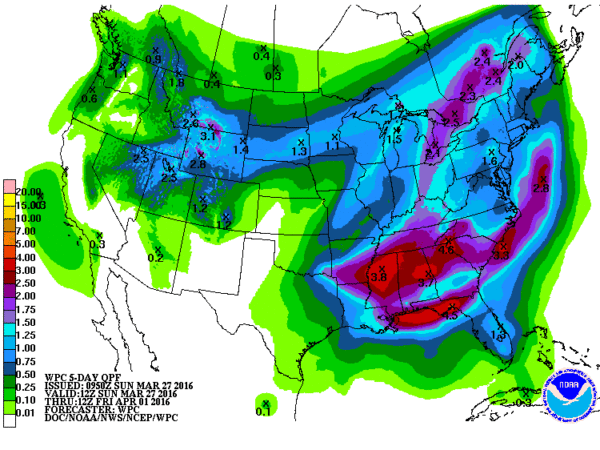 By Friday, a broad trough begins to set up across the eastern US. This should provide us some great weather just in time for the weekend, plus we should see the added benefit of cooler air. This means lows in the 40s and highs in the 60s for next weekend.
Looking into voodoo country, the pattern should another trough that will affect us around April 7th. But, just like the one later this week, the best dynamics are going to be pretty far north which may preclude any serious threat of severe weather. A strong short wave with a closed low is projected across the Ohio River Valley on the 9th/10th of April which could mean a potentially serious round of severe weather for the Southeast US. But we are well into voodoo country, so we're looking for trends and not specifics.
James Spann will be back on Monday with the next edition of the Weather Xtreme Video. The ABC 3340 Weather Team is skipping this next week in our storm spotter training. The next basic spotter training will come April 5th at 6:30 pm in Helena at the Civic Center/Community Center/Sports Complex just off 261. Hope to see you there. Have a great day, stay dry, and Godspeed.
-Brian-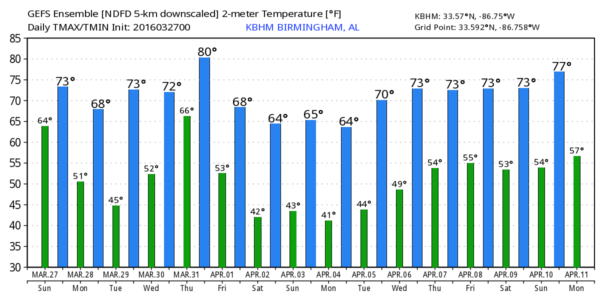 Category: Alabama's Weather
Brian Peters is one of the television meteorologists at ABC3340 in Birmingham and a retired NWS Warning Coordination Meteorologist. He handles the weekend Weather Xtreme Videos and forecast discussion and is the Webmaster for the popular WeatherBrains podcast.