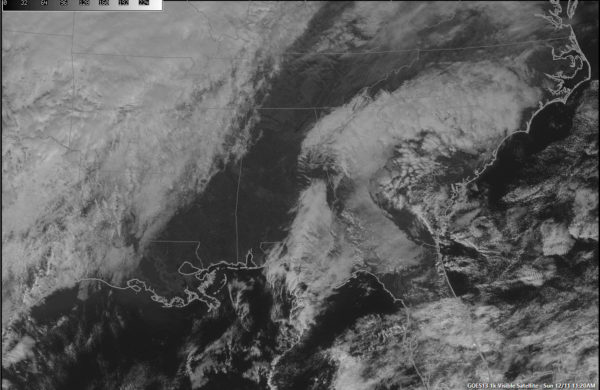 The I-59 Corridor finds itself sandwiched between two areas of cloudiness. To the southeast, moisture is sliding into the state around the periphery of the high located to the northeast of Alabama. To the west, clouds cover much of Mississippi, and are just entering Northwest Alabama ahead of a cold front.
Temperatures are in the 50s across the area and most spots will top out in the upper 50s. The exception will be places like Demopolis and Selma where highs will make the lower 60s thanks to the sunshine.
It has gotten breezy over West and North Alabama where the pressure gradient has tightened between the low over the Texas Panhandle and the high to the northeast. Winds are gusting to 31 mph at Huntsville and 32 mph at Decatur. Winds are gusting to 20 mph at Tuscaloosa and 21 mph in Birmingham.
Clouds will thicken through the afternoon and evening hours. Showers will breakout over southeastern sections late this afternoon, generally east of I-65/85. Showers will also show up in Northwest Alabama by sunset and will slowly ramp up overnight. An area of rain will move into the northwest part of Alabama before midnight and will progress southeastward through the overnight hours. Lows will be in the upper 40s.
Rain should reach the I-59 Corridor before sunrise and rain showers will be fairly common through the day tomorrow across much of the area. Rainfall amounts will be light, generally less than 0.35 inches. There will be a break tomorrow night before another wave comes across, bringing more showers to the area during the day on Tuesday. Rainfall amounts for that system should be generally less than one quarter of an inch.
High pressure builds in Wednesday and an Arctic front arrives Thursday. Highs on Thursday will struggle to reach the 40s. Look for more really cold readings Friday morning, perhaps rivaling those of this past week. Look for Friday morning lows to be in the teens and lower 20s.
More rain and storms arrive Saturday night. There is a chance of severe weather with this system. More rain arrives Christmas Eve. Rain amounts over the next two weeks will be between 3-4 inches.
Category: Alabama's Weather
Bill Murray is the President of The Weather Factory. He is the site's official weather historian and a weekend forecaster. He also anchors the site's severe weather coverage. Bill Murray is the proud holder of National Weather Association Digital Seal #0001
@wxhistorian