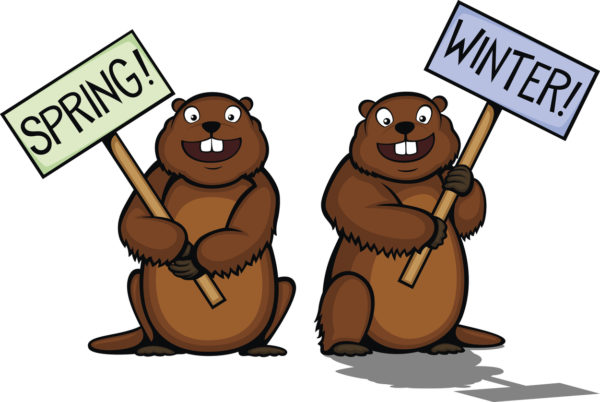 UPDATE FROM THE BIRMINGHAM ZOO AND BIRMINGHAM BILL
At 10:05 AM, Birmingham Bill made his appearance in the auditorium at the Birmingham Zoo. Due to the inclement weather, the event was held indoors. So, with that being said, Birmingham Bill did not see his shadow and an early spring can be expected for Central Alabama.
Today (February 2nd) is Candlemas Day. It began as the Catholic feast of the purification of Mary. In weather folklore, it is a "weather breeder", or a date that is believed to set the weather patterns for some part of the future. In many parts of the Northern Hemisphere, a cold February is beneficial to a good crop. So, for those who put stock in weather folklore, February 2nd was eagerly anticipated to tell farmers what to expect during the rest of the month and correspondingly, what kind of crop to expect.
Sayings like this were based on the weather of Candlemas Day in Europe;
If Candlemas Day be fine and clear,
We shall have winter half the year.
If Candlemas Day be fine and clear,
Corn and fruits will then be dear.
In the New World, the sayings were adapted to ones like this:
If Candlemas Day is fair and bright,
Winter will take another fight:
If Candlemas Day bring storm and rain,
Winter is gone and will not come again.
Meanwhile, in different places, the saying was being adapted to local lore. In France, it is the bear that has to see his shadow and turn around three times before going back in his or her den in order to fulfill a forecast of more winter to come.
In Germany, it was the woodchuck that was watched to see if it saw its shadow and went back inside for six more weeks of winter. Pennsylvania Dutch elected the Groundhog to be their weather prophet, in a tradition that continues today.
The most famous groundhog is Punxsutawney Phil, who will make his prognostication this morning. Here locally, Birmingham Bill, at the Birmingham Zoo, is the rodent who foretells our chances of continued winter or an early spring.
This morning…
Punxutawney Phil emerged from his humble abode around 6:00 AM and saw his shadow, meaning six more weeks of winter for his neck of the woods. As far as Birmingham Bill… he will make his appearance at the Birmingham Zoo at 10:00 AM. More than likely, with cloudy skies this morning, he will probably not see his shadow. We'll have an update when he shows to make his prognostication.
Category: Headlines
Scott Martin is an operational meteorologist, professional graphic artist, musician, husband, and father. Not only is Scott a member of the National Weather Association, but he is also the Central Alabama Chapter of the NWA president. Scott is also the co-founder of Racecast Weather, which provides forecasts for many racing series across the USA. He also supplies forecasts for the BassMaster Elite Series events including the BassMaster Classic.