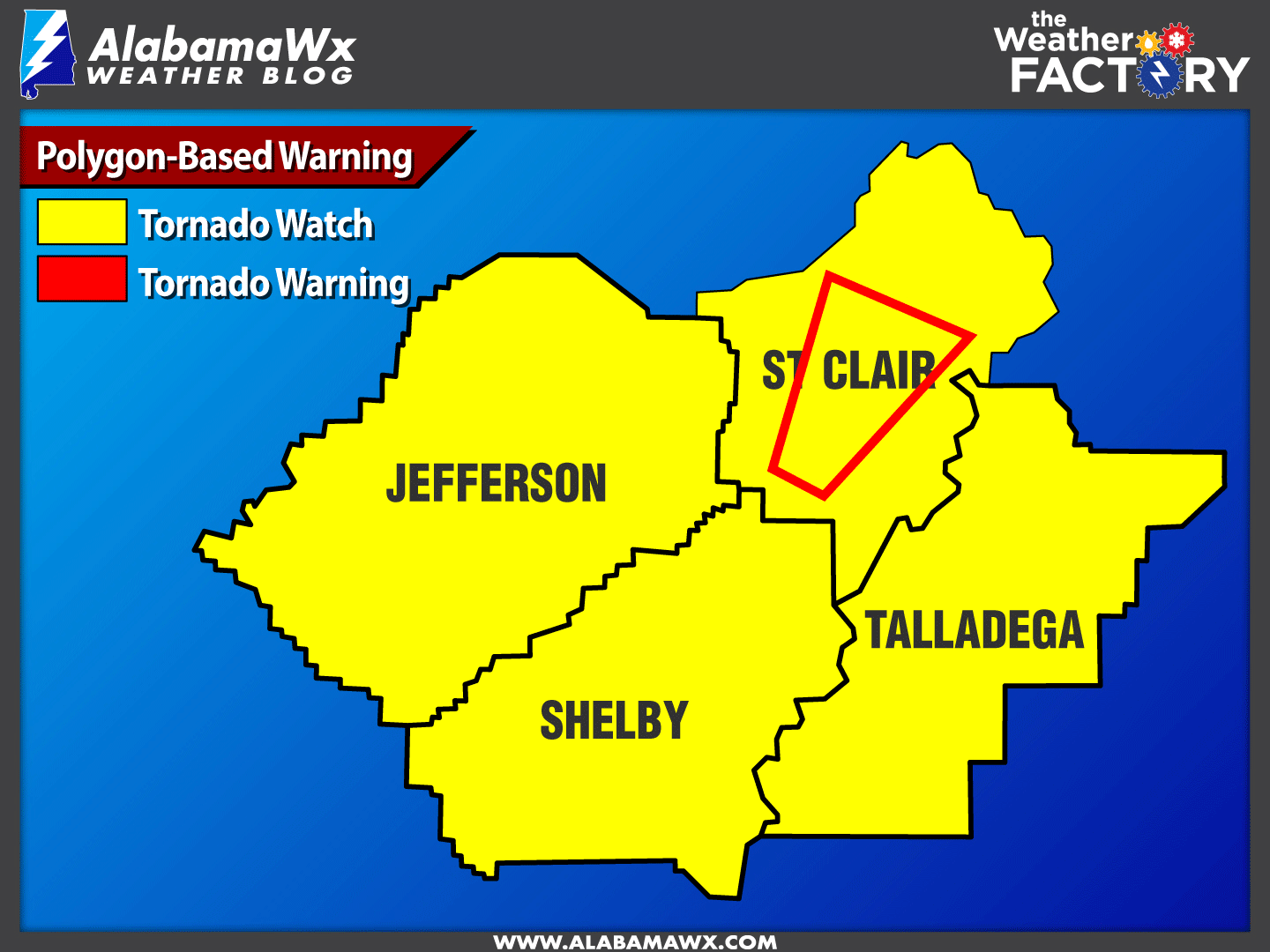 It is critical that you have a reliable way of receiving severe weather watches and warnings immediately. Lead times for tornado warnings have increased dramatically since the implementation of Doppler Radar and false alarm rates continue to drop.
Prior to 2007, severe weather warnings were only issued for entire counties. In 2007, the National Weather Service adopted Storm Based Warnings, which generally cover areas smaller than a county. Now, National Weather Service meteorologists issue tornado or severe thunderstorm warning for narrowly defined areas where they believe a tornado or damaging severe weather event is occurring or will occur.
Contrary to popular belief, it doesn't happen very often. In fact, there are only two tornado warnings on average per year for any given location in Central Alabama. So when they are issued for your specific location, take them seriously and act!
If you have an iOS or Android device, we strongly recommend WeatherRadio by WDT. There is a one time cost of $9.99 for the app. The app enables you to receive critical alerts via voice and push notification regarding life-threatening weather events. You can set it to where you only receive alerts for where you are currently located, or get warnings for up to 5 different locations.
NOAA Weather Radio is the old standard. When a watch or warning is issued by the National Weather Service, specially built receivers are automatically activated by radio signal and sound a loud alarm. They can be programmed to alert you only when certain counties are affected. One drawback is that they are designed to warn entire counties, not the very specific areas included in the National Weather Service warnings. But Weather Radio is robust, reliable way of getting the message when severe weather threatens, and should be part of your redundant ways to get warnings.
Outdoor sirens are designed to warn people who are outside that there is a tornado warning. They are usually sounded county wide, rather than just in areas where the warning is in effect, which means a lot of false alarms like Weather Radio. And they generally can't be heard indoors and won't wake you when you are asleep, so don't rely on them as a primary line of defense in your severe weather safety plan.
KNOW THE DIFFERENCE BETWEEN A WATCH AND A WARNING
A watch means conditions are right for hazardous weather to develop.
A warning means that hazardous weather is occurring or is imminent.
All thunderstorms are not severe. Severe thunderstorms are defined as having:
• large hail (1" or greater)
• damaging winds (58 mph or greater)
• tornadoes
Category: STANDBY
Scott Martin is an operational meteorologist, professional graphic artist, musician, husband, and father. Not only is Scott a member of the National Weather Association, but he is also the Central Alabama Chapter of the NWA president. Scott is also the co-founder of Racecast Weather, which provides forecasts for many racing series across the USA. He also supplies forecasts for the BassMaster Elite Series events including the BassMaster Classic.