Read posts below by JB and James about snow reports and pictures this morning, mainly over north Alabama, north of Oneonta.
These snow showers are due to moisture wrapping around the big upper-level low over the Midwest, and unstable air, similar to what causes scattered afternoon thunderstorms! And, as we often say with spring and summer thunderstorms, the air gets more unstable as the ground warms up due to sunshine. So, with temps in the lower 40s, we may see a few snow showers develop here in central Alabama today. Radar already indicates some light snow developing as far south as Pell City. But, they won't cause any travel problems with temperatures way above freezing, it may just be fun to look at.
Check out the high-resolution satellite picture. Over central Alabama, where the sun has been out this morning, the clouds are in streets or bands, looking more like clouds in the summer than when it is 40 degrees.

Click on picture to make it larger.
Unstable air is simply when the temperature decreases rapidly with height. Normally, this is due to warming of the surface into the 70s or 80s. But, it can also happen when temperatures aloft are very cold, like today. The morning balloon data from Shelby County Airport shows the rapid drop of temperature with height. The heavy red curve is the temperature profile, and the thin blue angled lines are the temperature (in C). Notice that it goes below freezing just above the surface, and at 500 mb (about 17,000 feet), the temperature is about -34 C (-29 F)! Wow.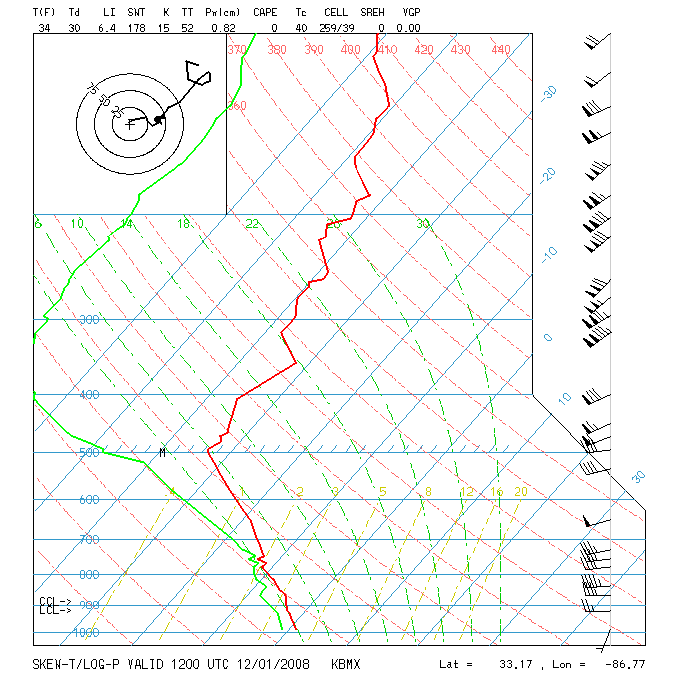 Category: Uncategorized