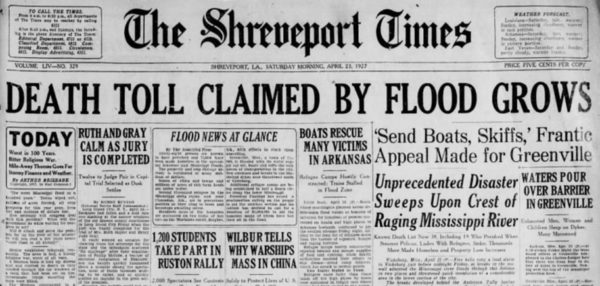 The headline of the New Orleans Times Picayune on April 23, 1927 screamed the words of Mississippi Governor Dennis Murphree: "For God's Sake, Send Us Boats" as the Mississippi River raged out of control in the Magnolia State.
Nearly 200,000 people in the Mississippi Delta were forced from their homes by floodwaters from a levee break at Mounds Landing. The waters covered an area fifty miles wide and one hundred miles long to a depth or up to twenty feet!
As the flood waters inundated the city of Greenville, Mississippi, 13,000 African American refugees crowded what was left of the levee, the only high ground in the county. Without food, safe water, and shelter, outbreak of disease was inevitable.
But in a disgraceful display of power and greed, local leaders refused to evacuate the refugees, fearing that they would leave the area and remove a large part of the labor pool that the cotton industry depended upon.
Meanwhile in Alabama, the Tombigbee was raging out of control across three counties: Pickens, Greene and Sumter Counties. Floodwaters covered a large area nearly 75 miles wide to a depth of up to twenty feet. Most of the submerged land was used only for agriculture, but families that lived in the flood plain had no warning as the waters surged in.
Travel was at a standstill with many highways washed out. The town of York was virtually isolated from the outside world.
Losses were already estimated at $500,000, most of that coming from drowned livestock.
Category: ALL POSTS, Met 101/Weather History
Bill Murray is the President of The Weather Factory. He is the site's official weather historian and a weekend forecaster. He also anchors the site's severe weather coverage. Bill Murray is the proud holder of National Weather Association Digital Seal #0001
@wxhistorian