Earlier today we were watching a complex of storms tracking across Tennessee. It has fallen apart, but it has sent out outflow boundaries into Alabama, and these outflow boundaries could allow for a few thunderstorms the rest of today.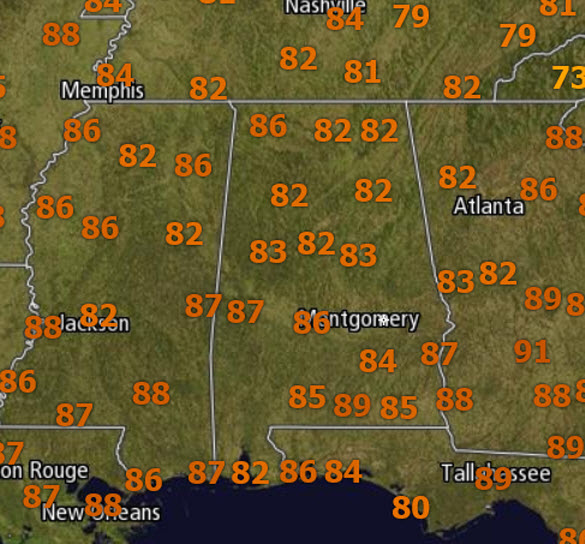 It is a very warm and muggy day with all of us up into the 80s and we are seeing a mix of sun and clouds early this afternoon.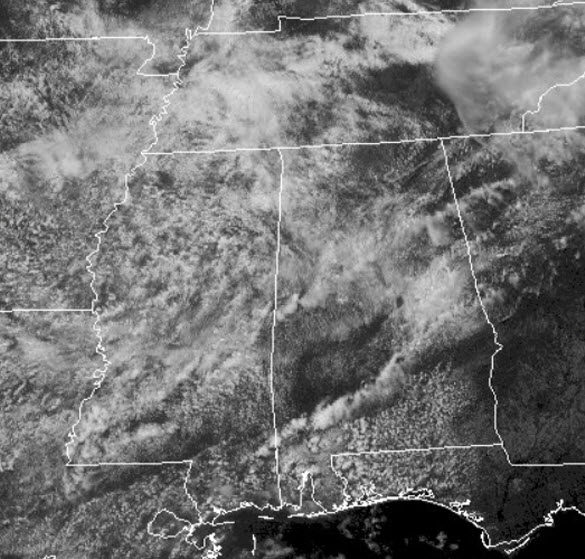 TO OUR NORTH/NORTHWEST: A frontal boundary to our north will cause a lot of severe weather. The SPC has much of Missouri and the Mid-Mississippi Valley under a "moderate risk" for severe weather.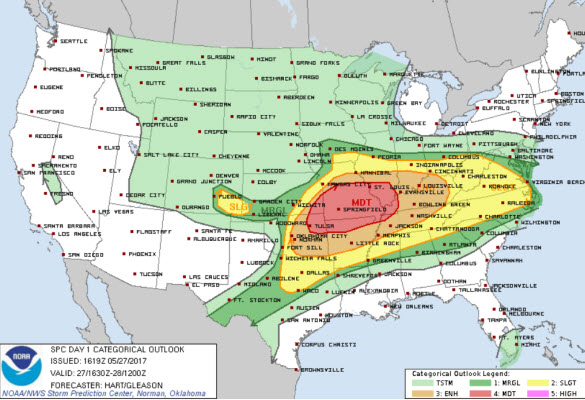 Widespread severe wind gusts are forecast from the Ozark region to the lower Ohio Valley this afternoon and evening. Additionally, very large to giant hail and tornadoes will be possible from the Red River Valley northeastward to the Ozark Plateau. Damaging winds, large hail, and a couple tornadoes will also be possible across the Tennessee Valley, middle Ohio Valley, and portions of the Mid-Atlantic.
TONIGHT: The storms developing to our north will likely impact portions of North Alabama later tonight and the severe weather risk extends as far south as the Interstate 20 corridor.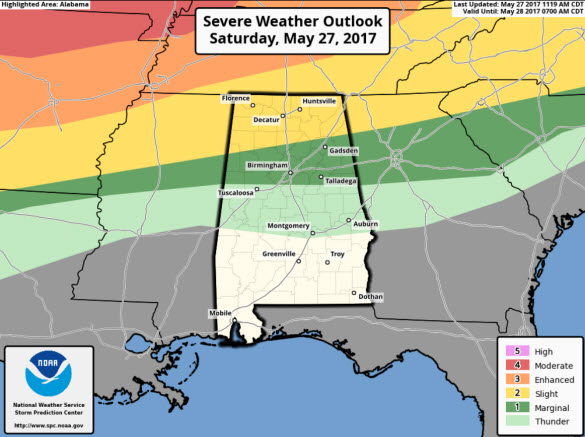 This is for the threat of storms from the convection to our northwest as it slides into Alabama. The main concern for Alabama will come from damaging wind gusts associated with the a complex of storms. Do not be surprised to hear some rumbles of thunder overnight.
SUNDAY: Tomorrow should be much like today with a mix of sun and clouds and warm temperatures. We should top out in the mid and upper 80s tomorrow, and we are going to have to deal with some scattered showers and storms, but these should be confined to northern portions of the state. However, storm coverage will increase heading into tomorrow night and we note the SPC has much of Central Alabama in a "marginal risk" for severe weather, but once again, this will be for more of tomorrow night.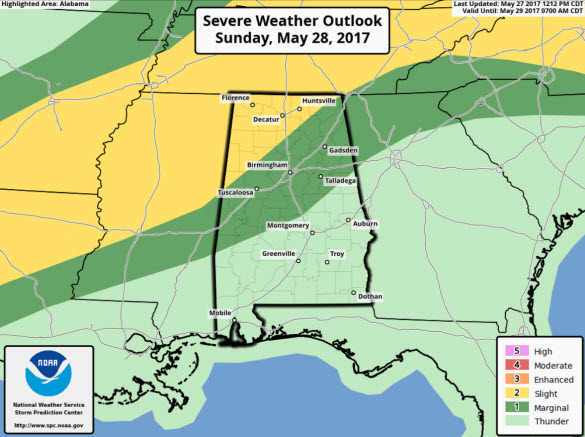 The SEC Baseball Tournament is ongoing at the Hoover Met today and tomorrow. Expect warm, dry weather at the Hoover Met today with highs in the 80s. Tomorrow there is a small risk of during afternoon for the championship game. Sunday's high will be between 85 and 88. Also, for the first time ever, you can take advantage of the Hoover Metropolitan Complex which will feature a free, indoor Fan Fest – ferris wheel, sports bar and much more! Tickets start at only $9!
STORMS FOR MEMORIAL DAY: The front will sag into Alabama late tomorrow night and through the day Monday, forcing rain chances up significantly. Looks like Memorial Day could be fairly wet with showers and thunderstorms and yes, a few strong to locally severe storms will be possible. The SPC has an area of "slight risk" along the front from southern Mississippi to the Carolinas which includes a chunk of Central and South Alabama. Temperatures remain warm but reduced slightly with highs mainly in the lower 80s.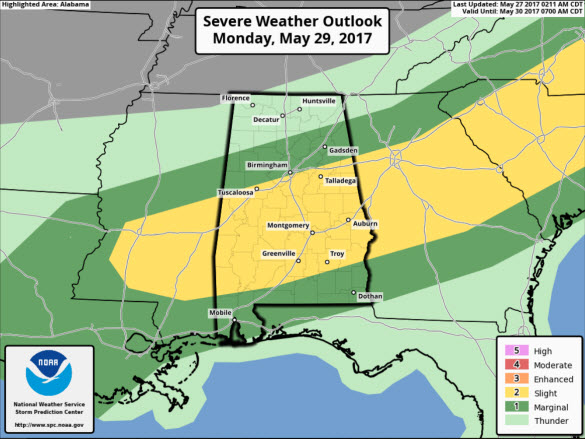 Category: Alabama's Weather, ALL POSTS
Montgomery Television Meteorologist and long time Contributor on AlabamaWX. Stormchaser. I did not choose Weather, it chose Me. College Football Fanatic.
@Ryan_Stinnet