WeatherBrains Episode 602 is now online (July 31, 2017). If you are crazy about weather, this is THE netcast audio program for you!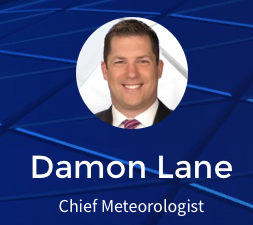 This show looks at the OKC television market with Guest WeatherBrain Damon Lane, KOCO. Tonight's Guest WeatherBrain is the Chief Meteorologist at KOCO TV in Oklahoma City. Before coming to OKC in 2009 he was the Chief Meteorologist at KTXS TV in Abilene, Texas. He got his bachelors degree in Meteorology/Atmospheric Science from the University of North Carolina at Asheville. Damon Lane, welcome to WeatherBrains!
Other discussions in this weekly podcast include topics like:
Extremes:
Tropical Storm Emily formed earlier today off West Coast of Florida
Emily now a depression crossing Florida
Little severe weather across the US
Astronomy Outlook with Tony Rice
and more!
Our email bag officer is in and out this week so hopefully back in full force next week.
From The Weather Center:
WeatherBrains 101: If you were watching the eastern North Pacific, you saw where there were two tropical storms that were in relatively close proximity, so there was the potential for an interaction of the storms. This interaction is called the Fujiwhara effect or Fujiwhara interaction. So just what is that? It is the topic for this edition of 101.
Listener Surveys: Okay, we continue to drive this topic into the ground, but we really do like to hear from you. Many thanks to everyone who has taken the time to fill out the Listener Survey. The survey takes just a minute or two to complete and provides us with an opportunity to learn where you are and hear your thoughts and comments on the show. Click here to take the survey.
Web Sites from Episode 602:
To subscribe to the brand new SkyWritings, an email newsletter from the WeatherBrains gang, click HERE.
Picks of the Week:
Kevin Selle – Leslie Anne Martin art work
Rick Smith – Texas Monthly article
James Spann – RAMMB site for satellite data
Aubrey Urbanowicz – Haby Hints
The WeatherBrains crew includes your host, James Spann, plus other notable geeks like Nate Johnson, Bill Murray, Aubrey Urbanowicz, Rick Smith, Kevin Selle, and Brian Peters. They bring together a wealth of weather knowledge and experience for another fascinating netcast about weather.
Comments
Powered by Facebook Comments
Category: ALL POSTS, WeatherBrains
Brian Peters is one of the television meteorologists at ABC3340 in Birmingham and a retired NWS Warning Coordination Meteorologist. He handles the weekend Weather Xtreme Videos and forecast discussion and is the Webmaster for the popular WeatherBrains podcast.