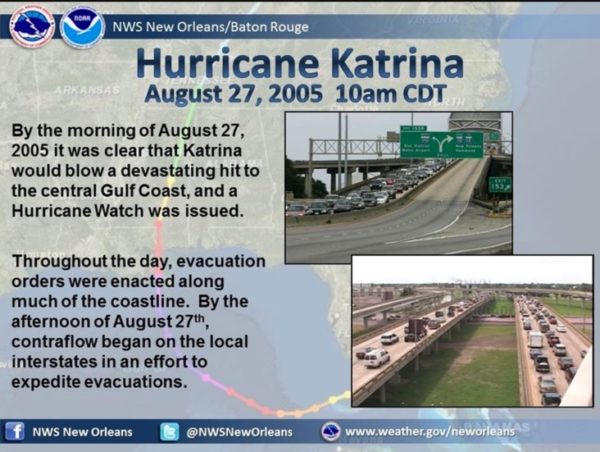 It was a beautiful morning along the Gulf Coast on Saturday, August 27, 2005.
But weather reports were becoming frightening. Hurricane Katrina was bigger, stronger and better organized. Reconnaissance reports indicated that the central pressure had dropped to 940 millibars. Already rated as a category three hurricane, it was becoming evident that the storm could be a category four at landfall, which was projected to be directly over New Orleans with winds of 140 mph. The National Hurricane Center would not rule out the possibility that it would be a category five before landfall.
As residents from Louisiana to Northwest Florida awakened, they were greeted with a steady stream of information about forecast tracks, evacuations, and highway reversals. By midmorning, Parishes in Southeast Lousiana were beginning to order mandatory evacuations in the phases as planned for in the state's hurricane plan. Hurricane Watches were issued for the Louisiana coast, including New Orleans.
By midafternoon, no hotel rooms were to be had across much of Louisiana and southern Louisiana. Lane reversal on the interstate systems out of New Orleans was ordered for 4 p.m. as a voluntary evacuation began from the Crescent City. Despite the complexity of evacuating the city, inexplicably, no mandatory evacuation was forthcoming.
By late afternoon, the hurricane was 380 miles southeast of the mouth of the Mississippi River with winds of 115 mph. The all-too familiar double square orange and black hurricane warning pennants were flown at 10 p.m. from the Alabama/Florida border to Morgan City in Louisiana. Ominously, the central pressure in the hurricane was beginning to drop and the storm looked more organized on satellite photos. But still no mandatory evacuation for New Orleans.
Comments
Powered by Facebook Comments
Category: ALL POSTS, Met 101/Weather History
Bill Murray is the President of The Weather Factory. He is the site's official weather historian and a weekend forecaster. He also anchors the site's severe weather coverage. Bill Murray is the proud holder of National Weather Association Digital Seal #0001
@wxhistorian