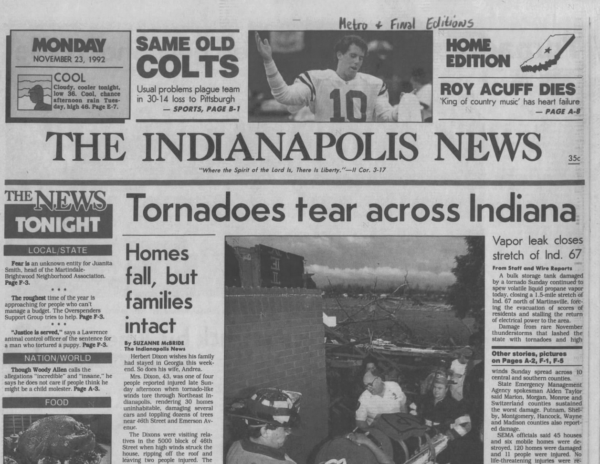 The weekend prior to Thanksgiving in 1992 ended up being a violent and deadly one as severe weather swept through the Midwest and the Southeast United States. A southerly flow from the Gulf of Mexico in the lower levels combined with colder westerly winds making the perfect combination for the development of long-lasting severe storms.
Once the severe storms started firing off during the early afternoon hours of the 21st, there was nearly no break in tornado activity until the morning hours on the 23rd. By the end of the event, there were 95 tornadoes reported stretching from southeastern Texas up to southwestern Maryland, and as far north as northeastern Indiana. 26 people lost their lives and another 638 were injured.
The first tornado of the event touched down at approximately 1:30 PM CST just outside of the town of Glen Flora, Texas. Rated as an F1, this twister damaged or destroyed many barns on its 1/2 mile damage path. This will be the first of many that struck Texas on the 21st.
The strongest of the 14 tornadoes that touched down in Texas on the 21st was rated F4 and had a damage path of 30 miles stretching from near Galena to near Dayton. It touched down at approximately 3:27 PM in a wooded area near the Houston Ship Channel, before rapidly intensifying and widening to one mile. The most severe damage along its path occurred in the Channelview area, where 271 homes were heavily damaged or destroyed, with 14 of those left with no walls standing. It crossed the San Jacinto River before weakening and dissipating. Even with its intensity and wide damage path, no deaths and only 15 injuries occurred with this monster. Only one other F4 tornado has hit the greater Houston area, that was on September 12, 1961, in Galveston.
The system then moved into Louisiana and eventually into Mississippi throughout the rest of the 21st and into the predawn hours of the 22nd, spawning 18 more tornadoes between the two states. The worst of those 14 tornadoes was a long-track F4 that had a damage path in Mississippi of 128 miles, stretching from just outside of Hopewell to just west of Sherwood. A total of twelve people were killed, which eight of those were in mobile homes. Another 122 people were injured as this monster tore across seven counties while damaging or destroying at least 700 homes, including well-built brick mansions.
Another F4 dropped to the earth just after midnight near Wisner, Mississippi, and stayed on the ground for approximately 40 miles before lifting in Newton, Mississippi. Over 120 residential structures were either damaged or destroyed and a large church was leveled. Fortunately, most of the damage path went through the Bienville National Forest and other sparsely-populated areas. Even though no structures or lives were lost in the forest, the loss of timber was up in the millions of dollars.
Before the morning of the 22nd was over with, another seven tornadoes struck Mississippi before the system moved over into Alabama and Tennessee. Two people died in Clarkson as an F1 twister destroyed one home and severely damaged four additional homes. One more death occurred in Wahalak from an F2 tornado as it chewed up a damage path over 27 miles long stretching from Bloomfield to Dinsmore.
Alabama had a total of 13 tornadoes touch down ranging in strength from F0 to F2, with no deaths and 53 injuries. The tornado with the most injuries occurred just outside of Sardis City where multiple structures were damaged and twelve people were injured. Tennessee only had one tornado for the day, but it was a deadly one. An F1 touched down just northwest of Bolivar and stayed on the ground for 16 miles before lifting west of Toone. One person was killed and three others were injured, while the tornado caused up to $50,000 in damages.
Georgia was next on the system's hit list and a total of eleven tornadoes touched down, killing seven people and injuring 157 more. The worst twister hit just northeast of Etheridge and carved a path of destruction of 32 miles to just southeast of White Plains. This twister got up to 1 mile wide in spots and destroyed a total of 134 homes, killing five people and over 300 head of cattle. Another F4 was on the ground for a total of 20 miles starting near Pine Mountain and lifting near Hickory Flat. No deaths reported, but 325 homes and businesses were destroyed or damaged, including a church in Woodstock that was in the middle of service.
While tornadoes were causing havoc in Georgia, more tornadoes were forming well north in the states of Indiana, Kentucky, and Ohio. A total of 20 tornadoes hit these states throughout the afternoon and evening hours. Six of those became F3s, while one more became an F4 monster that crossed the Ohio River twice on its nearly 27-mile path of destruction from Worthville, Kentucky, to just outside of Antioch, Indiana. It killed one person and threw debris up to five miles away from where it originated.
Late on the night of the 22nd and into the morning hours of the 23rd, the system continued barreling off to the east, spawning 12 more tornadoes across the Carolinas and up into Virginia and Maryland before moving over the Atlantic Ocean. Two of these reached F3 in intensity, both in North Carolina. The first killed two people and injured ten on its 5.5-mile path of destruction through Hillsborough. The second started off near Barclaysville and crossed through eight counties on its 160-mile path of destruction before dissipating just north of Elizabeth City. 21 students were injured when the twister picked up and carried a 28,000-pound school bus more than 75 yards before slamming it back to the earth. This tornado would be the longest-tracked tornado ever recorded in the state of North Carolina.
One more thing we can be thankful for this Thanksgiving holiday is not having to deal with severe weather, especially in light of this event and the fact that November is a secondary tornado season for parts of the country.
Category: ALL POSTS, Met 101/Weather History
Scott Martin is an operational meteorologist, professional graphic artist, musician, husband, and father. Not only is Scott a member of the National Weather Association, but he is also the Central Alabama Chapter of the NWA president. Scott is also the co-founder of Racecast Weather, which provides forecasts for many racing series across the USA. He also supplies forecasts for the BassMaster Elite Series events including the BassMaster Classic.