It certainly is rare for Alabama to have one of these, but a fresh snowfall on the ground, and a clear, blue sky with sunshine in full supply has given us one. Below is the visible satellite image of the snow swath across Alabama and the Southeast from the snowfall Friday. Always fascinating to see snow on the ground in Alabama.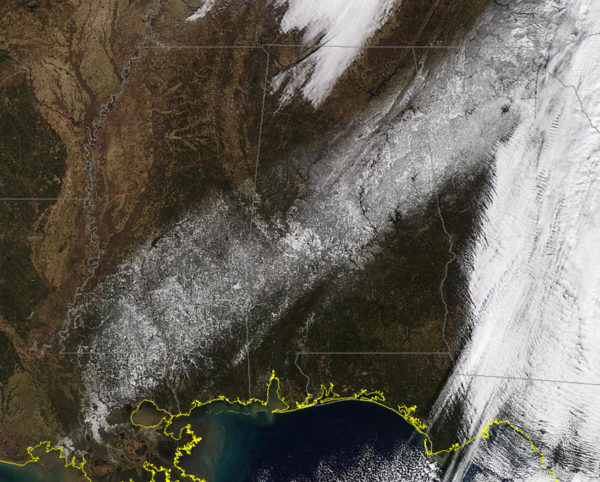 It remains cold today, but it is a gorgeous day, temperatures are mainly in the upper 30s and lower 40s this afternoon, which is causing a lot of the snow outside to melt rapidly. Now it won't all be gone today, but a lot will be in some locations.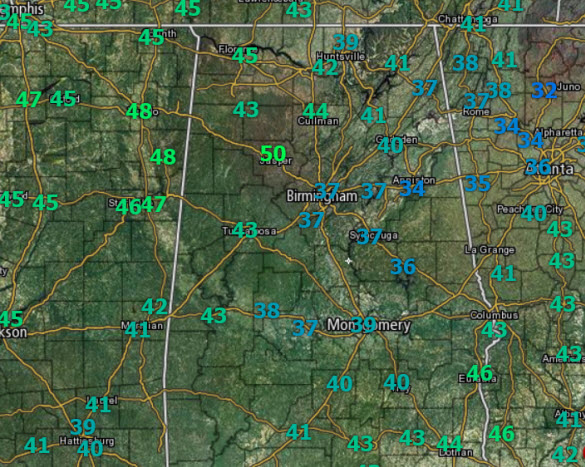 FREEZE TONIGHT: Another bitterly cold night is ahead for us all. The sky will be clear, winds are light, and with snow remaining on the ground, temperatures are going to be in the lower 20s in many locations. In the spots where more snow remains, teens are expected. Once again, we could be dealing with icy conditions on roads overnight and first thing tomorrow morning. Below if the GFS output for 6AM tomorrow; these number seem a little high and I would subtract several degrees as far as tomorrow morning's lows. It does show the colder areas of East Alabama, where snow remaining on the ground will cause those teens.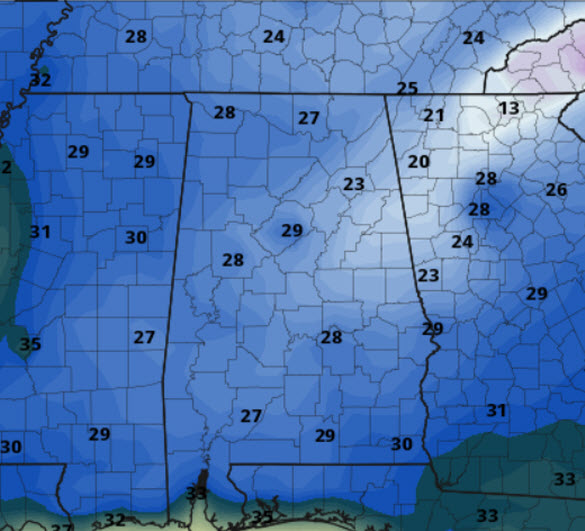 SUNNY SUNDAY: After the cold start to the day, we are once again going to see a sky full of sunshine tomorrow, and most locations across Central Alabama should climb into the mid and upper 40s, while lower 50s are expected down south. These temperatures will continue to help in the melting process of the remaining snow.
THE WEEK AHEAD: Not much change rolling into next week as the overall pattern remains dry with below average temperatures. We are going to see temperatures moderate some Monday with mid 50s expected for highs, but another cold front will bring our next shot of colder air into the state Tuesday. The front will be moisture starved so it will come through in a dry fashion. Behind the front, highs will fall back into the 40s with lows in the 20s for Tuesday and Wednesday. We should see highs in the 50s Thursday and Friday, with lows near freezing.
Comments
Powered by Facebook Comments
Category: Alabama's Weather, ALL POSTS
Montgomery Television Meteorologist and long time Contributor on AlabamaWX. Stormchaser. I did not choose Weather, it chose Me. College Football Fanatic.
@Ryan_Stinnet