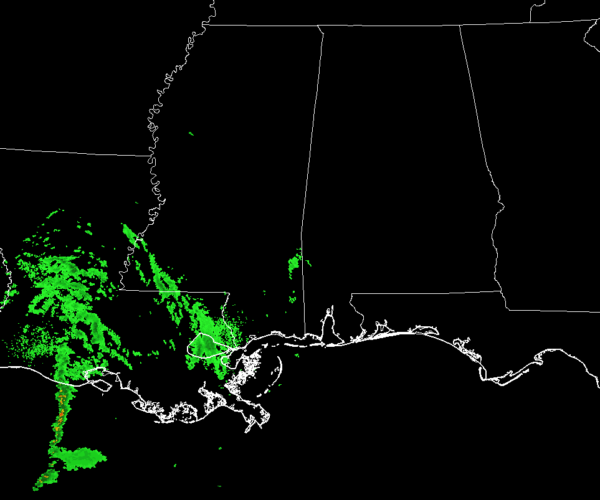 Really, no changes from the update that came out right before 7:00 PM. The rainfall that was falling over southern parts of Mississippi has diminished somewhat, and most of the moisture was back over the central and southern parts of Louisiana. Temperatures in North and Central Alabama are ranging from 30 degrees at Decatur to 47 degrees in Montgomery. Birmingham was at 41 degrees at 10:00 PM. No changes in the advisories and watches that will go into effect soon for North and Central Alabama.
A Winter Weather Advisory that goes into effect at 3:00 AM Sunday to 6:00 PM Sunday for Autauga, Bibb, Chilton, Dallas, Fayette, Greene, Hale, Lamar, Marengo, Perry, Pickens, Sumter, and Tuscaloosa counties, and from 6:00 AM to 6:00 PM for Jefferson, Shelby, and Walker counties.
A Hard Freeze Watch goes into effect late Sunday night through Wednesday morning for all of Central Alabama.
A Wind Chill Advisory goes into effect at 12:00 AM Sunday to 11:00 AM Monday for all of North Alabama.
The precipitation back to our southwest will move northeastward during the overnight hours and will start to move into the western parts of Central Alabama by 3:00 AM. It will take a good while for the atmosphere to moisten up enough for the precipitation to make it to the surface as the air mass aloft is still rather dry. Freezing rain will be the biggest concern for locations along and south of the I-20/59 corridor west of I-65 as surface temperatures will fall during the morning hours while evaporative cooling takes place with the falling precipitation. The good news is that temperatures will start to level out or stay nearly unchanged during the afternoon hours, which should help conditions improve while the precipitations move southeastward into a warmer airmass. By 3:00-4:00 PM, the sleet, and freezing rain threat will be over, with only rainfall expected throughout the southern half of the area.
The main travel threats will be from slick spots on bridges and elevated surfaces in the western and southwestern parts of the (the locations in the Winter Weather Advisory). Wait until later in the afternoon to get on the roadways, unless you have to get out there for work or any emergencies… Just be very cautious.
Comments
Powered by Facebook Comments
Category: Alabama's Weather, ALL POSTS
Scott Martin is a meteorologist, graphic artist, musician, husband, and a father. Scott is a member of the National Weather Association and the Central Alabama Chapter of the National Weather Association. Scott is also the co-founder of Racecast Weather, which provides accurate forecasts for many racing series across the USA.