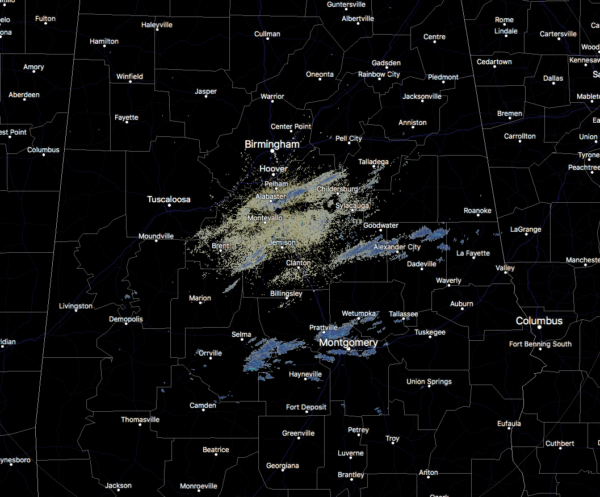 All of the precipitation that is showing up on the radar is now south of the I-20 and I-20/59 corridors with those temperatures mostly above freezing at this time. Most of the precipitation may not even be reaching the ground, but a few very light sprinkles may be falling.
This morning's sounding from NWS Birmingham at the Shelby County Airport shows that the moisture has been falling through a warmer than expected slot below the 850mb level (approximately 5000 ft), so any precipitation has been unable to freeze into sleet pellets.
The precipitation will continue to move southward throughout the remainder of the afternoon hours and should be out of the area by 4:00-6:00 PM this evening. There still is a very small possibility of light freezing rain on the very northern edge of the precipitation, but the likelihood of any accumulations will be very small.
NWS Birmingham is considering to start trimming counties from the Winter Weather Advisory probably within the next hour or two.
We have not received any other reports of freezing rain or accumulations since the last update at 10:00 AM. We will still have to watch for icy spots on bridges and elevated surfaces throughout the counties in the Winter Weather Advisory.
The main story will be from the brutal cold air that will be moving in later this afternoon and into the evening hours. A Hard Freeze Warning goes into effect tonight for all of Central Alabama at the same time 2018 starts. Temperatures will be ranging from the upper teens to the mid-20s throughout the area at midnight with wind chills down in the upper single digits to the mid-teens.
A Wind Chill Advisory goes into effect at 4:00AM for the northern counties of Central Alabama, as values are expected to range from 0 to 5 degrees. Wind chills that low will cause frostbite in as little as 30 minutes to exposed skin. Please take precautions for your property, pets, and plants.
For North Alabama, A Wind Chill Advisory goes into effect at 9:00 PM tonight for all counties in the NWS Huntsville county warning area. Wind chills will drop below zero degrees throughout all of the area.
We'll continue to have updates throughout the day as we continue to keep an eye on our weather situation for New Year's Eve.
Comments
Powered by Facebook Comments
Category: Alabama's Weather, ALL POSTS
Scott Martin is a meteorologist, graphic artist, musician, husband, and a father. Scott is a member of the National Weather Association and the Central Alabama Chapter of the National Weather Association. Scott is also the co-founder of Racecast Weather, which provides accurate forecasts for many racing series across the USA.