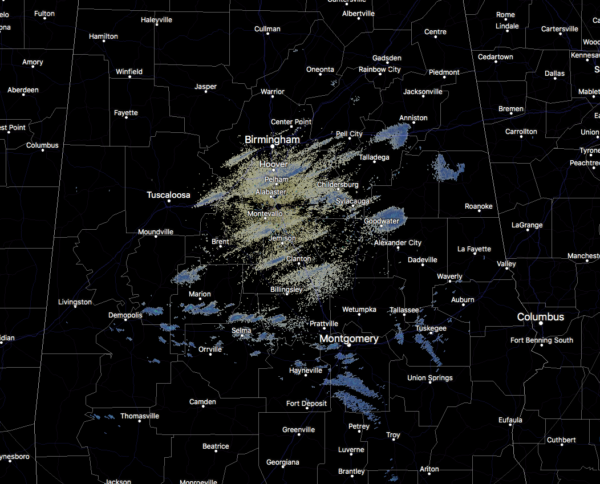 We are now starting to get reports in of freezing rain accumulating in the northern periphery of the rain just north of the I-20 corridor. Just saw a report come in of ice developing on vehicles in Gardendale, with the temperature at or just below 31 degrees at that time.
We have seen a few other reports of freezing rain throughout the northern parts of the area, coming from Fayette in Fayette County, Samantha in Tuscaloosa County, and Vernon in Lamar County.
No travel issues have been reported at this time. Most road temperatures are still above freezing at this point even though temperatures just north of the I-20/59 corridor west of I-65 are below freezing.
The good news is that the latest radar trends are showing the moisture moving more off to our south and east as the drier cold air moves in from the north. Locations south of I-20 remain above freezing.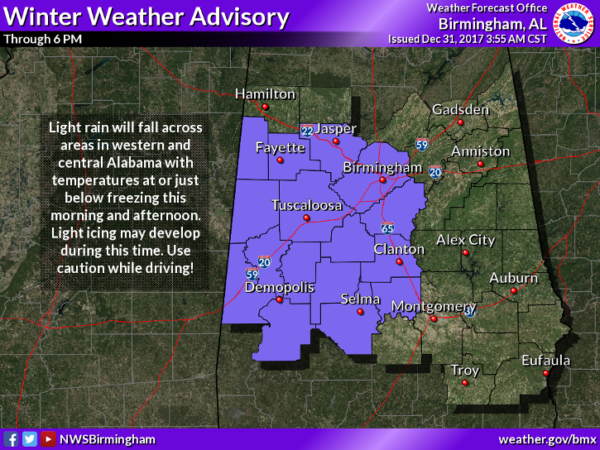 While the impacts of today's event are expected to be very limited, we will still have to watch for icy spots on bridges and elevated surfaces throughout the areas in the Winter Weather Advisory.
The larger story will be from the brutally cold air that will be moving in later this afternoon and into the evening hours. A Hard Freeze Warning goes into effect tonight for all of Central Alabama at the same time 2018 starts. Temperatures will be ranging from the upper teens to the mid-20s throughout the area at midnight with wind chills down in the upper single digits to the mid-teens.
A Wind Chill Advisory goes into effect at 4:00 AM for the northern counties of Central Alabama, as values are expected to range from 0 to 5 degrees. Wind chills that low will cause frostbite in as little as 30 minutes to exposed skin. Please take precautions for your property, pets, and plants.
For North Alabama, A Wind Chill Advisory goes into effect at 9:00 PM tonight for all counties in the NWS Huntsville county warning area. Wind chills will drop below zero degrees throughout all of the area.
We'll continue to have updates throughout the day as we continue to keep an eye on our weather situation for New Year's Eve.
Comments
Powered by Facebook Comments
Category: Alabama's Weather, ALL POSTS
Scott Martin is a meteorologist, graphic artist, musician, husband, and a father. Scott is a member of the National Weather Association and the Central Alabama Chapter of the National Weather Association. Scott is also the co-founder of Racecast Weather, which provides accurate forecasts for many racing series across the USA.