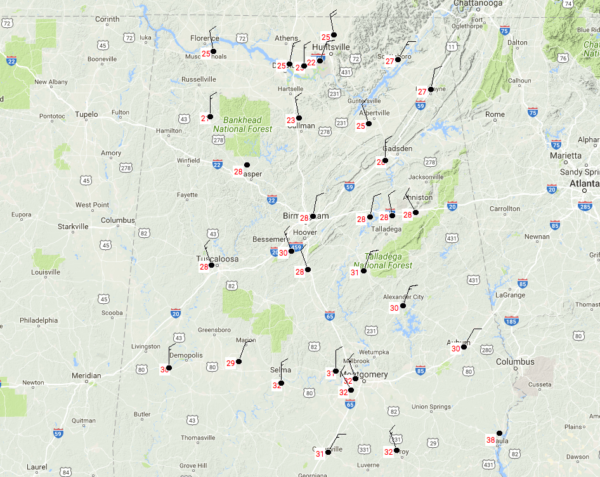 It's a beautiful but very cold day out there across North and Central Alabama, with mainly clear skies and temperatures ranging from the lower 20s near the Tennessee state line to the lower 30s at the southern end of Central Alabama. Birmingham was at 28 degrees, while the airfield at Redstone Arsenal was at 22 degrees. The warmest spot in the area is Eufaula at 38 degrees, but there is probably some type of malfunction with that station considering everyone else close by are in the lower 30s. Don't expect temperatures to get much warmer at all as we have reached the maximum heating for the day.
For this evening and into the overnight hours, skies will continue to be mostly clear and that will help allow the temperatures to fall very low once again. Lows are expected to range from the mid-single digits in the north to the upper teens to near or at 20 degrees in the south.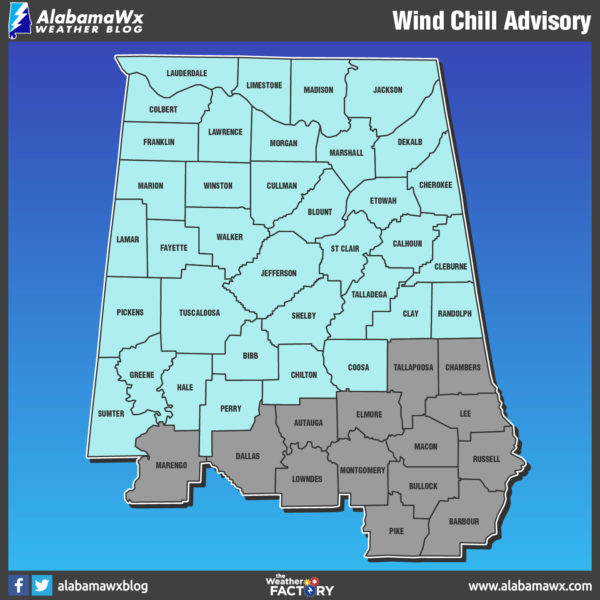 A Wind Chill Advisory goes into effect at 9:00 PM tonight until noon Tuesday for all of the counties in the NWS Huntsville county warning area. A Wind Chill Advisory goes into effect at 4:00 AM Tuesday and is set to expire at 9:00 AM Tuesday for the following counties in Central Alabama: Marion, Winston, Blount, Etowah, Cherokee, Lamar, Fayette, Walker, Jefferson, Shelby, St. Clair, Talladega, Calhoun Clay, Randolph, Cleburne, Pickens, Tuscaloosa, Bibb, Chilton, Coosa, Sumter, Greene, Hale, and Perry. Wind chills will range from -5 degrees in the north to 10 degrees to the south. With wind chills, this low, frostbite could occur to exposed skin within 30 minutes. Please dress accordingly to the conditions, and be sure to remember the "Four Ps:" People, Pets, Plants, and Pipes. This extreme cold is nothing to play with and could cause major problems to life and property.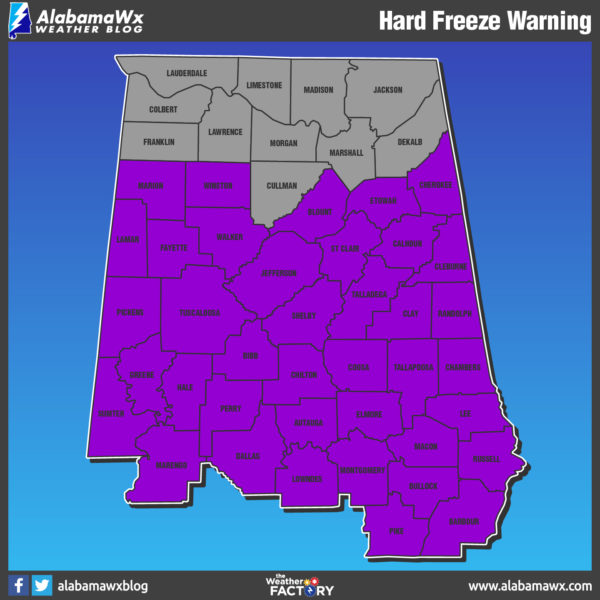 A Hard Freeze Warning continues in effect for all of the NWS Birmingham county warning area from now until 12:00 PM Wednesday. A Hard Freeze Watch will take its place as soon as the warning expires and will go until 12:00 PM Friday.
For the second day of 2018, it will be a beautiful day with bitterly cold temperatures remaining to be the main story. Afternoon highs will still remain very chilly throughout both areas, only reaching the upper 20s to the upper 30s from north to south. The very southeastern tip of Central Alabama may reach 40 degrees or just above that. Mostly clear skies continue through the evening and overnight hours. Lows will be minutely warmer, ranging from the lower teens to the lower 20s from north to south.
Comments
Powered by Facebook Comments
Category: Alabama's Weather, ALL POSTS
Scott Martin is a meteorologist, graphic artist, musician, husband, and a father. Scott is a member of the National Weather Association and the Central Alabama Chapter of the National Weather Association. Scott is also the co-founder of Racecast Weather, which provides accurate forecasts for many racing series across the USA.