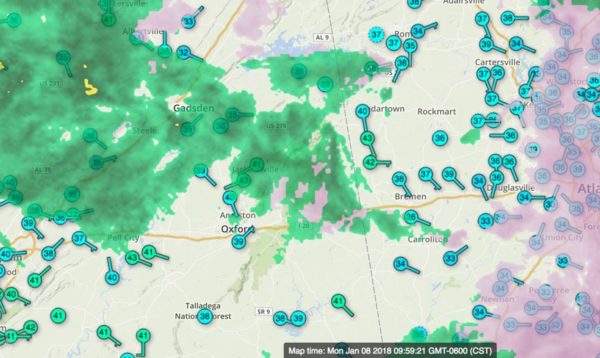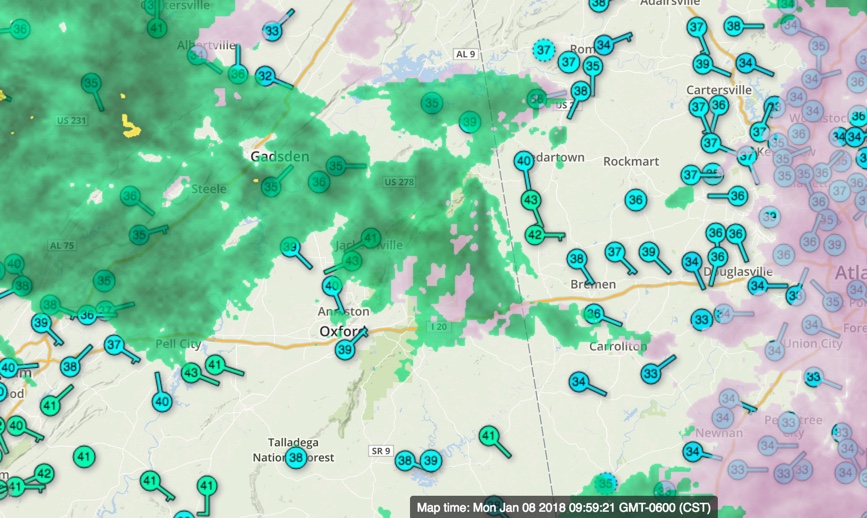 As we hit the 10 o'clock hour, the NWS has extended the winter weather advisory until noon for the following counties: Calhoun, Cherokee, Clay, Cleburne, Etowah, Randolph, including the cities of Gadsden, Anniston, Centre, Heflin,
Ashland, and Roanoke
Temperatures are still around 32-33F around Crossville in Northeast Alabama. The worst icing is still around Jackson, DeKalb, Etowah, Calhoun, Cherokee, Cleburne, Clay and Randolph Counties.
Elsewhere temperatures are climbing through the middle and upper 30s in East Alabama. We are around 40F in the Birmingham area with middle 40s in West Alabama. Temperatures will continue to climb through the morning.
Here is the latest from the NWS Birmingham:
…FREEZING RAIN IS POSSIBLE THROUGH 12 PM ACROSS NORTHEAST
CENTRAL ALABAMA…
.Rain continues to fall across the northeast as an upper level
system approaches the area from the west. Surface temperatures
across the northeast counties remain at or just below freezing
and may remain that way, while slowly rising through 12 PM. Light
accumulations of freezing rain remains possible for areas along
and north and east of a line from Walnut Grove to Black Creek,
mainly on elevated surfaces like bridges, trees and power lines.
* WHAT…Light freezing rain expected. The ice will result in a
light glaze on bridges, trees and power lines.
* WHERE…Etowah, Calhoun, Cherokee, Cleburne, Clay and Randolph
Counties.
* WHEN…Until noon CST today.
NORTH ALABAMA
The winter weather advisory continues until noon for DeKalb and Jackson Counties.
Here is some late information from them:
Light precipitation will continue to move across the Tennessee Valley
this morning as a passing upper-level storm system moves just south
of the region. There continues to be some pockets of freezing rain
across far Northeast AL and Southern Middle TN — and into Northwest
GA and Southeast TN. This includes locations such as Fort Payne,
Mentone, Collinsville, Stevenson, and Winchester (and surrounding
areas) which will remain at/just below freezing for a couple more
hours. While some additional light ice accumulations are possible,
the main concern is that locations that have seen ice will remain
slick through around Noon CST (18z). Thus, will keep the Winter
Weather Advisory going in these areas until 18z for these impacts.
One final note on travel: folks planning to travel toward
Chattanooga or Atlanta should strongly consider waiting until later
this afternoon as freezing conditions further east may persist
longer. Make sure you check road conditions in these areas before you
head out.
ATLANTA UPDATE
I-20 is currently showing no problems from Birmingham to Atlanta. Temperatures are now mostly above freezing in western Georgia and in the Atlanta area. There could be a few patches of light freezing rain in pockets between Anniston and Atlanta for a couple of more hours.
Fans traveling to Atlanta for the National Championship game shouldn't have any trouble as temperatures warm a few more degrees in the next couple of hours, but be aware there might be patches of light freezing rain still, especially near the Alabama/Georgia border.
Comments
Powered by Facebook Comments
Category: Alabama's Weather, ALL POSTS
Bill Murray is the President of The Weather Factory. He is the site's official weather historian and a weekend forecaster. He also anchors the site's severe weather coverage. Bill Murray is the proud holder of National Weather Association Digital Seal #0001
@wxhistorian