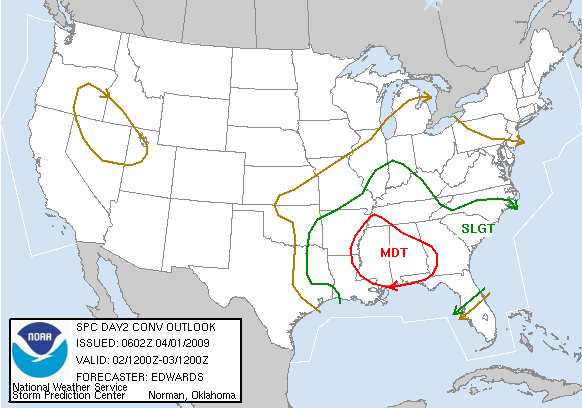 SPC has placed most of Alabama and Mississippi in a moderate risk for severe thunderstorms on Thursday, and they mention the possibility of long-track, damaging tornadoes.
Let's not get too alarmed too fast, here. The event is still 24-48 hours away, and a lot can still change. But, I have to admit, I looked at the latest model runs and the situation does have the potential to become rather serious. As a surface low intensifies and moves across Arkansas and into Tennessee Thursday, strong southerly flow will transport warm, humid air from the Gulf of Mexico into Alabama, with temperatures possibly reaching the upper 70s Thursday, especially with any sunshine, and dewpoints above 65 as far north as BHM. The air will be very unstable, with models showing lifted indices as low as -6.
Wind shear will be very strong also, with winds out of the SE at the surface, blowing toward the deepening surface low, veering to SW aloft, and increasing to >40 knots at 4,000 feet. Storm-relative helicity, the parameter that determines storm rotation, will be very high, at least 200-300 m2/s2. So, if storms do form (and they probably will), some of them will rotate.
Models indicate there could be a layer of warm air aloft that could help to stop storms from developing, at least for a while. The forecasting trouble with these warm air layers aloft (known as "caps") is that they can, in some cases, not break, shutting down almost all thunderstorm activity until the main squall line comes through Thursday night. That would be good. But, they can also allow the atmosphere to heat up, building the instability, then break in late afternoon, allowing all the energy to be released quickly in the form of intense storms.
It looks like storms will be in west Alabama as early as noon on Thursday, with the biggest threat in BHM coming from 4 pm until midnight.
Again, all of this could change later today. But, this could be a serious event, and everyone should have their tornado plan in mind for Thursday afternoon and evening. We are in a very active weather pattern, and another tornado threat could develop on Sunday. We are in the middle of the Alabama tornado season right now.
Category: Uncategorized