From SPC…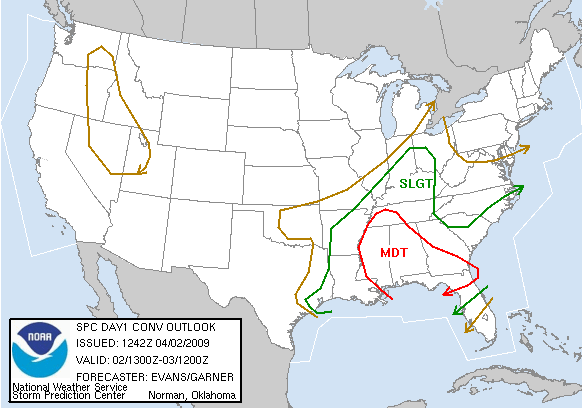 DAY 1 CONVECTIVE OUTLOOK
NWS STORM PREDICTION CENTER NORMAN OK
0742 AM CDT THU APR 02 2009
VALID 021300Z – 031200Z
…THERE IS A MDT RISK OF SVR TSTMS OVER MS/AL/WRN TN/WRN-SRN GA/NRN
FL…
…THERE IS A SLGT RISK OF SVR TSTMS FROM LA/AR INTO THE OH/TN RIVER
VALLEY AND THE SOUTHEAST…
…LOWER MS RIVER VALLEY/MID SOUTH INTO THE SOUTHEASTERN U.S…
VERY LITTLE CHANGE NEEDED TO PRIOR FORECAST ATTM AS INTENSE
MID/UPPER LEVEL LOW STILL ON TRACK TO DRIVE UNSEASONABLY STRONG MID
LEVEL JET /90-100 KT AT H5/ AND HEIGHT FALLS EWD ACROSS THE CENTRAL
GULF COAST STATES TODAY. IN ADDITION…SRN STREAM WILL REMAIN QUITE
ACTIVE ACROSS THE NRN GULF INTO THE SOUTHEASTERN U.S. AS 70-90 KT
SRN STREAM MID LEVEL JET OVERSPREADS VERY MOIST BOUNDARY LAYER AIR
ALONG AND SOUTH OF SFC WARM FRONT SLOWLY SHIFTING NWD INTO SRN GA/AL
EARLY THIS MORNING. ALTHOUGH THIS ACTIVITY WILL TEND TO LIMIT NWWD
EXCURSION OF RICHER GULF MOISTURE INTO MS/AL/TN…FORECAST SOUNDINGS
SUGGEST INSTABILITY/MODEST BOUNDARY LAYER MOISTURE WILL STILL BE
SUFFICIENT FOR ROBUST SUPERCELL ACTIVITY GIVEN INTENSITY OF
APPROACHING IMPULSE AND STRENGTH OF JETS. OVERALL SETUP WILL
SUPPORT CONCURRENT…BUT SEPARATE…HIGHER-END SEVERE RISKS THROUGH
MUCH OF THE DAY.
SRN STREAM AREA HAS REMAINED ACTIVE FOR A COUPLE DAYS AND HAS
SUPPORTED OVERALL WEAKENING LAPSE RATES AS EVIDENCED AT TLH THIS
MORNING. REGARDLESS…PRONOUNCED LOW LEVEL AND DEEP LAYER SHEAR
WILL REMAIN VERY SUPPORTIVE OF ORGANIZED/LONG-LIVED
STORMS…INCLUDING TORNADIC SUPERCELLS. TORNADO THREAT WILL REMAIN
ENHANCED ALONG AND SOUTH OF SURFACE WARM FRONT…WHICH SHOULD LIFT
NWD INTO CENTRAL GA THIS MORNING. ATTENDANT TORNADO THREAT WILL
ALSO OVERSPREAD NERN FL/SERN GA AND PERHAPS PORTIONS OF SRN SC
THROUGH THE DAY AS WELL.
MORNING STORMS THROUGH DAYBREAK AHEAD OF MAIN IMPULSE OVER ERN TX
HAVE STRUGGLED WITHIN RELATIVELY DRY AIR /PWS AOB 1 INCH/ AND MODEST
CAPPING STILL IN PLACE. LEADING EDGE OF DEEP ASCENT SHOULD SUPPORT
MORE ROBUST CONVECTION BY THE MID TO LATE MORNING ACROSS THE LOWER
MS RIVER VALLEY AS IT BEGINS INTERACTING WITH GREATER MOISTURE AND
WEAKENING CINH. NWD PORTION OF THIS LINE WILL ALSO INCREASE IN
COVERAGE/INTENSITY INTO THE MID SOUTH BY THE EARLY TO MID AFTERNOON
FOR THE SAME REASONS. EXTREME SHEAR REMAINS VERY SUPPORTIVE OF
TORNADIC SUPERCELLS…POTENTIALLY SIGNIFICANT/LONGER-LIVED.
HOWEVER…FAST MOVING/DEEP ASCENT MAY ALSO SUPPORT EVOLUTION INTO
LINEAR SEGMENTS…ESPECIALLY INTO THE MID SOUTH/OH VALLEY REGIONS
WHERE MID LEVEL FLOW BACKS IMMEDIATELY AHEAD OF UPPER SYSTEM. THESE
THREATS WILL RAPIDLY MOVE ENEWD THROUGH THE EVENING WITH GRADUALLY
DIMINISHED SEVERE THREAT NWD ACROSS THE OH RIVER VALLEY AND EWD INTO
THE SRN APPALACHIANS THROUGH THE EVENING. EXTREME SHEAR MAY ALSO
SUPPORT LATE PERIOD INCREASE IN SEVERE RISK AS SYSTEM SKIRTS THE
SERN U.S. HOWEVER…IMPACTS OF THIS INTENSE NRN STREAM SYSTEM ON
THE SOUTHEASTERN U.S. REMAIN QUESTIONABLE OVERNIGHT DEPENDANT ON
AFFECTS OF WIDESPREAD STRONG/SEVERE THUNDERSTORMS THROUGH THIS
AFTERNOON ON RESIDUAL MOISTURE/INSTABILITY FIELDS.
..EVANS/GARNER.. 04/02/2009
Category: Uncategorized
James Spann is one of the most recognized and trusted television meteorologists in the industry. He holds the AMS CCM designation and television seals from the AMS and NWA. He is a past winner of the Broadcast Meteorologist of the Year from both professional organizations.