The northern eyewall of extremely dangerous Hurricane Michael is now a little more than 50 miles south-southwest of Panama City Beach and 55 miles south-southwest of Panama City. This most dangerous part of the hurricane will reach the coast between Laguna Beach and Mexico Beach before 1 p.m. Some locations in this stretch of the coast will be in the 18 nautical mile wide eye (21 statute miles). Some places may be in the eye for over an hour.
All along the coast, tides are running 3-5 feet above normal, even to the west of the track. Surge will reach 3-4 feet from the Alabama coast to Sandestin and 6-9 feet from Sandestin to Panama City. This will cause substantial coastal flooding. In fact, water has crested the seawall on Highway 98 on Okaloosa Island and is approaching the westbound US-98 lanes going toward Fort Walton.
From Panama City around Cape San Blas through Mexico Beach over to east of St. Marks, storm surge will be 9-14 feet. This will cause extreme destruction of structures in the inundation area.
The tide at Apalachicola is now 5.48 feet above normal. Water has submerged cars there. The record storm surge at Apalachicola is 6.3 feet from Hurricane Dennis in 2005.
In addition, devastating winds will affect areas that are impacted by the eyewall along the coast from Laguna Beach to Mexico Beach, then moving inland over Panama City, Youngstown and Blountstown. An extreme wind warning will be issued by the National Hurricane Center before that occurs, giving residents the heads up to hunker down in positions they would use as if it were a tornado.
Tornado watches are in effect for the eastern Panhandle, North Florida and southern Georgia.
This is a life-threatening situation and anyone still in place along the coast from Rosemary Beach to Cedar Key needs to assess their situation and go to their last resort shelter.
Here is the latest radar at 9:05 a.m.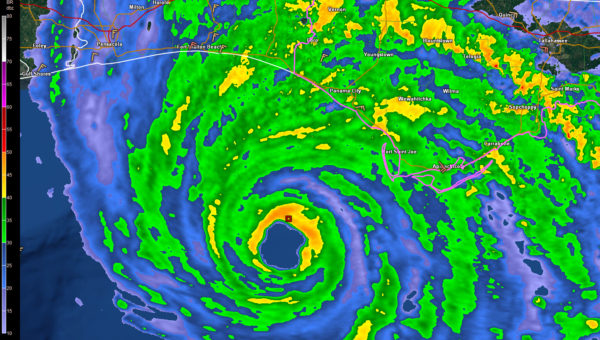 Hurricane Michael Tropical Cyclone Update
NWS National Hurricane Center Miami FL AL142018
900 AM CDT Wed Oct 10 2018
…9 AM CDT POSITION UPDATE…
…TROPICAL STORM CONDITIONS SPREADING ACROSS THE FLORIDA PANHANDLE
AS POTENTIALLY CATASTROPHIC MICHAEL APPROACHES…
A private weather station in Bald Point, Florida, recently reported
a sustained wind of 48 mph (77 km/h) and wind gust of 59 mph (95
km/h). The Apalachicola airport recently reported a wind gust of 58
mph (93 km/h). A Weatherflow station in St. Andrew Bay recently
reported a sustained wind of 37 mph (60 km/h) and a gust of 48 mph
(77 km/h).
Water levels continue to rise quickly along the coast of the Florida
Panhandle. A National Ocean Service water level station at
Apalachicola recently reported over 4 feet of inundation above
ground level.
SUMMARY OF 900 AM CDT…1400 UTC…INFORMATION
———————————————–
LOCATION…29.3N 86.1W
ABOUT 65 MI…105 KM SSW OF PANAMA CITY FLORIDA
ABOUT 70 MI…115 KM WSW OF APALACHICOLA FLORIDA
MAXIMUM SUSTAINED WINDS…145 MPH…230 KM/H
PRESENT MOVEMENT…N OR 15 DEGREES AT 13 MPH…20 KM/H
MINIMUM CENTRAL PRESSURE…931 MB…27.49 INCHES
$$
Forecaster Brennan
Bill Murray is the President of The Weather Factory. He is the site's official weather historian and a weekend forecaster. He also anchors the site's severe weather coverage. Bill Murray is the proud holder of National Weather Association Digital Seal #0001
@wxhistorian