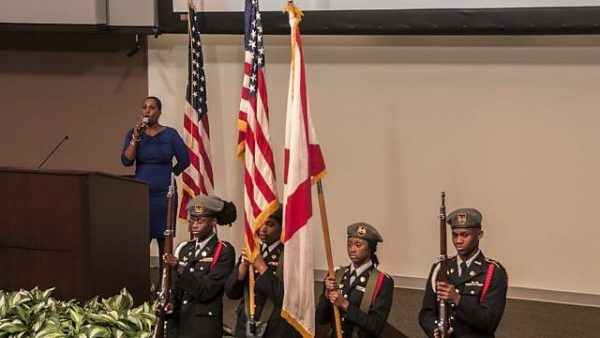 By Donna Cope
There is no stronger leader than one who serves.
On Nov. 5, Alabama Power and members of the Council on Culture and Inclusion honored the company's military veterans at Corporate Headquarters in Birmingham. Veterans attending represented the U.S. Army, Marines, Navy, Air Force, National Guard, and Reserves.
In welcoming the audience, Jeff Peoples, senior vice president of Employee Services and Labor Relations and a CCI member, said the company is pleased to honor employees who served or are serving and to uphold spouses who maintain the homefront while loved ones serve their country.
The CCI was formed in January to further cultivate a culture that leverages the talents and experiences employees from diverse backgrounds bring to the company, including those of employees who serve in the military.
"Our country and our company are better for what you've done," Peoples said. "This makes me almost emotional when I think about the discipline, the character and the integrity sitting in this room."
Peoples noted that military members in attendance, including guest speaker Wendell McLain, represented nearly 700 years of military service.
Please visit Alabama News Center for the read the full article.
Category: ALL POSTS, Partner News Stories