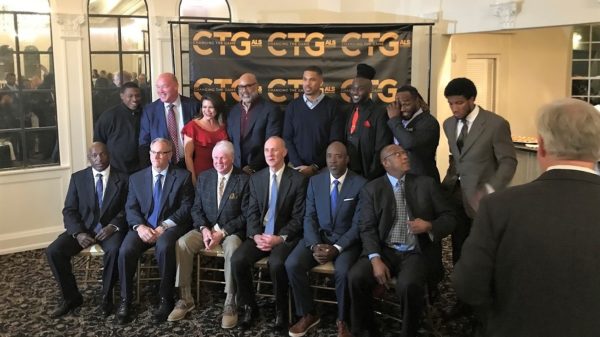 By Michael Tomberlin
By any measure, the football team assembled at Birmingham's Florentine building Thursday night would be a formidable one to beat.
Former Alabama and NFL stars Cornelius Bennett, Chris Goode, Richard Terrell Davis, Trent Richardson, Rich Wingo, Antonio Langham, Blake Sims, Bobby Humphrey and Marty Lyons were there. So were former Auburn and NFL greats Chris Woods, Terry Henley, Joe Cribbs and Jason Campbell. Add former Hoover High School, University of Florida and NFL standout Chad Jackson, and this is a team to be reckoned with.
The problem is the team is assembled to fight an opponent that has proven equally formidable — ALS, or amyotrophic lateral sclerosis, better known as Lou Gehrig's disease.
The ALS Association Alabama Chapter held its annual "Changing the Game" awards dinner recognizing those battling the disease or assisting those who are devoting funding and research to find a cure.
Please Visit Alabama News Center For The Read The Full Article.
Category: ALL POSTS, Partner News Stories