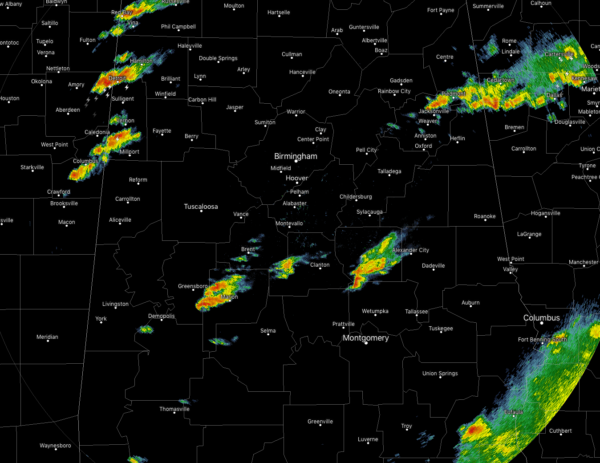 We have a few thunderstorm cells out there across parts of the area as of 4:45 pm, with the strongest cell enting the northern parts of Lamar County and the southern parts of Marion County. This storm may be producing some hail at this point, but not large enough to warrant a warning. None of the storms at this point appear to have any rotation on them, but we may have to watch the cell passing over Newbern and about to move over Marion in Perry County.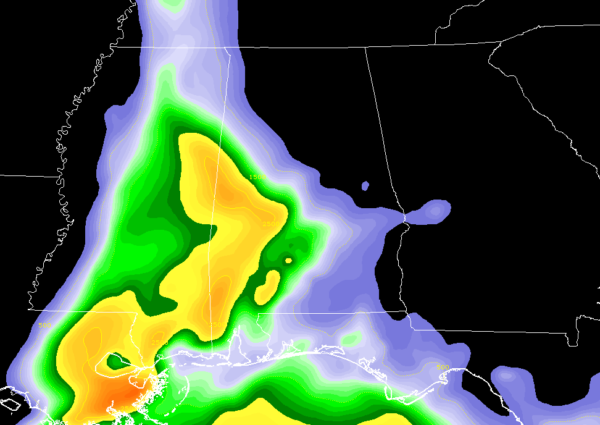 As the warm front continues to move into the area from the southwest, temperatures have climbed into the mid-70s across that portion of the area, with dewpoints not far behind in the upper 60s to the lower 70s. Instability continues to increase from the west and southwest as CAPE values are topping out at 2,600 J/kg over the western parts of the area. This instability will continue to move eastward across the area throughout the evening hours.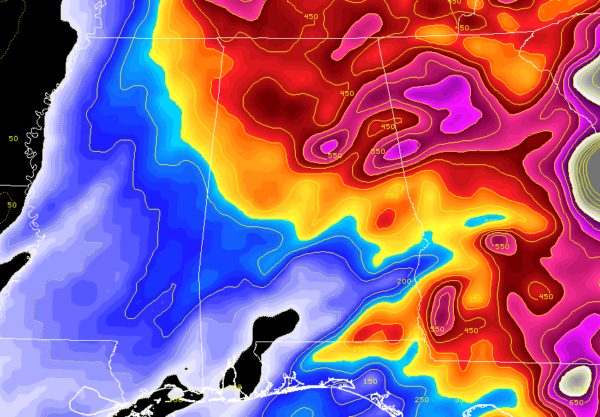 We also continue to have a good amount of shear available for any developing thunderstorms to work off of. Helicity values are running in the 200-550 m2/s2 range from the surface to three kilometers up in the atmosphere. Surface winds also continue to be backed out of the south-southeast to the southeast out ahead of the warm front, while quickly veering out of the southwest at 5,000 feet and greatly increasing in speed.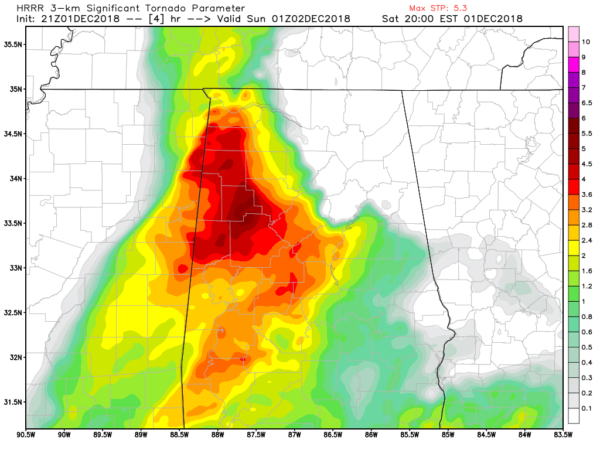 Significant Tornado Parameter values continue to run quite high throughout the evening, as values are topping out as high as 5.3 over the western parts of the area at 7:00 pm.
If storms can continue to develop in this ripe environment, they will have the potential to go severe rather quickly, as we saw with the earlier Tornado Warning that was out for Chilton, Dallas, and Perry counties.
The good news at this point is that all storms that are out there across the area are below severe limits, and there is really no lightning output from any of them. The individual cells are moving to the northeast at roughly 30-40 MPH.
Continue to stay up-to-date with the AlabamaWx Weather Blog as we'll have updates throughout the event.
Category: Alabama's Weather, ALL POSTS
Scott Martin is a meteorologist, graphic artist, musician, husband, and a father. Scott is a member of the National Weather Association and the Central Alabama Chapter of the National Weather Association. Scott is also the co-founder of Racecast Weather, which provides accurate forecasts for many racing series across the USA.