2018 was an active weather year across Central Alabama, and it is still not finished. The year started off with parts of the area in a severe drought, but severe storms, a little snow, and a major destructive hurricane kept us busy throughout the year.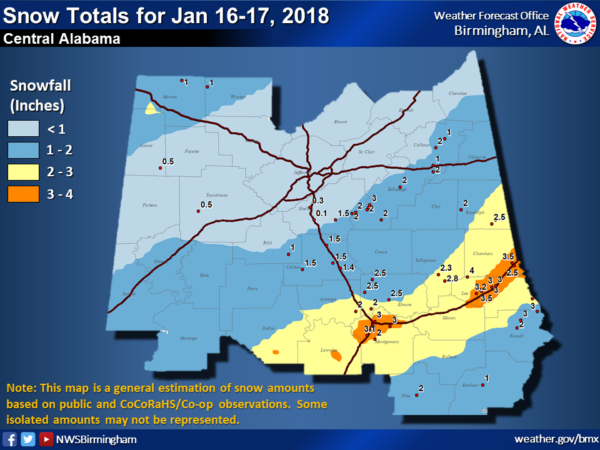 In January (16th & 17th), we had a system drop 2″ to 4″ inches of snow in the southeastern parts of Central Alabama around the I-85 corridor, while the rest of the area only saw amounts of 2″ or less.
February (7th) featured a severe weather event that spawned six tornadoes over the southern half of Central Alabama. Five of those tornadoes were rated EF-0, but the strongest was rated EF-1 with estimated winds at 100 mph. Tornado damage was reported across Autauga, Bibb, Chilton, Hale, Marengo, and Sumter counties from those tornadoes.
March ended up being a relatively quiet month with below average rainfall. Some parts of Central Alabama went back into the Moderate Drought category as those parts received well less than 4″ of rain. To put that in perspective, Birmingham averages around 5.23″ for the month. April would be considered wet and stormy as rainfall returned in great abundance and nearly wiped out all of the drought across Central Alabama.
Unfortunately, we didn't escape the spring severe weather season without a few tornadoes. We would see strong, destructive tornadoes across parts of Central Alabama (a total of six) along with damaging large hail on March 19th. The most destructive tornado occurred in Calhoun and Cleburne counties where it traveled a distance of nearly 35 miles and reached a peak intensity of 150 MPH (EF-3). Significant damage occurred at Jacksonville State University, and the sanctuary at West Point Baptist Church was completely destroyed. Large hail up to 3″ in diameter wreaked havoc and caused considerable damage across the northern parts of the area.
Not only would we see tornadoes in March, but April would also feature a weak tornado that was spawned in the southwestern parts of Montgomery County that caused several trees to be uprooted or snapped. It would end up rated EF-0 at 80 MPH.
During the summer months across Central Alabama, we normally have strong downbursts from afternoon convective thunderstorms, while tornadoes are usually a rare event. We had two this past summer… An EF-0 tornado touched down in the Rock Creek community in Winston County on June 22nd, causing tree and some minor roof damage. Wind speeds were estimated at 70 MPH. The second occurred on July 21st down in Opelika and Beauregard in Lee County, leaving a damage path of 500 yards wide and just over six miles long. Roof and tree damage occurred, along with a camper that was rolled along the ground.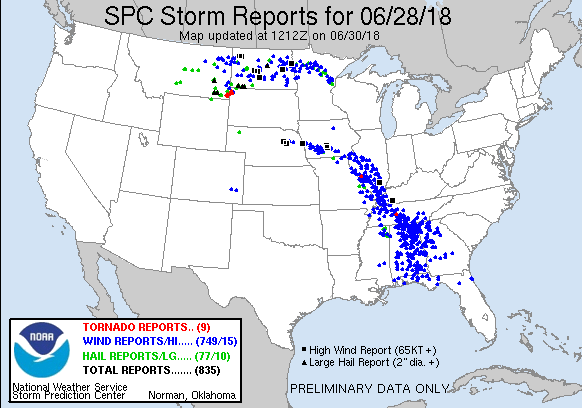 We also can't talk about the summer without mentioning the derecho that moved through Central Alabama on June 28th. Wind gusts were recorded as high as 68 MPH in Liberty Hill in Cleburne County, but wind gusts were estimated to be at or just over 100 MPH in Madison County in North Alabama. At one point during the day, more than 156,000 customers were without power. Several counties throughout the area reported widespread wind damage, but we did have one fatality in Clay County when a tree fell on a moving car.
As the summer faded into the fall, the weather continued to stay active in Central Alabama. The western side of Major Hurricane Michael moved through the west and southwestern parts of the area on October 10th bringing with it strong winds and heavy rainfall. Wind gusts reached 45 MPH and rainfall amounts ranged from 2″ to nearly 7″ in parts of the area, especially in Bullock and Pike counties. While there were power outages and some tree damage, we were spared from the catastrophic damage that occurred along and across the Florida panhandle.
We were not finished with the tornado action for the year as two tornadoes were confirmed in November and another two confirmed earlier this month. An EF-0 tornado with winds up to 65 MPH touched down briefly on November 1st in Chambers County and moved into Lee County before lifting. Some minor tree and structural damage were reported along its 2.72-mile damage path. An EF-1 tornado briefly touched down in Lamar County near Millport on November 6th, creating a path of damage for right at a mile. Trees were twisted, snapped, and uprooted along its path as winds reached as high as 85-90 MPH.
Just earlier this month on the 1st, two tornadoes touched down briefly… The first was an EF-0 twister with winds up to 65 MPH which caused some minor roof damage and some tree damage in Vaiden. The other EF-0 tornado struck near Billingsley in Autauga County very briefly with maximum winds up to 65 MPH. No damage was observed, but there is storm-chaser video that verifies radar data collected at the same time and location.
As we are approaching the weekend before Christmas, nearly all of Central Alabama has rainfall totals near or above average for the year (as of December 18th). The latest data from the United States Drought Monitor show than all of Central Alabama is free from any level of drought. With that being said, a couple of locations are below normal for the year. Montgomery is 3.96″ below normal, while Troy is 7.80″ below normal. On the flip side, Calera is 7.83″ above normal, while Tuscaloosa is 11.30″ above normal. Birmingham is near normal with a small surplus of 0.30″.
The good news is that we are well below average in the number of tornadoes throughout the year. Over the last ten years, Central Alabama has averaged 33 tornadoes per year. 2018 has only had a total of 19 tornadoes across the area. The record number of tornadoes for one year in Central Alabama is 78 which occurred in 2011. We did go a whole year across Central Alabama without a recorded tornado, and that was back in 1950.
Temperatures have not been as bad as in the past as well. For the major reporting stations across Central Alabama, none reported highs in the triple-digits in 2018. Tuscaloosa reached 99º one time on September 19th. Montgomery reached 98º one time on June 28th. Birmingham reached 97º three times, on September 15th, 19th, and 20th.
Coldest lows have been pretty frigid at those same reporting stations, with the coldest being Birmingham and Anniston both reaching 9º on January 17th… That was with a little bit of snow on the ground. On the same day, Tuscaloosa and Calera recorded 10º as their coldest lows for 2018. Montgomery's coldest low was on January 18th at 10º, and Troy's was 14º on the same day.
Of course, these numbers may need to be updated at the end of the year. Let's just hope that those tornado numbers stay where they are at.
Category: Alabama's Weather, ALL POSTS, Met 101/Weather History
Scott Martin is an operational meteorologist, professional graphic artist, musician, husband, and father. Not only is Scott a member of the National Weather Association, but he is also the Central Alabama Chapter of the NWA president. Scott is also the co-founder of Racecast Weather, which provides forecasts for many racing series across the USA. He also supplies forecasts for the BassMaster Elite Series events including the BassMaster Classic.