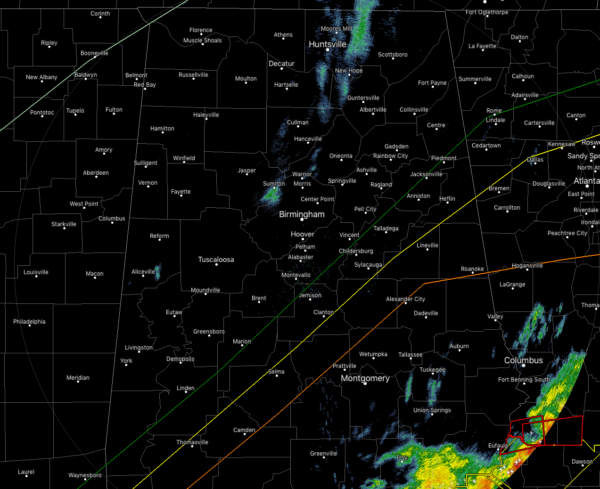 At 4:27 pm, the severe weather threat has moved out of Central Alabama and colder air has already started to flow in from the north and northwest. Temperatures have already dropped into the upper 30s to the lower 40s across the northwestern parts of Central Alabama while readings were still in the lower to mid-60s in the southeastern parts. Birmingham is already down to 45 degrees.
The Tornado Watch has been canceled across all of the Central Alabama counties.
At this moment, we know of two confirmed fatalities in the Beauregard area of Lee County from a large and very destructive tornado that moved through earlier this afternoon.
Here are the damage reports we have so far:
Local Storm Report by NWS BMX: 1 SW Tuskegee [Macon Co, AL] public reports TORNADO at 02:20 PM CST — trees down near us 80 south of tuskegee.
Fire crews still reporting east bound side of U.S. Hwy 280 east bound in Salem area totally blocked by the downed cell tower across highway.
Local Storm Report by NWS BMX: 2 N Old Creek Town Rec [Barbour Co, AL] emergency mngr reports TORNADO at 04:02 PM CST — confirmed tornado at weedon field in eufaula. damage to fire department.
Ham Radio reports of damage just W of Smith Station around the Lee County Flea Market US 280 at Lee Rd 379. Billboard down, cell twr down blocking SB Hwy 280, damage to Sunoco Station.
Ham radio report of possibly "thousands" of trees down along Lee Co Hwy 29 in the Society Hill area from the first line.
Local Storm Report by NWS BMX: 2 SSE Griffen Mill [Lee Co, AL] public reports TORNADO at 02:09 PM CST — trees and power lines down near the intersection 401 and 175 near crawford,al.
Local Storm Report by NWS BMX: 3 NNE Marvyn [Lee Co, AL] public reports TORNADO at 02:51 PM CST — multiple trees and power lines down along cr100.
Local Storm Report by NWS BMX: 1 NNW Smiths Station [Lee Co, AL] broadcast media reports TORNADO at 03:00 PM CST — structural damage along 280 between opelika and phenix city.
There are more but I have reached the end of my NWS Chat window and have to wait for the Public Information Statement to come out before I can post more.
Category: Alabama's Weather, ALL POSTS, Severe Weather
Scott Martin is an operational meteorologist, professional graphic artist, musician, husband, and father. Not only is Scott a member of the National Weather Association, but he is also the Central Alabama Chapter of the NWA president. Scott is also the co-founder of Racecast Weather, which provides forecasts for many racing series across the USA. He also supplies forecasts for the BassMaster Elite Series events including the BassMaster Classic.