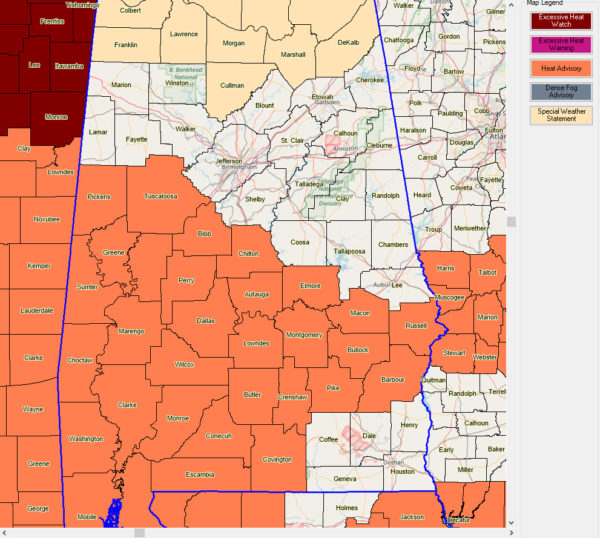 Today marks the official end of the Dog Days. But don't tell the thermometer that. Heat will grab the headlines across Alabama over the next three days as a strong ridge of high pressure over Texas extends its reach to the east through Tuesday. Heat advisories are in effect for much of South and South Central Alabama today, generally along and south of a line from Reform and Tuscaloosa to Jemison, to Eclectic, to Tuskegee and Phenix City. In the advisory area, heat index values this afternoon will meet or exceed 105F in spots, making for especially unhealthy conditions. You know the drill. It's summer in Alabama. Take frequent rest breaks in air-conditioned places. Wear cool clothing. Stay hydrated. And take it easy outside.
HEAT WILL INCREASE MONDAY AND TUESDAY: The Heat Advisory may be expanded northward on Monday and may be upgraded to an Excessive Heat Warning on Tuesday as heat index values approach or exceed 110F in spots south of a line generally from Hamilton to Birmingham to Phenix City. In fact, the NWS Birmingham may decide to issue an Excessive Heat Watch later today for Tuesday.
WHAT WILL BE SCARCER THAN HEN'S TEETH TODAY? Showers. Drier air is working its way into the northern half of Alabama today. Not as the low levels, mind you., where we feel the oppressiveness, but higher up through the atmosphere. This dryness though will be able to squelch most shower and storm development today, and Monday and Tuesday as well. The lessened rain chances and recent dryness across parts of the area don't help. In fact, a growing part of Central Alabama is in abnormally dry to moderate drought conditions. Saturday rainfall was not much help, as it didn't fall on the driest places. Things will only get worse through Tuesday, but we are hopeful for some rain on Wednesday. The best chances will be south of I-20 as a front slides in here on Wednesday morning.
FOCUS ON THE FORECAST: So, hot and mainly dry today, Monday and Tuesday, with increasing heat and only isolated showers and storms. Highs will warm from the lower and middle 90s today into the middle and upper 90s Monday and Tuesday. Overnight lows will be in the middle and upper 70s.
MIDWEEK FRONT: By Wednesday, the ridge will retrograde back to the west and a trough will develop over the Ohio Valley. Meanwhile, surface low pressure will develop and move slowly northeastward from Missouri through Illinois and Indiana. This front will bring a dying band of showers and storms into Northeast Alabama early Wednesday. It will likely redevelop as a more widespread band of showers and storms across South Central and South Alabama Wednesday afternoon. Hopefully, it won't skip over the I-20 corridor, where some of the greatest rain needs are, especially in the Birmingham Metro. Here at my location in southern Jefferson County near Acton Road and I-459, I have only seen 1.79 inches of rain since July 1st.
ANOTHER EXTENDED DRY AND HOT PERIOD: Thursday through Sunday looks like it will feature more dry conditions. At least temperatures appear they will back off a bit. Highs will be near 90F, with lows in the lower 70s.
VOODOO TERRITORY: Nothing exciting to report here either. Just seasonably hot and dry conditions with only widely scattered showers and storms.
TROPICS: We are heading into the busiest part of the Atlantic Hurricane Season and NOAA issued their updated Hurricane Forecast this week. They're calling 10-17 named storms, with 5-9 becoming hurricanes and 2-4 reaching major status. Sounds like a pretty safe forecast. Doesn't tell us much, because it only takes one. But El Nino has dissipated across the Atlantic Basin and it is responsible for conditions that are unfavorable for hurricanes. The frontal system that will push into the South this week has some chance of spinning up a tropical depression, either over the Mid-Atlantic or over the northern Gulf this week, but the chances are pretty small. There are no other systems threatening to become tropical depressions across the Atlantic over the next ten days it appears.
GULF COAST WEATHER: Heat advisories are in effect for coastal Alabama and the western part of the Florida Panhandle for today, with temperatures in the lower 90s and dewpoints in the upper 70s producing heat index values between 105-110F. Look for a repeat performance on Monday. Showers and thunderstorms will be making their regular appearances through Tuesday, mainly during the afternoon and evening hours. Storm chances will be ramping up starting Wednesday through the rest of the week as the front approaches from the north. The heat will back off a bit. Waves are running 1 foot or less but will be higher near thunderstorms. Rip current risk will generally be low.
Click here to see the Beach Forecast Center page.
SIDEWALK: Birmingham's World Class Film Festival is less than two weeks away with its best lineup ever. Come celebrate the City and the power of independent film to enlighten, entertain, and transform. Get your tickets now at sidewalkfest.com.
WEATHERBRAINS: This week, the panel will entertain Dr. Neil Frank, the legendary former Director of the National Hurricane Center. We will have him tell us about Hurricane Camille, another legend, that ravaged the northern Gulf Coast in August 1969. This week is the anniversary. Check out the show at www.WeatherBrains.com. You can also subscribe on iTunes. You can watch the show live at live.bigbrainsmedia.com You will be able to see the show on the James Spann 24×7 weather channel on cable or directly over the air on the dot 2 feed.
ON THIS DATE IN 1998: Rare Utah tornado struck the downtown area of Salt Lake City during the lunch hour, leaving one person dead and over 100 injured. The fatality was the first tornado death in Utah in recorded history. The tornado, rated as an F2, caused extensive damage to a convention tent adjacent to the Salt Palace, a Wyndham hotel and the Delta Center. Only four F2 tornadoes have been recorded in Utah history. 1999 was a memorable year for tornadoes since four major metropolitan areas were struck, including Oklahoma City, Little Rock, Cincinnati, and Salt Lake City. Follow my weather history tweets on Twitter. I am @wxhistorian at Twitter.com.
Category: Alabama's Weather, ALL POSTS
Bill Murray is the President of The Weather Factory. He is the site's official weather historian and a weekend forecaster. He also anchors the site's severe weather coverage. Bill Murray is the proud holder of National Weather Association Digital Seal #0001
@wxhistorian