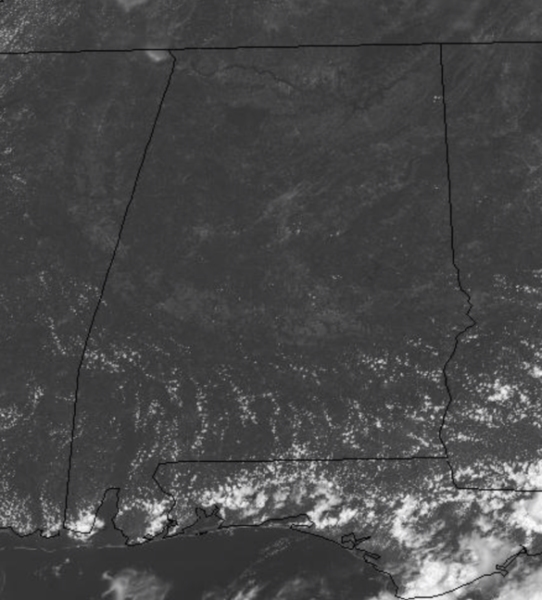 Tons of sunshine and very hot weather continues across Alabama this weekend. Temperatures this afternoon are well into the 90s and we are likely to see many locations hit the triple digits this afternoon.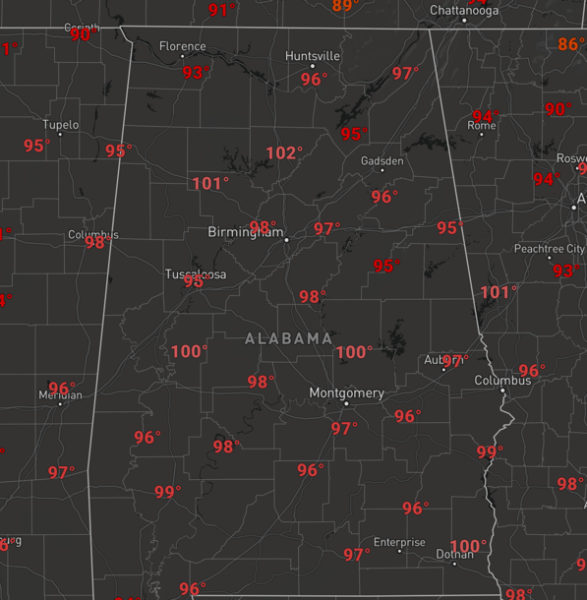 Unfortunately, no heat relief in the form of showers and storms this afternoon, so I recommend staying inside enjoying the A/C or finding a pool or lake to beat the heat. For tonight, the sky will remain clear and lows will range from the upper 60s to lower 70s tomorrow morning. Then for tomorrow, the weather won't change much as highs once again return to the upper 90s with a few low 100s expected. We will at least mention the chance for a few isolated afternoon showers and storms as moisture levels begin to increase, but these will remain few and far between.
AIR QUALITY ALERT CONTINUES: The Alabama Department of Environmental Management, continues an Air Quality Alert for Jefferson and Shelby Counties for today. Under Code Orange conditions, ground level ozone concentrations are expected to reach levels that are unhealthy for sensitive groups. Children and people with asthma are individuals most at risk under these expected conditions.
USA BRIEF: A cold front will produce severe storms, and possible localized flash flooding from the Central High Plains to Northeast today. A stationary front along the Southeast coast and Florida continues the threat for heavy rainfall and flooding across that region. The heat continues across much of the Southwest, and is building across the Southern Plains once again.
TROPICAL UPDATE: Much of the Atlantic Basin continues to be very quiet, but that is certainly to change in the coming weeks as we approach the peak of the season.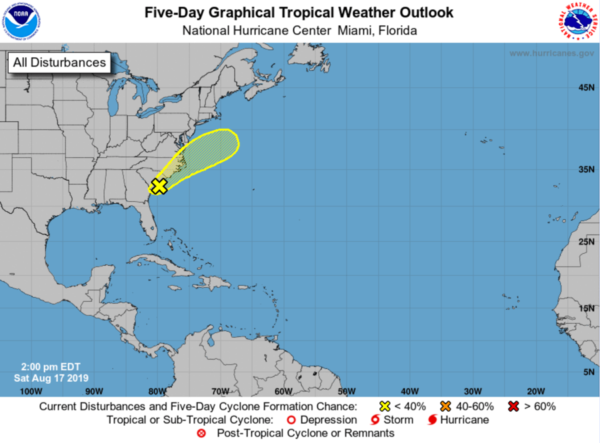 However, a surface trough is producing a band of cloudiness and showers extending from the northeast Gulf of Mexico northeastward across the coasts of Georgia, South Carolina, and North Carolina. The shower activity is currently most concentrated near a small area of low pressure located along the trough near the South Carolina coast. Tropical development of this system, if any, is likely to be slow as the disturbance moves northeastward along the eastern coast of the United States with increasing forward speed during the few days. Regardless of development, the disturbance is forecast to produce heavy rainfall along with a threat of flash flooding in that region. Formation chance through 5 days…low…10 percent.
BEACH FORECAST CENTER: Get the latest weather and rip current forecasts for the beaches from Fort Morgan to Panama City on our Beach Forecast Center page. There, you can select the forecast of the region that you are interested in visiting.
WORLD TEMPERATURE EXTREMES: Over the last 24 hours, the highest observation outside the U.S. was 118.4F at Failakah Island, Kuwait. The lowest observation was -104.8F at Vostok, Antarctica.
CONTIGUOUS TEMPERATURE EXTREMES: The highest observation was 119F at Death Valley, CA. The lowest observation was 27F at Copper Basin, ID.
WEATHER ON THIS DATE IN 1915: A hurricane hit Galveston, TX, with wind gusts to 120 mph and a twelve foot storm surge. The storm claimed 275 lives, including forty-two on Galveston Island, with most deaths due to drowning. Of 250 homes built outside the seawall (which was constructed after the catastrophic hurricane of 1900), just ten percent were left standing.
FREE PREPAREDNESS & SAFETY FESTIVAL FOR THE ENTIRE FAMILY: The National Weather Association Foundation is bringing WeatherReady Fest to the campus of the University of Alabama in Huntsville on September 7, 2019, from 10:00 am to 4:00 pm. This one-day festival will include family-friendly games, fun learning activities, large response vehicles, and enlightening speakers. Local and national celebrities will make special appearances, along with the NWA's very own, Owlie Skywarn. Over 6,000 attendees showed up in St. Louis for last year's event… let's break that record this year. Get your free timed tickets now as they are going fast. More information and a link to the ticket site are available on the festival website at www.weatherreadyfest.com. Hope to see you there!
Category: Alabama's Weather, ALL POSTS
Montgomery Television Meteorologist and long time Contributor on AlabamaWX. Stormchaser. I did not choose Weather, it chose Me. College Football Fanatic.
@Ryan_Stinnet