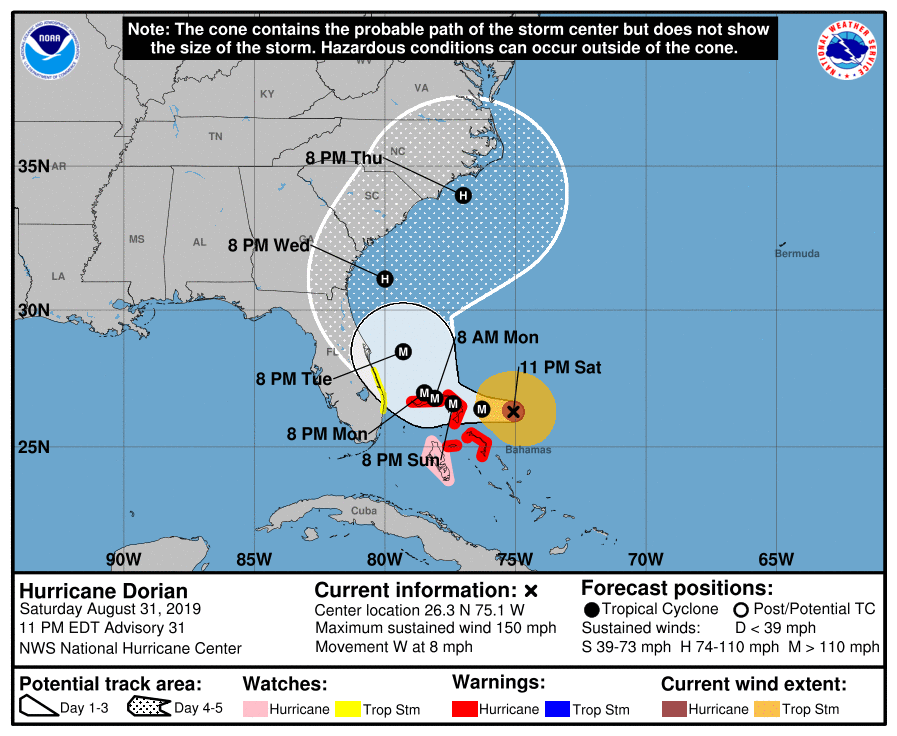 As of the 10:00 pm update from the National Hurricane Center, Hurricane Dorian remains at strong category strength with maximum sustained winds at 150 MPH. Movement is currently to the west at 8 MPH and the minimum central pressure is at 940 MB (27.76 inches). The eye of Dorian is around 125 miles to the east of the Great Abaco Island and around 310 miles east of West Palm Beach, Florida.
At this point, the National Hurricane Center is keeping the center of Dorian offshore and following the coastline of the southeastern US bringing it very close to landfall on the outer banks of North Carolina by late Thursday night and into early Friday morning as a category one or two hurricane.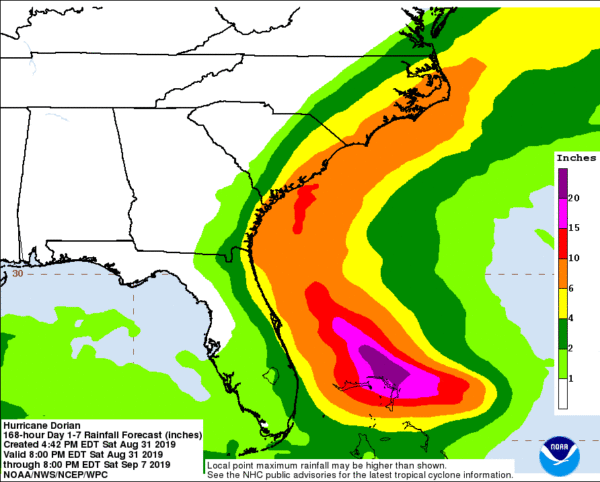 Even with the eye staying well offshore (if this forecast track holds true), we will still see very heavy rainfall amounts along the coast, especially over the Carolina coasts where the center of Dorian is expected to come much closer to landfall. Rainfall totals are projected to be around 4.00 inches to as high as 10.00 inches, with some heavier localized amounts.
Also, there is a possibility of hurricane-force winds along the coastline as well that will bring rough seas, deadly rip currents, and dangerous storm surge. Flooding can and will be an issue either due to rain or due to storm surge from Sunday through much of next week.
Here is the latest from the National Hurricane Center:
Data from both Air Force and NOAA Hurricane Hunter aircraft indicate that Dorian remains a very powerful hurricane, and the satellite presentation is still quite impressive with a very stable, well-defined eye. There has been no evidence of concentric eyewalls in aircraft or microwave data, which is somewhat surprising given that the intensity has been at category 4 strength for 24 hours. Both aircraft measured peak flight-level winds that support an initial intensity of 130 kt. There have been some higher surface wind estimates from the SFMR, but these data are questionable based on our experience of very high SFMR-measured wind speeds in recent strong hurricanes that didn't match standard flight-level wind reductions.
Dorian is forecast to continue moving over very warm waters and into a low-shear environment during the next 12-24 hours, so some additional strengthening is possible. Difficult-to-predict eyewall cycles, however, are likely to begin at some point within the next day or so and could cause fluctuations in intensity. After 72 hours, increasing southerly shear is likely to produce gradual weakening, but Dorian is forecast to remain a dangerous hurricane through the forecast period.
The hurricane is moving westward or 280/7 kt. A high-pressure ridge to the north of Dorian is predicted to remain intact into early Sunday, and the hurricane should continue westward. By late Sunday, the dynamical models erode the western portion of the ridge, which should cause the hurricane to slow down and become nearly stationary over the northwestern Bahamas in 36 to 48 hours. After that time, the weakness in the ridge becomes more pronounced, and Dorian is expected to turn northwestward, and eventually northeastward near the southeastern United States coast. Although there is general agreement on this overall scenario, there is still considerable spread on how close the storm will track to the east coast of Florida and the southeastern coast of the United States. The latest HWRF run has shifted westward and takes Dorian across the coast of central Florida. The 18Z GFS also shifted a little left closer to the Florida coast. The latest multi-model consensus aids shifted west closer to the previous NHC track, so very little change to that forecast was made. Although the exact NHC track forecast lies east of the Florida peninsula, a track closer to the coast or even a landfall remain a possibility. Since the updated track was slightly slower than the previous advisory, no additional watches are needed for Florida at this time.
Key Messages:
1. A prolonged period of life-threatening storm surge, devastating hurricane-force winds, and heavy rains capable of life-threatening flash floods are expected on the Abaco Islands and Grand Bahama Sunday through Monday, and a hurricane warning is in effect for these areas.
2. A tropical storm watch is in effect for a portion of the Florida east coast. Since Dorian is forecast to slow down and turn northward as it approaches the coast, life-threatening storm surge and dangerous hurricane-force winds are still possible along portions of the Florida east coast by the early to middle part of next week. Residents should have their hurricane plan in place, know if they are in a hurricane evacuation zone, and listen to advice given by local emergency officials.
3. There is an increasing risk of strong winds and dangerous storm surge along the coasts of Georgia, South Carolina, and North Carolina during the middle of next week. Residents in these areas should continue to monitor the progress of Dorian.
4. Heavy rains, capable of life-threatening flash floods, are possible over coastal sections of the southeastern United States from Monday through Thursday.
Scott Martin is an operational meteorologist, professional graphic artist, musician, husband, and father. Not only is Scott a member of the National Weather Association, but he is also the Central Alabama Chapter of the NWA president. Scott is also the co-founder of Racecast Weather, which provides forecasts for many racing series across the USA. He also supplies forecasts for the BassMaster Elite Series events including the BassMaster Classic.