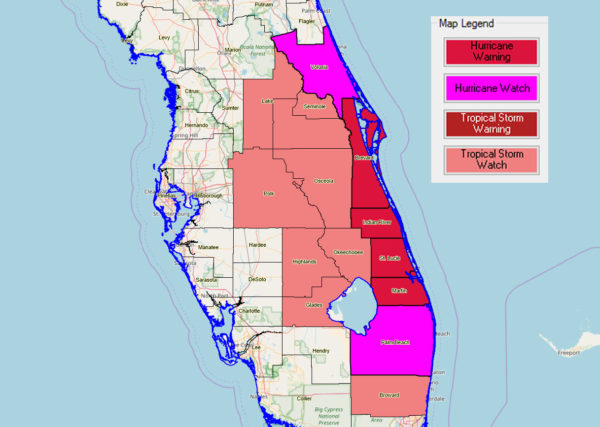 Hurricane warnings have been issued for parts of the East Coast of Florida this afternoon in anticipation that a larger, stronger Hurricane Dorian could brush the coast with hurricane-force winds as it turns to the north.
Based on the current NHC track forecast, tropical storm-force winds are expected to reach the coast Monday morning. They will be spreading northward along the entire Florida coast and across the coasts of Georgia, South Carolina, and North Carolina through Wednesday.
We have to remember that even a small wobble to the west in the actual track could bring hurricane-force winds to a large part of the Florida Coast.
SUMMARY OF WATCHES AND WARNINGS IN EFFECT:
A STORM SURGE WARNING IS IN EFFECT FOR…
* LANTANA TO THE VOLUSIA/BREVARD COUNTY LINE
A STORM SURGE WATCH IS IN EFFECT FOR…
* NORTH OF DEERFIELD BEACH TO LANTANA
* VOLUSIA/BREVARD COUNTY LINE TO THE FLAGLER/VOLUSIA COUNTY LINE
A HURRICANE WARNING IS IN EFFECT FOR…
* NORTHWESTERN BAHAMAS EXCLUDING ANDROS ISLAND
* JUPITER INLET TO THE VOLUSIA/BREVARD COUNTY LINE
A HURRICANE WATCH IS IN EFFECT FOR…
* ANDROS ISLAND
* NORTH OF DEERFIELD BEACH TO JUPITER INLET
* VOLUSIA/BREVARD COUNTY LINE TO THE FLAGLER/VOLUSIA COUNTY LINE
A TROPICAL STORM WARNING IS IN EFFECT FOR…
* NORTH OF DEERFIELD BEACH TO JUPITER INLET
A TROPICAL STORM WATCH IS IN EFFECT FOR…
* NORTH OF GOLDEN BEACH TO DEERFIELD BEACH
* LAKE OKEECHOBEE
Category: ALL POSTS
Bill Murray is the President of The Weather Factory. He is the site's official weather historian and a weekend forecaster. He also anchors the site's severe weather coverage. Bill Murray is the proud holder of National Weather Association Digital Seal #0001
@wxhistorian